Germany owes NATO "vast sums of money" and must pay the U.S. more for the "powerful, and very expensive" defense it provides, President Donald Trump tweeted Saturday.
Trump has repeatedly complained that the U.S. provides the "lion's share" of funding for the intergovernmental military alliance, and that America has been "ripped off" by other NATO members, including Germany. He has also slammed NATO as being "obsolete."
But Douglas Lute, a former U.S. ambassador to NATO under President Barack Obama, said no country technically "owes" the United States anything. Rather, each NATO member has its own military and own defense budget, and works with other signatories for the common defense.
He said most European nations dramatically reduced their military spending in the 1990s with the breakup of the Soviet Union. That mindset only changed in 2014, following the Russian invasion of Ukraine and the annexation of Crimea, and the self-described Islamic State's declaration of a "caliphate" in Syria ― right on the border of NATO member Turkey.
Lute said a NATO summit that year forged the agreement in which every member agreed to spend at least 2 percent of its GDP on defense by 2024.
NATO members are now increasing, no longer reducing, their military budgets. Last year, Germany spent 1.19 percent of its GDP on defense, falling short of the spending target.
"The reality today is that NATO has not only stopped, but reversed the trend and is two-and-a-half years into a 10-year plan," Lute said.
This article has been updated with comment from Lute.
Before You Go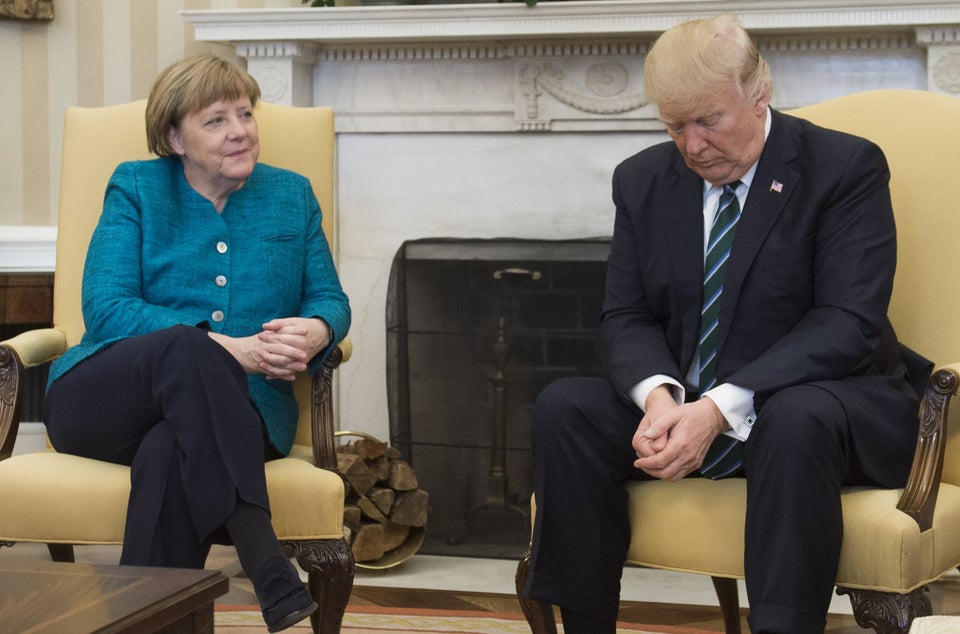 Awkward Meeting for Merkel and Trump
Popular in the Community