President Donald Trump said he wanted to send Sayfullo Saipov, the man arrested for a deadly terror attack in New York City, to Guantanamo.
For years, Trump has wanted to send terrorists to the U.S. military detention facility in Guantanamo Bay, Cuba. He's tweeted about it, spoken about it in interviews and promoted the idea on the campaign trail.
So after a green card holder inspired by the self-described Islamic State drove a truck through a Manhattan bike lane, killing eight people, it wasn't a huge surprise that Trump told reporters he'd consider sending the attacker to Gitmo; after all, it serves his anti-Muslim agenda.
But within 24 hours, Trump retreated. "Would love to send the NYC terrorist to Guantanamo," Trump tweeted, "but statistically that process takes much longer than going through the Federal system."
It would indeed take longer. No one has been sent to Guantanamo in nine years; doing so would set off a legal battle. And setting aside the question of whether sending a legal permanent resident arrested in the United States to Guantanamo would even be legal, it would undoubtedly take much, much longer to secure justice for the victims' families.
Trump has opposed bringing the men currently imprisoned in Guantanamo to New York City to face trial in federal court, writing in 2012 that bringing the Sept. 11 trial to the city would have been worse than the slow military proceedings in Guantanamo. (Five years later, the Sept. 11 trial still hasn't begun, and a separate military trial went off the rails this week, with a judge finding a Marine general in charge of the defense guilty of contempt.)
But on Thursday, Trump wrote that maybe there was "something appropriate" about putting Saipov on trial in New York City.
The last time a new detainee arrived in Guantanamo was nearly a decade ago, in 2008. The Obama administration, which wanted to shut down the detention facility, significantly lowered the inmate population there.
The Center for Constitutional Rights, which has represented detainees at Guantanamo, issued a statement on Wednesday calling the facility "a prison exclusively for Muslims" and calling Trump's suggestion to send Saipov there "idiotic."
"Fifteen years has proven no one will ever be successfully tried or 'brought to justice' at Guantanamo, and the president and his supporters within his own party are deluded if they believe otherwise," the statement said.
Shayana Kadidal of the Center for Constitutional Rights told HuffPost on Thursday that there was "no rational reason" to send Saipov to Guantanamo, but that Trump was trying to send a message to his supporters that "Muslims who commit terrorist attacks are somehow less human and don't deserve a fair trial."
Trump's initial desire to send Saipov to Guantanamo shows "how far the mistreatment of Muslims can go," said Dr. Maha Hilal of the Institute for Policy Studies in Washington, D.C.
"The fact that he is a Muslim is absolutely a deciding factor of whether or not he is sent to Guantanamo. Guantanamo, in the context of the war on terror, was built to house an entirely Muslim population,"Hilal said.
The Justice Department charged Saipov in New York federal court on Wednesday evening. The case against him, laid out in an FBI agent's affidavit, is a legal slam dunk: There's a mountain of evidence. He was caught red-handed. He waived his rights and confessed. He allegedly even asked to hang an ISIS flag in his hospital room. There's effectively zero doubt Saipov will be convicted. The Trump administration will likely seek the death penalty, and they'll very likely secure it.
Sending Saipov to Guantanamo, on the other hand, would have kicked off a massive legal battle. Convicting him though the military commissions process could have taken years. Then there'd be the appeals process.
Still, in a speech in New York on Thursday, Attorney General Jeff Sessions said the Trump administration would "use all lawful tools at our disposal, including prosecution in [federal] courts and at Guantanamo Bay."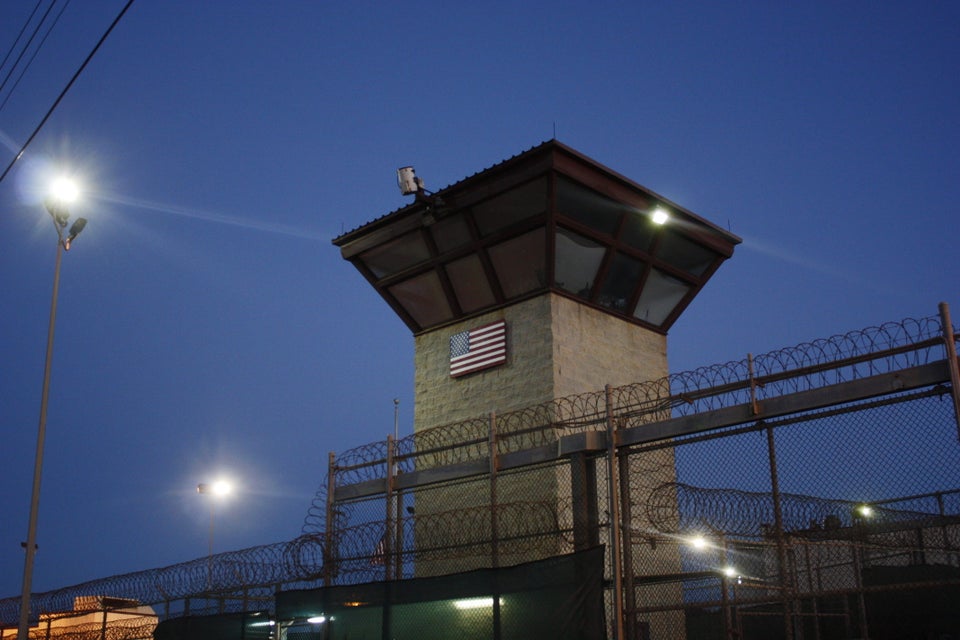 Inside Guantanamo's Prison Facility
Ryan Reilly is HuffPost's senior justice reporter, covering criminal justice, federal law enforcement and legal affairs. Have a tip? Reach him at ryan.reilly@huffingtonpost.com or on Signal at 202-527-9261.
Support HuffPost
The Stakes Have Never Been Higher
Popular in the Community