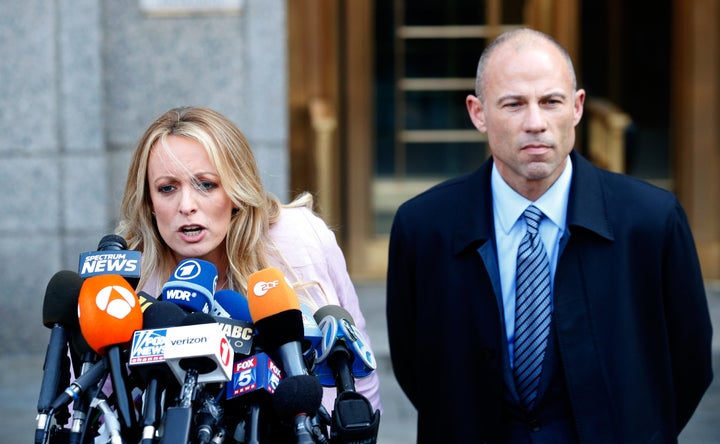 WASHINGTON ― When the pre-election payment from President Donald Trump's personal lawyer to porn actress Stormy Daniels not to discuss the affair she says she had with him first came to light, the figure cited was $130,000.
Weeks later, as Trump's latest lawyer, Rudy Giuliani, finally acknowledged that Trump was aware of Michael Cohen's payment and had repaid him for it, Giuliani cited $35,000 monthly payments over the course of a year ― or $420,000.
And on Wednesday, when Trump for the first time acknowledged the payment on his financial disclosure form, it was characterized as a "reimbursement" of "expenses" that Cohen incurred in 2016, with a value between $100,000 and $250,000.
So what's going on? Why did Trump pay Cohen $420,000 for a $130,000 expense?
Giuliani, in several interviews with HuffPost over the course of a week, explained that Trump also paid enough to cover all the taxes Cohen would have had to pay to have been left with $130,000 ― the original sum he paid out of his own pocket. Giuliani estimated that this added another $70,000, plus some profit for Cohen, plus some other expenses.
"That's privileged," Giuliani said.
Kathleen Clark, a professor of legal ethics at Washington University, began laughing as she listened to a summary of Giuliani's explanations.
"It seems nonsensical, because it is nonsensical," she said.
Both Trump and his White House had claimed for months that Trump knew nothing about Cohen's payment to Daniels. Those statements, though, were proven false when Giuliani began explaining last month that Trump had repaid Cohen. Giuliani was emphasizing that because Trump repaid Cohen, the $130,000 could not be construed as a campaign finance law violation, as candidates are permitted to spend as much as they want on their own races.
Because Trump had not disclosed his debt to Cohen on the financial disclosure form he filed last June, the Office of Government Ethics referred his failure to do so to the Justice Department on Wednesday, when Trump belatedly revealed that payment on this year's form. "Knowingly and willfully" withholding that information on that form is punishable by as much as a year in jail, per federal statute.
Giuliani said Trump was under no obligation to report the payments to Cohen to repay Daniels ― "There's no place on the form to disclose it" ― but said he advised Trump to do it anyway, as he anticipated that OGE officials would argue it should be disclosed.
He insisted that the payment to Daniels was entirely normal, something done all the time by famous people wanting nuisances to go away. "This is a perfectly legitimate thing. There's nothing wrong with it," he said.
Other lawyers, though, said that Cohen's use of a newly created shell company to pay Daniels suggested otherwise.
"This whole thing is highly suspicious, highly unusual," said a lawyer with two decades of experience in business law who spoke on condition of anonymity. "I'd be very reluctant to be involved in anything like this."
Another lawyer familiar with nondisclosure agreements who spoke on condition of anonymity had a simple explanation for Giuliani's contortions: "Paying hush money to porn stars is not a legitimate business expense."
But technically, the nondisclosure agreement was a standard services contract ― except that in this case, Daniels, whose real name is Stephanie Clifford, was being paid for the service of remaining silent.
That payment from Trump to Clifford via Cohen would clearly be a business expense for Cohen, and therefore not taxable income, said a Washington, D.C., tax lawyer, also on condition of anonymity.
"That's not your money. That's not income to you," the lawyer said. "I disagree with Giuliani's characterization of this. I don't see why it would have to be out of after-tax earnings."
In any event, Trump's payment to Cohen of close to half a million dollars still makes no sense, Clark said, if it was to reimburse Cohen for a payment to Daniels that was less than one-third that amount.
"What Giuliani seems to be acknowledging is that this was not the only hush payment," she said. "There's no other way to make the math work."
Michael Avenatti, Daniels' new lawyer who is trying to invalidate the 2016 "hush agreement" in court, told NBC News on Thursday that he is researching the stories of two other women who have come to him claiming they have similar agreements with Trump negotiated by Cohen.
Giuliani himself allowed that possibility in an ABC News interview last month, saying that while he did not have knowledge of other women who might have been paid off, Cohen would have done that "if it was necessary."
Late Wednesday, he would not say if he'd yet learned the nature of those other expenses ― "none of which are my concern or yours," he said.
He reiterated that the Daniels payment was not a campaign expense that needed to be reported. He acknowledged that keeping Daniels out of the news in the days leading up to the election was helpful to Trump's campaign, but he said it benefited the campaign in the same way, for example, that a new suit that Trump bought to wear during a debate might have.
"This payment would have been made in any event," he said. "It's not a campaign expense. It would have been made at any other time to protect his family and his reputation."
Giuliani did say, however, that his earlier belief that Trump had sought to pay for Cohen's taxes on the $130,000 was incorrect. He said the repayment was for $130,000 exactly, and no more.
"I was wrong about it," he said.
Calling all HuffPost superfans!
Sign up for membership to become a founding member and help shape HuffPost's next chapter