Newly released documents appear to confirm fears that one of President Donald Trump's golf resorts in Scotland has destroyed portions of protected coastal land.
Those findings were released under a freedom of information request filed by Bob Ward, the policy director of the Grantham Research Institute on Climate Change and the Environment at the London School of Economics.
"Construction of the new golf course involved earthworks, planting of trees, greens and fairways, drainage, irrigation and grass planting," reads one of the agency's documents obtained by The Guardian. "This has affected the natural morphology of the dunes and interfered with natural processes. Most of its important geomorphological features have been lost or reduced to fragments. Nearby marine terraces have also been reduced to fragments."
Ward expressed concern about the effect Trump's business has already had on the protected site, known as Foveran Links.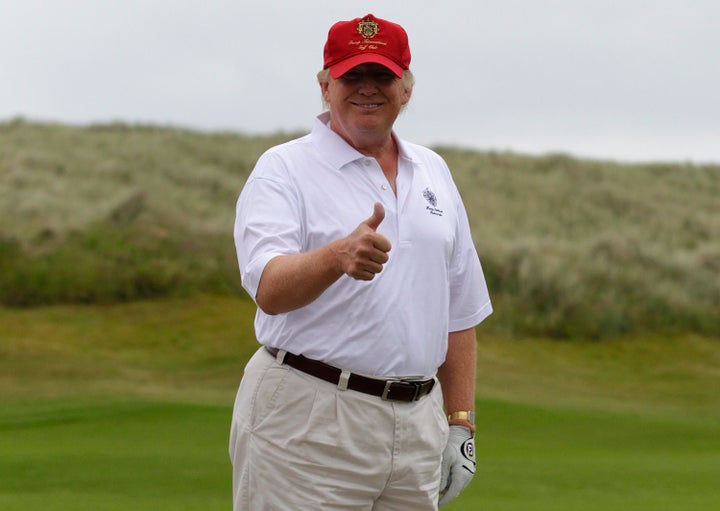 "These documents show that considerable damage has been done to Foveran Links, and that it is very unlikely that it will retain its [site of special scientific interest] status," Ward told The Guardian.
Ward has reportedly asked the Scottish government to look into whether proper environmental monitoring has been carried out at the site since 2012.
The Trump Organization was granted permission by the Scottish government to build the course in 2008 after vowing to protect the dunes with an environmentally sensitive plan.
While making that promise, Trump said his course would boost the local economy. The course has not been a financial success, nor has Trump's Turnberry resort in South Ayrshire, Scotland.
The Trump Organization, which is currently overseen by Trump's sons Donald Jr. and Eric, submitted plans this month to invest another 150 million pounds (approximately $197 million) into the Aberdeen resort. It expects to invest 750 million pounds in total toward the development of 500 residential homes, 50 hotel cottages, a sports center, retail, equestrian and commercial spaces, in addition to other leisure facilities.
The Aberdeen resort and the Trump Organization did not immediately respond to requests for comment on Sunday.
Calling all HuffPost superfans!
Sign up for membership to become a founding member and help shape HuffPost's next chapter