What they are not allowed to know: whether and with whom he's actually golfing once he's there.
"Least transparent administration in history," said John Weaver, who ran Ohio Gov. John Kasich's campaign for the Republican presidential nomination last year. "They hide things for no good reason. I don't understand that."
The White House press office did not respond to HuffPost queries on why the president will not acknowledge that he plays golf when he visits his golf resorts, as he is doing all this week. Monday, in fact, is his 44th day at one of his golf courses ― meaning Trump has spent nearly one of every four days of his presidency thus far at his clubs in Florida, Virginia and New Jersey.
Whatever the rationale for the secrecy, it has left his press staff to repeatedly refuse to confirm that Trump is partaking in a golf-related activity even as the paying members of his clubs post photos online of Trump doing exactly that.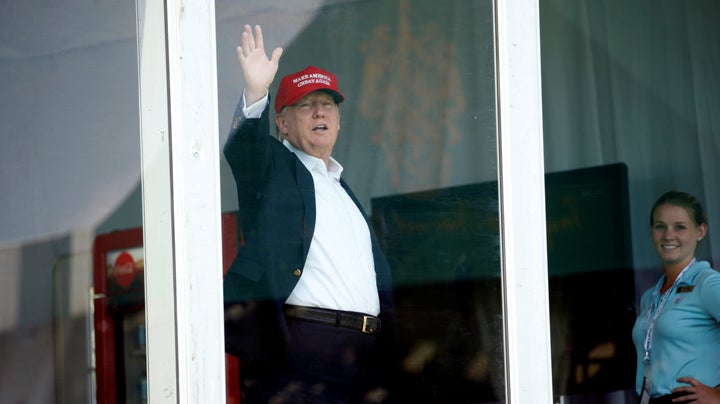 On Saturday, for example, as he began a two-and-a-half-week stay at his Bedminster, New Jersey, golf club, Trump tweeted, "This is not a vacation - meetings and calls!"
But that same day, a visitor to the Trump National Golf Club in Bedminster took a video showing the president wearing golf clothes in front of some golf carts.
"I suspect it's because the staff doesn't know," said Ari Fleischer, a press secretary to then-President George W. Bush, of the Trump press office's golf quandary. "I bet Trump doesn't tell them."
The Trump White House also refuses to disclose his golf partners, something that staffers for presidents Bush and Barack Obama typically did. So if a golf partner has hours with Trump to lobby for or against a particular regulation or policy proposal, the public won't know.
"Obviously it would be far more transparent if they said who he's playing golf with," said Mack Mackowiak, a GOP consultant from Texas.
"I actually think it would help the country if he played golf every day. I think the republic would be better off. So we should encourage that."
Trump may be attempting to keep his golfing secret because of how often and savagely he attacked Obama for hitting the links, Mackowiak noted. On Aug. 11, 2015, for example, Trump tweeted, "@BarackObama played golf yesterday. Now he heads to a 10 day vacation in Martha's Vineyard. Nice work ethic."
While campaigning, Trump promised voters he would be too busy for vacations or golf. "I'm going to be working for you. I'm not going to have time to go play golf," he said on Aug. 8, 2016, in Virginia.
"The more they admit that he's doing it [golfing], the more they play into that line of attack," Mackowiak said.
As it happens, Trump is on track to spend far more time at golf courses than his predecessor did. It took Obama until August 2010 ― a year and a half into his presidency ― before he had reached 44 golf course visits, the mark Trump hit Monday. At this point in Obama's first term, he had a total of 11 golf course visits.
What's more, Obama's weekend golf was typically played at the course at Joint Base Andrews a few miles outside Washington, D.C. The location on a military installation made security easier, and it was only a short motorcade ride from the White House.
Trump's golf habit has been dramatically more expensive for Americans because he has often traveled to his Mar-a-Lago resort in Palm Beach, Florida ― which is close to two Trump golf clubs ― and, in the late spring and summer, to his course in Bedminster. Both trips involve flights aboard Air Force One. In the case of Palm Beach, the plane used is a modified Boeing 747 that costs taxpayers $228,000 per flight hour.
Those costs notwithstanding, Kasich aide Weaver suggested there is an underappreciated upside to Trump's golfing: It subtracts from time he would otherwise be making poor decisions.
"I actually think it would help the country if he played golf every day," Weaver said. "I think the republic would be better off. So we should encourage that."
Popular in the Community