Donald Trump approaches the media like an angry schoolteacher picking worksheets apart.
As you might expect, his campaign staffers search for "Donald J. Trump" on Google News every morning, writer Olivia Nuzzi reported in GQ Monday. And then things get weird. Campaign workers print up to 50 of these articles every day (as we've seen before), and Trump reads the articles and marks them up. After that, staffers scan the scribbled-on pages and -- yes, really -- email them to the journalists who wrote the original stories.
The only thing that's missing is a letter grade.
The entire process is clearly inefficient. But paper aside, you might wonder: Is Google News actually a smart place to get your information?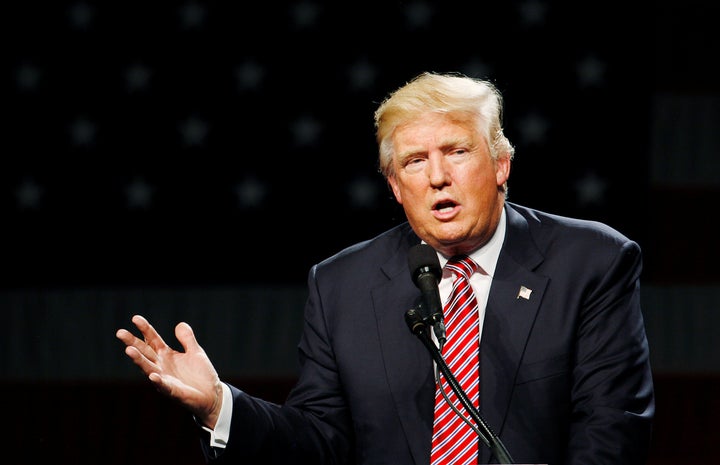 People have questioned whether Google News is truly balanced for well over a decade -- the service launched in 2002 -- but it's hard to argue that it doesn't at least present a mountain of sources for readers to peruse.
"Our articles and multimedia content are selected and ranked by computers that evaluate, among other factors, how often and on what sites a story appears online," the company says on the "help" page for Google News. "We also rank based on certain characteristics of news content such as freshness, location, relevance and diversity. As a result, stories are sorted without regard to political viewpoint or ideology, and you can choose from a wide variety of perspectives on any given story."
Searching "Donald J. Trump" on Monday morning, The Huffington Post clicked on the "in-depth" feature under the leading story and found articles from the New York Times, Snopes, Jamaica Observer, UPROXX, Sydney Morning Herald, Times of India, Glamour and Breitbart, for example. Go a couple of pages deeper into the search results and you arrive at Rush Limbaugh's website.
"Searching for "Donald J. Trump" instead of the more general "Donald Trump" or "Trump" severely limits the number of articles surfaced by Google News."
One could argue there's some human bias inherent in any programmed search algorithm -- Google News has to understand how to weigh the Chicago Tribune against an obscure Tumblr, even if some users might prefer reading the latter -- but that's just the nature of the beast.
For Trump, who wants to get a broad view of the news media and harass big name reporters, this is probably fine.
But his staff is making a curious choice, if Nuzzi's article is correct. Searching for "Donald J. Trump" instead of the more general "Donald Trump" or "Trump" severely limits the number of articles surfaced by Google News.
On Monday, "Donald J. Trump" returned 139,000 results on Google News. "Donald Trump" surfaced 61 million, while "Trump" pulled up 64.8 million. News outlets generally don't use the candidate's full name, it seems. Trump spokeswoman Hope Hicks did not respond to HuffPost's request for comment about the search term.
It may not matter much most days, but the search term did make a difference on Monday: Searching for "Donald J. Trump," as opposed to something more general, returned a slew of articles about the firing of campaign manager Corey Lewandowski -- with one thing in common. They'd quoted from the campaign's official statement on the matter, which boasted of Trump's success even as it announced he was cutting Lewandowski out.
"The Donald J. Trump Campaign for President, which has set a historic record in the Republican Primary having received almost 14 million votes, has today announced that Corey Lewandowski will no longer be working with the campaign," the statement said, emphasis ours.
When we tried searching "Donald Trump" (without the "J"), Google News produced a variety of articles from outlets that weren't included in the initial search for "Donald J. Trump."
The major takeaway? We'd probably try searching for a few Trump-related terms if we were running his campaign, rather than just the one.
And we probably wouldn't print the articles out, either.
Popular in the Community