WASHINGTON ― President Donald Trump's standard-Republican, program-slashing proposed budget has found some critics in seemingly unlikely places: governor's mansions in Republican-run states around the country.
Massachusetts' Charlie Baker is alarmed by cuts to the National Institutes of Health as well as the elimination of subsidies for poor people to buy heating fuel. Wisconsin's Scott Walker doesn't like cuts to the Great Lakes Restoration Initiative. Mississippi's Phil Bryant has been working to add Amtrak routes in his state, while Trump's budget could result in his state losing service entirely.
Trump's White House, in other words, is learning the inherent difficulty in translating easy campaign slogans into actual cuts to services, even in states with governors of his own party.
"They have very different responsibilities," said Stan Collender, a longtime staffer to the congressional budget committees and now a communications consultant. "One proposes. The others actually have to govern."
Trump's budget chief explained that he simply translated what Trump had said he wanted to do over the course of the previous year and a half running for president.
"We wrote it using the president's own words," said Mick Mulvaney, who had been a member of the ultra-conservative House Freedom Caucus prior to his appointment to run the Office of Management and Budget. "We went through his speeches. We went through articles that have been written about his policies. We talked to him. We wanted to know what his policies were. We turned those policies into numbers."
In practice, that meant that Trump's desire to increase defense spending by $54 billion without increasing the deficit meant cutting that same amount of money from the non-defense portion of the budget. And that resulted in enormous proposed reductions for dozens of programs, from foreign aid in the State Department budget, to the National Endowment for the Arts, to housing grants in the Department of Housing and Urban Development.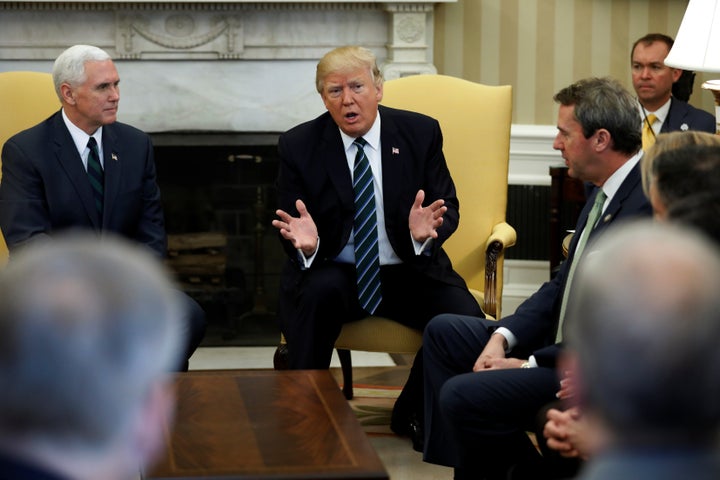 The Environmental Protection Agency would see its budget cut by nearly a third, including the end of federal funding to projects for cleaning up the Great Lakes ― whose shores include the Republican-run states of Wisconsin, Michigan and Ohio ― and the Chesapeake Bay, largely bounded by Republican-run Maryland.
All four of those governors oppose those cuts.
Walker has said he'll lobby Trump and congressional Republicans to "protect funding that's prudent."
Anna Heaton, a spokeswoman for Michigan Gov. Rick Snyder, said: "There is strong support in Congress for important programs that help maintain the Great Lakes and foster economic development. We will continue to work with our congressional delegation on matters that are of importance to Michigan."
John Weaver, a Republican consultant who had run Ohio Gov. John Kasich's presidential campaign last year, was less diplomatic about Trump: "He campaigned irresponsibly, and now he's governing irresponsibly."
Kasich is among a number of Republican governors uneasy about the push to ram through a repeal of the Affordable Care Act by Trump and congressional Republicans, potentially costing their states many billions of dollars of health care for their poorer residents.
"I've said that I don't want to see anybody have the rug pulled out from underneath them, and that's what I'm going to be advocating," Arizona Gov. Doug Ducey told reporters earlier this month.
Thomas Mann, with the liberal-leaning Brookings Institution, said he's not terribly surprised by the pushback from the Republican chief executives, particularly when Medicaid money is involved.
"Governors, even ideological ones, have to be concerned about the overall health of their states," he said, pointing out that a large percentage of Medicaid money goes toward the elderly poor. "It's a good way of emptying out all the publicly supported nursing homes in those states."
Mann said Trump's budget proposal appears to have been drafted with little regard for how it would affect actual people. "It's so preposterous. It's so extreme. It touches on so many lives of people, and therefore, so many commitments of members of Congress," he said, adding that he doubted the plan had much chance of actually passing.
Collender said the recklessness of Trump's plan makes it stand out from previous presidents' budgets. "There probably hasn't been a budget in 10 years that hasn't been declared dead on arrival," he said, but added that usually that declaration comes only from members of the other party.
Collender said Trump's plan seems designed more to let him say he pushed the budget he said he would, rather than actually getting it enacted. "All presidential budgets are part accounting documents and part political statement. This one is all political statement," he said. "At worst it's probably just a campaign document."
REAL LIFE. REAL NEWS. REAL VOICES.
Help us tell more of the stories that matter from voices that too often remain unheard.