WASHINGTON – Republicans attempting to explain President Donald Trump's behavior appear to be trying out a novel approach: He ought not to be blamed for his mistakes because he doesn't know any better.
"He's new at government and so, therefore, I think that he's learning as he goes," House Speaker Paul Ryan (R-Wis.) told reporters Thursday, explaining how Trump could have thought it was OK to lean on the FBI director to drop a criminal investigation.
Call it the toddler defense. Trump cannot be expected to understand appropriate behavior for a president because he is a businessman, not a politician, and is still only learning.
Trump's Republican critics, though, have little patience with this argument – particularly because of the dangers it poses in foreign affairs. They point to an MSNBC report Thursday suggesting that Trump may have been unaware that Qatar hosts a crucial U.S. air base when he issued a statement via Twitter accusing that nation of supporting terrorists.
"Our base in Qatar is a major hub for operations in the region. If he is getting halfway decent briefings on ongoing operations, he would know that ― and if he is not being decently briefed, it is on him, no one else," said Eliot Cohen, a top State Department official and participant of the National Security Council under President George W. Bush who now teaches at Johns Hopkins University. "Ditto, leaning on the FBI director to drop a politically inconvenient investigation."
White House press secretary Sean Spicer said the MSNBC report on Qatar was not accurate. "100 percent false," he said.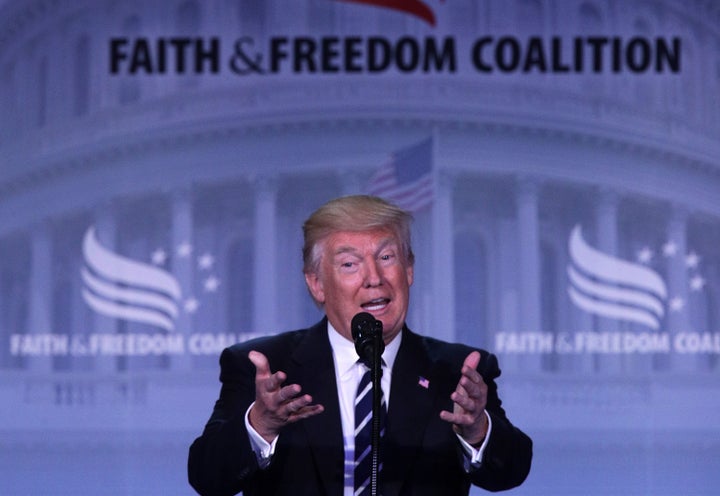 As it happens, Trump's ignorance actually seemed a feature on the campaign trail, as many of his core supporters justified their allegiance in spite of his clear ― and sometimes admitted ― lack of knowledge on a range of issues, from health care to foreign policy. After Trump won the GOP nomination, more established Republican operatives adopted a similar defense of their standard-bearer.
But both grassroots followers and Republican Party regulars nevertheless expressed confidence that Trump, in their view a wildly successful businessman, would quickly learn on the job all he needed to know.
Some supporters, though, concede that five months in, Trump has not been learning as quickly as might have been hoped.
"The voters wanted an outsider, and these are things you get with someone from outside," said one top Republican National Committee member privately.
Matt Mackowiak, a Texas GOP consultant and frequent Trump defender, acknowledged that Trump's attempts to end the investigation into his first national security adviser's contacts with Russian officials was improper.
"Lawyers know that ignorance of the law is no defense," Mackowiak said. "But what may have clearly been inappropriate, may indeed not rise to the level of being illegal."
For Trump critics, the attempts to defend the president's ignorance and unwillingness to adhere to basic standards of conduct have already gone too far ― particularly as they now involve the Republican National Committee's systematic attacks on Comey's integrity.
"Trump is like a parasite that invaded the body politic, and the part that is most rotten right now is the RNC," said John Weaver, who ran Ohio Gov. John Kasich's presidential campaign last year. "They should be ashamed of themselves."
Weaver added that in addition to being wrong, reflexively defending Trump was bad politics. "Handcuffing yourself to a president who's at 34 percent and sinking is not a good strategy," he said.
CORRECTION: This story incorrectly referred to Eliot Cohen as having been a lawyer at the State Department.
Support HuffPost
The Stakes Have Never Been Higher
Popular in the Community