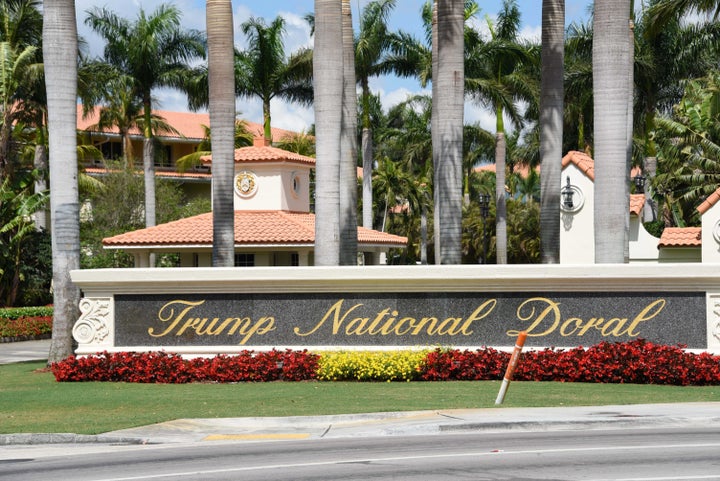 DORAL, Fla. – The United States has never had kings, dukes or even barons, but President Donald Trump's most loyal subjects have found a way to pay him millions of dollars in tribute anyway.
New Jersey Republican congressman Tom MacArthur spent $15,221 to hold a fundraiser at Trump's golf course in Bedminster, according to a HuffPost analysis of Federal Election Commission filings. Mark Meadows, a North Carolina Republican and a close Trump ally in the House, spent $689 for an office Christmas party at Trump's hotel a few blocks from the White House. The Illinois-based Family PAC paid $3,183 to Trump's hotel in Chicago to hold a conference there.
And the Republican National Committee this week will likely spend in the neighborhood of a half-million dollars at Trump's resort in Doral, a few miles west of downtown Miami, for its spring meeting — not counting hundreds or even thousands of dollars RNC members must pay out of their own pockets for airfare, hotel rooms and some meals.
The golf resort boasts plenty of ornate chandeliers and baroque fountains — but lies directly beneath the flight path of Miami International Airport's takeoffs and landings, and is miles from the closest beach.
RNC members said they like it anyway, even if it means that some of their own money winds up in the president's pockets.
"Well, we elected a president who's a businessman," noted one RNC member on condition of anonymity. "A shrewd businessman."
Cindy Siddoway, the RNC committeewoman from Idaho, said she didn't know how the RNC settled on Trump's golf resort but had no objection. "I don't have a have a problem with it," she said. "It's a lovely hotel."
"In terms of the optics of it? We're way past that at this point."
In all, some 70 Republican candidates and parties from Washington state to Washington, D.C., have spent $1.9 million of their donors' money at the president's golf courses, hotels and restaurants thus far this election cycle. A portion of every one of these dollars enriches Trump and his family personally.
"If you are a politician who, A, has no principles and, B, wants Donald Trump's endorsement, then of course you will want to host your fundraising event at a Trump property," said Robert Weissman, president of Public Citizen, an open-government advocacy group that has successfully sued Trump for access to White House visitor logs. "There's no better way to appeal to the transactional president, no better way to make a mark with the no-attention-span president."
One GOP official, on condition of anonymity, acknowledged the unsavoriness of funneling donor money to the president and his family but said that ― given Trump's brazenness about profiting from his presidency — the party had essentially given up. "In terms of the optics of it? We're way past that at this point," the official said.
Paying The President
For years, the entire system of donors with financial interest in particular legislation and regulations giving campaign contributions to candidates who will then craft those same laws and regulations has been derided as corrupt and tantamount to legalized bribery.
But candidates must abide by strict rules on what they can and cannot do with that money. Using it to personally enrich themselves is illegal.
Trump's refusal to divest himself of his hotels and golf courses — despite his promises to do so during the campaign — has made it possible for Republican candidates and parties to put money directly into his pocket.
"It's a scary reality when we're discussing whether the president is susceptible to the influence of people paying him while president, but it is our current reality," said Jordan Libowitz of the group Citizens for Responsibility and Ethics in Washington, which has sued Trump for violating the constitutional prohibition from taking payments from foreign and domestic government officials.
The biggest source of GOP money flowing to Trump's properties is the Republican National Committee, which essentially went under the control of Trump since his election in 2016. Through its March filing, it has spent $763,335 at Trump properties since Jan. 1, 2017. That includes $106,646 for a dinner at Trump's Washington hotel in January, $224,858 for a weekend of meetings and fundraisers at Trump's Mar-a-Lago resort in March and $237,310 in advance payments to Trump's Doral golf resort for this week's spring meeting. In past meetings, the RNC would typically pay half of the total cost of the event beforehand, and the remainder afterward.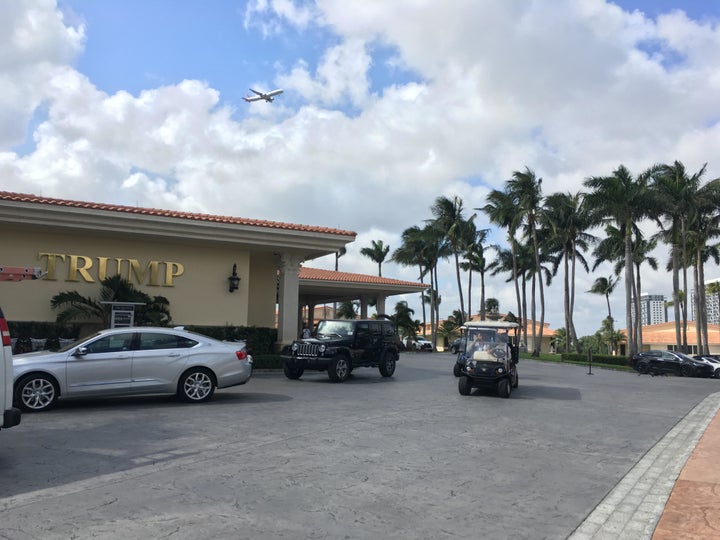 The next biggest spender at Trump properties is the president's re-election campaign, which is wholly under the president's direct control. Thus far it has funneled $551,643 of its donors' money to his hotels and golf resorts as well as to Trump Tower in Manhattan, where it rents office space and buys food from Trump's restaurants there.
Other high-profile spenders include Great America Committee and America First Action, two Trump-supporting political action committees that occasionally host fundraisers at his Washington, D.C., hotel.
But Trump properties also draw smaller committees as well as candidates for House and Senate races, who choose to pay the higher prices that Trump venues often charge compared to nearby competitors.
Illinois' Adam Kinzinger, Kansas' Kevin Yoder, New York's Peter King, California's David Valadao and Florida's Ted Yoho are all Republican House members who reported spending at Trump properties.
Both the National Republican Senatorial Committee and the National Republican Congressional Committee have held events at Trump properties, as did the Morris County, New Jersey, Republican Party — reportedly with dire results.
After paying Trump's Bedminster golf course $24,487 and a Fox News host $30,000 to serve as keynote speaker, the fundraiser actually wound up losing money, leaving the local party with shaky finances.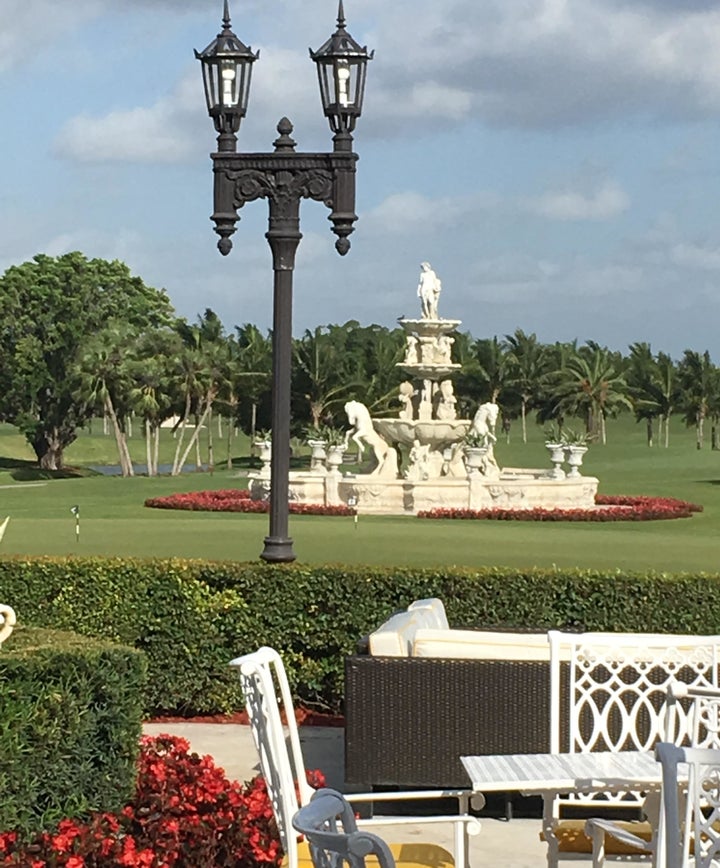 Omar Navarro, a Republican who hopes to replace Democratic Rep. Maxine Waters in Los Angeles, reported spending thousands at Trump's golf resort in Palos Verdes. He conceded that the high costs at the Trump resort ate into the total he collected, but said it was the only venue that would agree to host him.
"Trump is the only place where I can hold an event without being shut down," Navarro said. "They don't get intimidated by fascist people who keep us from having campaign events."
He said longtime Trump confidante Roger Stone headlined his first fundraiser and former Arizona sheriff Joe Arpaio his second. "It's expensive. It's not cheap," he said.
Hoping For A Payoff
CREW's Libowitz said it is obvious why candidates and incumbent Republican officials alike spend money at Trump properties: in the hopes of winning Trump's support and endorsement.
"If someone wanted to try to literally buy his favor, they have a direct and legal line to do so. This is why we've seen a sudden influx of spending by Republican candidates and committees at Trump properties where they had not previously spent," Libowitz said. "They have to have their events somewhere, so many may believe that allowing the president to profit off of them will give them a leg up in gaining his support."
One Republican close to the White House, though, scoffed at the idea that Trump's political office — known for its dysfunction — had the initiative or discipline to keep track of which candidates were frequenting Trump properties. "No," he said. "Please."
Another Republican official close to Trump, who believed that the use of Trump properties by GOP candidates was ethically troubling, agreed that Trump's political team is not paying any mind to who is spending money at his golf courses and hotels and who is not. "I don't know that it is noticed by anyone," the official said. "Maybe it is."
For Corey Stewart, a U.S. Senate candidate for Virginia, time is running out for somebody in the president's political world to notice his Trump-brand loyalty.
Stewart jumped into the Senate race not long after losing the primary for the Republican nomination for Virginia governor last year. In October and November of 2017, he spent $1,422 at the Trump hotel in Washington on meals as "meeting expenses."
Stewart said he hosts get-togethers with small groups of "high-dollar donors" there – although at least on one occasion in November, he appeared to be socializing with tourists and other visitors at the bar, not meeting with donors. His FEC report for that period included a bill for $355 for that date.
"I might have been just hanging out there," he said, adding that the hotel has become a "clubhouse for conservatives" in the area. "We like to host events there because there are a lot of MAGA folks who like to meet there," he said.
Notwithstanding his frequent visits there, Stewart said he does not expect Trump to endorse him prior to the June 12 Virginia primary, in which he faces two opponents.
Navarro, of Los Angeles, similarly does not expect a Trump endorsement, but said he would continue to use Trump properties. "I'd rather do business in a place where someone has my values," he said.
And — notwithstanding his own website that calls for "an end to accepting bribes" and ridding "corruption/greed" in government ― he rejects the idea that Trump is doing anything wrong by profiting from his businesses while in office.
"If he's not breaking the law, he's not breaking the law," Navarro said.
Popular in the Community