Amid the immense backlash he's facing for separating immigrant children from their families at the border, President Donald Trump held an event Thursday with parents whose children were killed by undocumented immigrants.
Flanked by more than a dozen parents holding Trump-autographed posters of their deceased children, he did not make an explicit reference to the uproar over shelters where about 2,000 children have been detained separately from their parents in recent weeks. But the comparison was clear.
"These are the American citizens permanently separated from their loved ones," he said. "The word 'permanently' being the word that you have to think about. Permanently. They're not separated for a day or two days. They are permanently separated."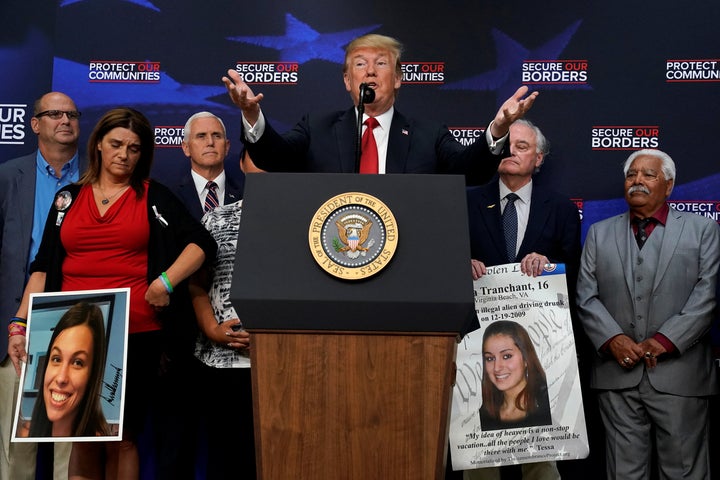 His administration is fighting in court for the ability to lock up migrant children indefinitely with their parents as its way to avoid separating families that crossed illegally into the U.S. The government's filing on Thursday, however, suggests that parents and kids could be split up again down the road.
Before asking the parents at the event to tell how their children died, Trump argued that the media were unfairly ignoring their plight.
"These are the families the media ignores. They don't talk about them. Very unfair," he said.
"No major network sent camera to their homes or displayed images of their incredible loved ones across the nightly news," he continued.
Trump backed up his complaint with the unsupported claim that undocumented immigrants are more dangerous than the general population and shared statistics on crimes committed by undocumented immigrants without any context. He claimed that 63,000 Americans have been killed by undocumented immigrants since the Sept. 11 terrorist attacks — an inaccurate figure that The Washington Post reports originally appeared in a 2005 blog post by Rep. Steve King (R-Iowa), an immigration hawk who recently promoted a neo-Nazi on Twitter. The White House did not respond to requests for comment on Trump's source for the figure or whether he would correct the record.
"I always hear that, 'Oh, no, the population is safer than the people who live in the country,'" Trump added. "I say, is that possible? The answer is, it's not true."
It is true, according to multiple studies on the issue published in recent months.
In one of those studies, published in March in the journal Criminology, researchers looking at crime statistics from 1990 to 2014 found that "increases in the undocumented immigrant population within states are associated with significant decreases in the prevalence of violence."