WASHINGTON ― President Donald Trump has been all over the place on guns, but he hasn't yet done the one thing that helps move votes in Congress: publicly support specific legislation to address gun violence.
In the days since the horrific school shooting in Parkland, Florida, the president has suggested arming teachers, toughening background checks, opening more mental hospitals and increasing the age limit to buy some weapons to 21. Last week, he directed his administration to regulate bump stocks, the gun accessory used to simulate automatic fire in the 2017 Las Vegas attack.
Trump has even urged state governors not to be afraid of the National Rifle Association, the nation's most powerful gun lobby, as they seek to address school safety ― a remarkable thing for a Republican president to say.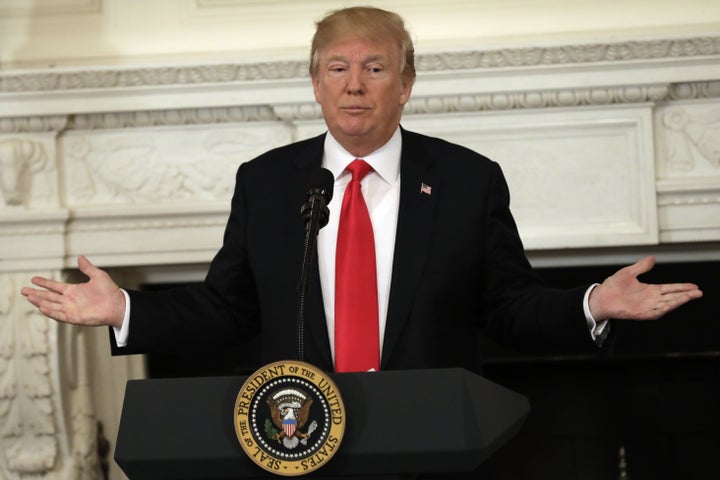 "Don't worry about the NRA. They're on our side," Trump told a bipartisan gathering of governors on Monday during a White House meeting. "If they're not with you, we have to fight them every once in a while. That's OK. They're doing what they think is right."
It's not hard to understand why Trump has tried to move to the middle on guns. Support for stricter gun laws has spiked to its highest level since 1993, according to a recent CNN poll, with 70 percent of Americans now saying they support more gun control. That's up from the 52 percent who said they supported stricter gun laws in the wake of the Las Vegas massacre, where 58 people died. Trump's approval rating, meanwhile, has slumped again to match the lowest of his presidency.
Yet Republicans in Congress, many of whom are facing competitive primaries ahead of the 2018 midterm elections, seem no more willing to tackle the issue of gun control. Without clear direction from the leader of their party, it's unlikely they'll do so in a substantial way this year. 
"If President Trump weighs in ― and leans in ― we could see some reasonable changes on things like bump stocks and age restrictions. If not, the status quo will largely remain," said Doug Heye, a veteran Republican operative and former Republican National Committee communications director.
Trump's tactics on guns so far have mirrored his handling of the immigration debate. Early in conversations with lawmakers over the legal status of young undocumented immigrants brought to the U.S. as children, the president expressed a desire to pursue comprehensive immigration reform and even said he'd be willing to "take the heat" from his supporters if Congress decided to act. He also told lawmakers that he would sign any bill they sent him that would institutionalize President Barack Obama's Deferred Action for Childhood Arrivals program, buoying activists' hopes that Congress would reach a compromise.
Yet his vague promises and platitudes on immigration were quickly followed by intense lobbying from immigration hawks in the White House and the Department of Homeland Security against a bipartisan measure in the Senate that would have paired $25 billion for border security with a pathway to citizenship for nearly 2 million undocumented immigrants who came to the U.S. as children. Neither that bill nor other competing ones received enough votes to advance.
With more Republicans expressing skepticism this week about additional restrictions on guns, Trump seems to be heading toward a similar backtrack. The president, per CNN, appears to be softening his position on raising the age at which people can purchase AR-15 rifles, the weapon used in the Parkland massacre, and similar weapons. But a White House spokesperson insisted Tuesday that the president still supported the idea.
It's also unclear what kind of bill toughening background checks Trump is willing to endorse. Democrats are calling for universal gun background checks, while Republicans support more modest efforts to beef up the national background check system. Trump is scheduled to meet with Sen. Chris Murphy (D-Conn.), a top gun control advocate, to discuss the matter on Wednesday. 
"We expect to have some specific policy proposals later this week," White House press secretary Sarah Huckabee Sanders told reporters on Tuesday.
Senate Majority Whip John Cornyn (R-Texas) called on the Senate the same day to "immediately" pass a bill to strengthen background checks for gun purchases, which he co-sponsored with Murphy. The measure, called Fix NICS, would require states to produce an implementation plan focused on uploading all gun purchaser information to the federal background check system and penalize federal agencies if they failed to record that information.
Democratic senators support Cornyn's bill but call it a "tiny" effort to curb gun violence. They would also like the Senate to consider more gun-related initiatives, such as an assault weapons ban, magazine restrictions and stricter background checks ― all ideas opposed by Republicans and the NRA.
"My sense is Republicans aren't going to move here on serious gun legislation unless the president pre-endorses it, so what he says in the next few days and what he says tomorrow will be important," Murphy said Tuesday.
Sen. Lindsey Graham (R-S.C.) agreed that it would be helpful if Trump said what he preferred Congress to do on the issue of guns.
"The president said some things that were encouraging, that were common sense," Graham said during a sit-down with reporters. "But whether he follows through with them ― I don't know."
REAL LIFE. REAL NEWS. REAL VOICES.
Help us tell more of the stories that matter from voices that too often remain unheard.