WASHINGTON ― President Donald Trump convened lawmakers at the White House for something unusual in today's politics: a substantive, unscripted discussion of a contentious issue in which the president broke with party orthodoxy, all on camera.
In the made-for-TV event on Wednesday, Trump struck a moderate tone and encouraged a group of Republicans and Democrats to act quickly on a comprehensive gun reform package. He chided Republicans in the room for their unwillingness to stand up to the National Rifle Association, the nation's top gun lobby group. He even expressed support for ideas like universal background checks and raising the minimum age at which one can purchase an assault weapon.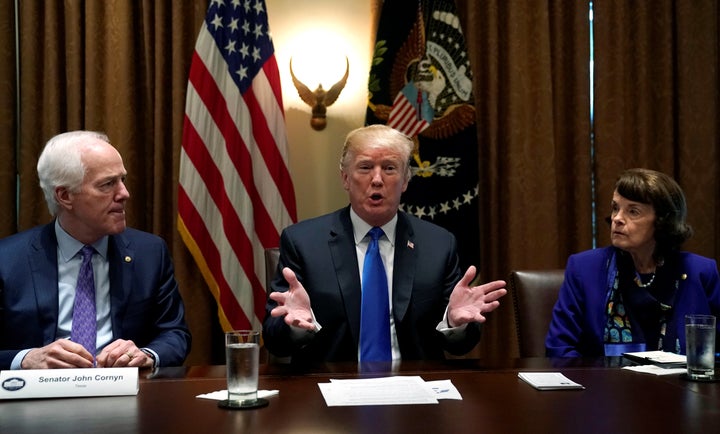 Trump's move to the middle, which comes nearly two weeks after the horrific school shooting in Parkland, Florida, elicited smiles and fist pumps from several Democratic senators in the meeting. It even took some Republicans by surprise.
"I thought it was fascinating television, and it was surreal," Senate Majority Whip John Cornyn (R-Texas), who sat next to the president, told reporters afterwards.
Yet as positive as the meeting sounded, Democrats warned there is reason for skepticism. Trump's behavior, for example, was strikingly similar to a sit-down he held with lawmakers in January over what to do about undocumented young people who came to the U.S. as children, also known as Dreamers. During that time, he also spoke in platitudes but ultimately turned against a bipartisan compromise.
"It was like watching a rerun of the immigration meeting. Hopefully the follow-through will be different," a senior Democratic Senate aide told HuffPost.
Supporters of stricter gun control laws are hoping that Trump will help them push through measures that conservatives would typically oppose. They hope to take advantage of the president's own squishiness on policy and the calls for swift congressional action after the shooter in Parkland killed 17 people.
When Sen. Amy Klobuchar (D-Minn.) suggested Wednesday to add more protections against gun violence for domestic violence victims, Trump quickly agreed. To the surprise of many in his party, Trump rejected the idea of including GOP-supported measures to allow concealed carry permit holders to carry from one state to another. Overall, Trump's message was that he wanted to sign "one great piece of legislation" into law, even if he did not explicitly spell out what that should look like.
The question now will be whether the passionate Trump at the Wednesday meeting will still be around in days to come. The immigration debate offers plenty of reasons to be skeptical.
"Everyone's coming up to me, saying, 'We just went through the same thing you went through on DACA.'" Sen. Dick Durbin (D-Ill.) told HuffPost on Wednesday.
"Why would you believe [the president]?" he added.
During the televised immigration meeting in January, Trump laid out four immigration pillars for a bill for the 700,000 Dreamers he put at risk of losing deportation relief when he rescinded the Deferred Action for Childhood Arrivals program. But he indicated he was willing to be flexible about what Congress could put together.
"I'm not saying I want this or I want that. I will sign it," Trump said at the time.
It all fell apart quickly. Two days later, Trump held an off-camera meeting with several lawmakers, during which Durbin and Sens. Lindsey Graham (R-S.C.) pitched a bipartisan proposal to give Dreamers legal status, ramp up border security and make some tweaks to the legal immigration system. Trump rejected their proposal and reportedly made his infamous "shithole countries″ jab during a meeting discussing Haiti, El Salvador and African countries. (He denies the remark, although Durbin publicly confirmed it.)
Graham began to talk about "Tuesday Trump" and "Thursday Trump," referring to the president's reversal on the issue in between the days each meeting took place.
Trump later hardened his stance on what he was willing to accept in exchange for helping Dreamers, including by insisting that it include his exact demands for dramatic changes to the legal immigration system. His administration went on the attack on other proposals, holding White House calls with reporters to anonymously bash bipartisan plans. It also issued a highly unusual Department of Homeland Security statement that accused senators of supporting policies that would put American lives at risk.
When the Senate finally voted on Dreamer-related bills, none of them got to the 60-vote threshold needed for passage. The bipartisan proposal introduced by Sens. Mike Rounds (R-S.D.) and Angus King (I-Maine) that the White House fought against received 54 votes. Trump's preferred measure got only 39.
Klobuchar told reporters after the meeting that she was cautiously optimistic about the chances of some kind of gun legislation passing this time around in Congress because Trump appeared to more clearly spell out his position.
"I don't know how much clearer he could have been," she said.
But Sen. Chris Murphy (D-Conn.), a top gun control advocate in Congress, said that only time would tell whether the president is serious in tackling the issue.
"If he comes up here and sends his people up here to forcefully lobby for universal background checks, they will pass," Murphy told reporters on Capitol Hill.
"I'm going to be watching very carefully what the White House does in the coming days. The White House can now launch a lobbying campaign to get universal background checks passed as the president promised in this meeting, or they can do nothing," he added.
Before You Go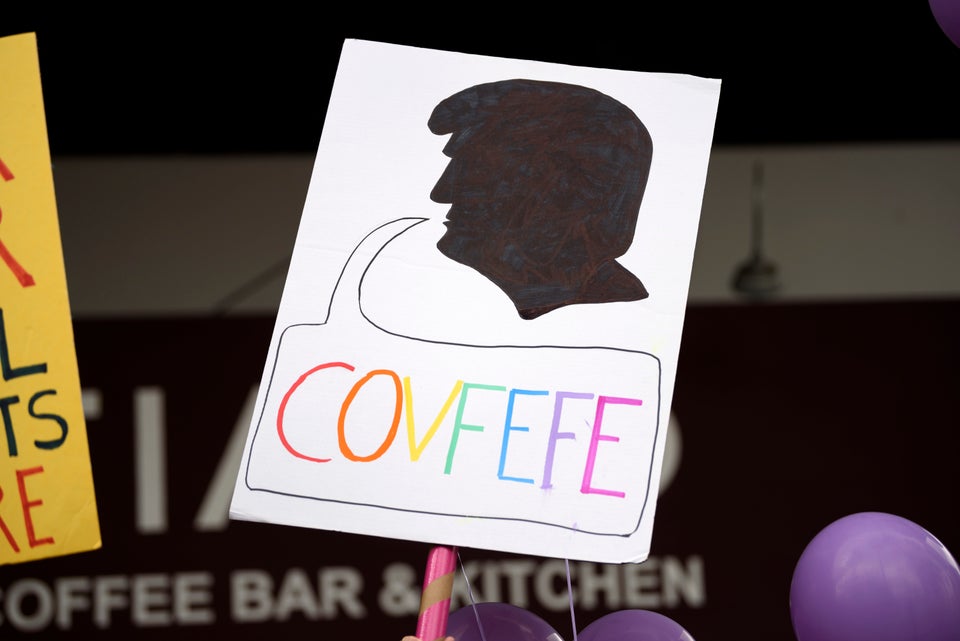 Donald Trump's 10 Best Days As President
Popular in the Community