The United States appears to be resuming its longstanding efforts to resettle refugees after the program was derailed and almost completely upended abroad for several months.
U.S. Citizenship and Immigration Services "has begun to expand its interview schedule in the 3rd quarter of the fiscal year," public affairs officer Marilu Cabrera told HuffPost in a statement on Friday. The Department of Homeland Security is working with the State Department to plan for a "further expansion" through the end of fiscal year 2017, she added.
President Donald Trump signed two executive orders ― one during his first week in office, the second in March ― intended to halt the entire refugee resettlement program for 120 days and ban travel from some Muslim-majority nations. The first order also indefinitely banned Syrian refugees; the second, revised order backed away from that provision.
Even though both orders were blocked in federal court, the administration quietly pumped the brakes on various steps of the resettlement process that occur overseas. Vetting and screening refugees is an 18- to 24-month process, involving interviews with many branches of the U.S. government as well as various security and medical clearances.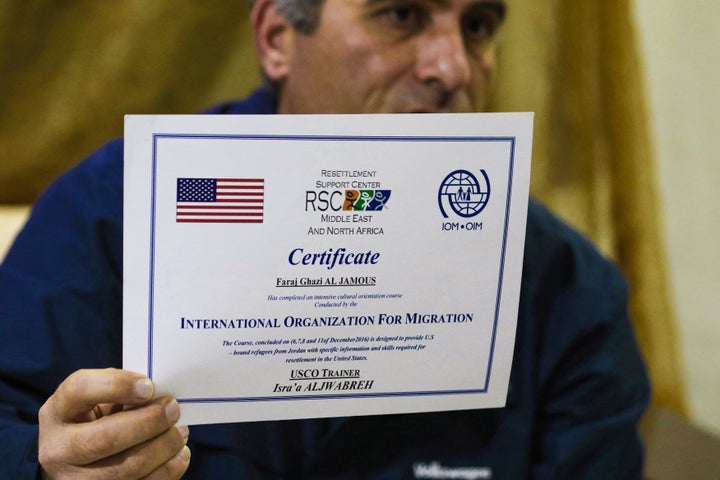 USCIS noted in its statement that circuit rides ― a technical term that refers to DHS agent travel to different countries to conduct refugee interviews ― were suspended on Jan. 25, just prior to Trump's first executive order, and continued on a reduced schedule from January through March. 
In addition to stalled DHS interviews, security and medical checks expire after several months and "none of them [were] being re-run, said Jen Smyers, the director of policy and advocacy for the immigration and refugee program at Church World Service, one of nine domestic resettlement agencies. "Also, our understanding is that for a while, [medical clearances] were not happening, with some exceptions for emergency cases."
Because both of Trump's executive orders attempted to lower the refugee admissions quota from 110,00 to 50,000 for the 2017 fiscal year, "the State Department and USCIS assessed that it was not necessary to interview large numbers of refugee applicants in order to meet the new ceiling," the USCIS statement said.
The number of refugees entering the United States has plummeted in all states but four in the last few months, according to a Pew Research Center analysis of the State Department's Refugee Processing Center data.
Almost 10,000 refugees were resettled in October of 2016, the first month of the 2017 fiscal year. That number dropped to 3,316 in April 2017 ― and so far, 3,119 refugees have arrived this month, as of May 25. It's the longest consecutive monthly decline on record, Pew said.
Resettlement experts said they're cautiously optimistic about the expanded interview schedule. 
"We're waiting to celebrate until we see the pipeline of refugee processing look healthier," Smyers said. "All of this is really preliminary."
But they are already in the process of hiring back some of the almost 600 staffers they had to lay off worldwide during the executive order legal limbo.
"It's becoming increasingly clear that the administration has been ignoring what the courts have instructed, and they're going to continue to find every means at their disposal to decrease the number of people who are admitted to the U.S.," warned Noah Gottschalk, Oxfam America's senior humanitarian policy adviser.
"The question is now what's going to happen next," he added.
Congress recently passed a budget with enough funding to resettle a total of 75,000 refugees through the end of the fiscal year. This should mean significant increases in the number of refugee arrivals in the coming weeks.
Calling all HuffPost superfans!
Sign up for membership to become a founding member and help shape HuffPost's next chapter
BEFORE YOU GO
PHOTO GALLERY
These Are The Terrifying Syrian Refugees Coming To The U.S.