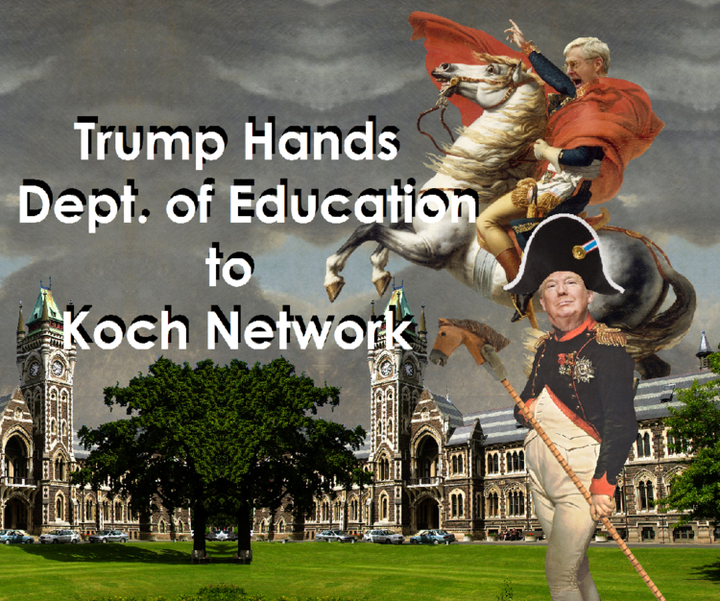 Author's note: I assisted primary author Ralph Wilson with this post. Ralph and I work together on the UnKoch My Campus campaign.
With the selection of Betsy DeVos as Secretary of Education, the Trump administration has effectively given control of the Department of Education to Charles Koch and his network of political donors, the Freedom Partners Chamber of Commerce.
Two generations of the DeVos family have been active in Koch's political activities, including the Freedom Partners, whose "integrated strategy" for the privately funded "implementation of policy change" involves targeted donations to universities, think tanks, front groups, and politicians.
Several in Trump's White House, Including DeVos, Will Have an Intimate Knowledge of Koch's "Integrated Strategy"
Vice President Elect Mike Pence has been a celebrated attendee of Koch's donor summits as far back as 2010. Pence's current communications adviser, Marc Short, is the past president of Freedom Partners.
Trump's education transition team includes Gerard Robinson, of the (Koch funded) American Enterprise Institute, whose CEO is a favorite at Koch donor summits. Robinson's "all hands on deck" education proposal encourages increased involvement by "corporate and non-profit institutions."
Our recordings from a conference of Koch-funded professors reveal Koch's agenda being carried out on campuses, with professors bragging about a donor's gift allowing them to "take over" departments, and use their classroom as "major recruiting ground" for Koch's liberty movement.
What the Koch network calls "leveraging science as universities" consists of donors gaining influence over administration, hiring, and academic programming through large "gifts" whose secretive contracts enumerate the many strings attached.
UnKoch My Campus has been working to expose these strings and the academic harms of undue outside influence, including clear violations of academic freedom and outside interference in faculty governance.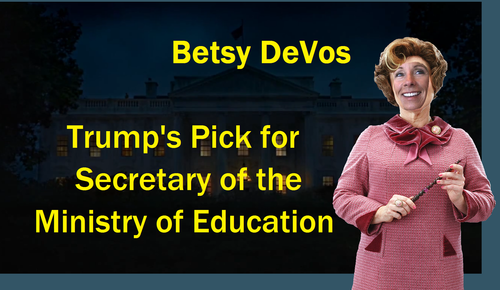 The appointment of Betsy DeVos does not bode well for K-12. 
In addition to any misgivings with DeVos, the Koch network's vision for K-12 is particularly terrifying.
Earlier this year, we exposed a K-12 curriculum developed by Koch academics, teaching children that "corporations routinely sacrifice the lives of some of their customers to increase profits, and we are all better off because they do." This curriculum is one of many pushed through Koch's Youth Enterprises.
Academic programming is the crux of Freedom Partners' long-term political investments. With a renewed surge of legislative and executive influence, we expect an acceleration of their academic programs in order to scale up their policy impact.
Now more than ever, we must protect education and accelerate our efforts to expose and expel undue corporate influence from our schools.
UnKoch My Campus is dedicated to exposing and disrupting the misuse of the education system for private political purposes, and are working with a network of students, faculty, and education experts to develop meaningful protections to prevent undue donor influence.
Calling all HuffPost superfans!
Sign up for membership to become a founding member and help shape HuffPost's next chapter