WASHINGTON ― Having lurched from one crisis to the next, starting the day he was inaugurated, President Donald Trump could be facing the first real one of his presidency not of his own making: Hurricane Harvey.
Trump has inflamed relations with his own intelligence community, picked fights with fellow Republicans in Congress, brandished the nation's nuclear weapons on Twitter, encouraged neo-Nazis and created chaos at the nation's airports with a poorly crafted travel ban that remains tied up in the courts.
All of those troubles, though, were generated because of his own words and actions. The 125 mile-per-hour storm churning toward the central Texas coast is the first menace directly affecting Americans in Trump's presidency beyond his control. And as of Thursday afternoon, he had spoken about it not at all.
Trump's daily schedule did not include a hurricane briefing. His morning statements on Twitter attacked the news media, Senate Majority Leader Mitch McConnell and the former director of national intelligence, James Clapper, who said Tuesday night that Trump's apparent mental state made it dangerous for him to be in control of the nation's nuclear weapons.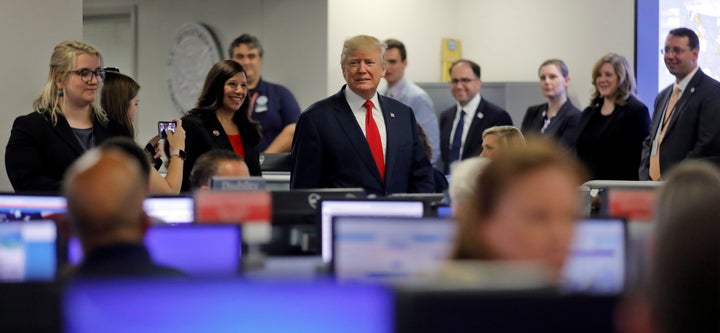 White House Press Secretary Sarah Huckabee Sanders, though, said Thursday that Trump has been monitoring the hurricane situation. "The president has been briefed and will continue to be updated as the storm progresses, and it's certainly something he's very aware of and will keep a very watchful eye on and stand ready to provide resources if needed."
Shortly after Sanders wrapped up her daily briefing, a tweet was sent on Trump's account that advised people "to plan ahead." It contained links to websites and an embedded video, which Trump's personally written tweets rarely contain.
Trump's silence on a storm that is forecast to cause devastating flooding stands in contrast to what previous presidents have done.
Last October, for example, Barack Obama used an Oval Office photo opportunity to warn residents of Atlantic coastal states after Hurricane Matthew did not strike Florida but remained offshore. "I just want to emphasize to everybody that this is still a really dangerous hurricane; that the potential for storm surge, flooding, loss of life and severe property damage continues to exist," Obama said. "And people continue to need to follow the instructions of their local officials over the course of the next 24, 48, 72 hours."
At the operational level, the Federal Emergency Management Agency appears to be preparing for Harvey the same way it has dealt with storms in the aftermath of its much-criticized handling of Hurricane Katrina in 2005: deploying staff and emergency supplies to areas where they will likely be needed.
"The supplies include about 250,000 meals, 77,000 liters of water and 4,000 tarps. These supplies are being moved from FEMA's warehouse/distribution center in Fort Worth, Texas to an Incident Support Base in Seguin, Texas, should those supplies be needed," FEMA public affairs director William Booher said in a statement. "FEMA personnel are on the ground at emergency operations centers in Texas and Louisiana to support any requests for federal assistance."
FEMA plays primarily a coordinating role in hurricane preparedness and recovery, with the states' own agencies taking the lead. Yet the success or failure of the combined effort can have a big effect on a presidency.
Obama was helped by his leadership in the immediate aftermath of "superstorm" Sandy, which hit New Jersey and New York just ahead of the 2012 presidential election. In 1992, President George H.W. Bush, already behind in his re-election race, was hurt by the federal government's slow response to Hurricane Andrew's direct hit on Miami. And 13 years later, Katrina's strike on New Orleans and FEMA's poor response was a major reason for the decline of son George W. Bush's second-term effectiveness. The following autumn, Democrats retook control of both chambers of Congress.
Tricia Wachtendorf, director of the University of Delaware's Disaster Research Center, emphasized the importance of collaboration among local, state and federal agencies when dealing with potentially disastrous events. Wachtendorf witnessed Katrina's effects firsthand.
"If Harvey turns out to be a large-scale or catastrophic event, the country will be looking at how the current federal administration demonstrates leadership, both operationally in terms of its resources and support as well as symbolically," she told HuffPost in an email.
"Disasters are governed at the local and state level," she added. "The federal government, when called upon, provides support to those efforts. That interaction with the local and state governments is critical.
"Given that this is potentially the Trump administration's first major hurricane response to contend with, the administration's actions and words are particularly important."
Ryan Grenoble contributed to this report.
Calling all HuffPost superfans!
Sign up for membership to become a founding member and help shape HuffPost's next chapter
BEFORE YOU GO
PHOTO GALLERY
Haiti Struggles To Recover After Hurricane Matthew