President Donald Trump spent much of the first 100 days of his presidency reneging on the populist, isolationist policies he often espoused as a candidate. Trump, who pledged during his campaign to stand up to Wall Street and to put "America first" in foreign affairs has instead championed financial deregulation and conducted airstrikes in Syria.
But despite Trump's flip-flops on economic and foreign policy issues, most of his supporters still feel they're getting exactly the man they voted for, new HuffPost/YouGov polling shows.
The majority, 63 percent of voters who supported Trump in last year's election say his current policies are not very or not at all different from the ideas he espoused as a candidate. Only 30 percent of voters who supported Trump in last year's election say his policy views are "somewhat different" since he took office — and just 4 percent say they are "very different."
And although the sample size of Trump voters who say he's changed is very small, the results suggest that those voters are more likely to prefer his new positions. At a rough estimate, just over a tenth of the voters who supported Trump believe he's changed for the worse since taking office, with about 14 percent saying they prefer the policies he now holds.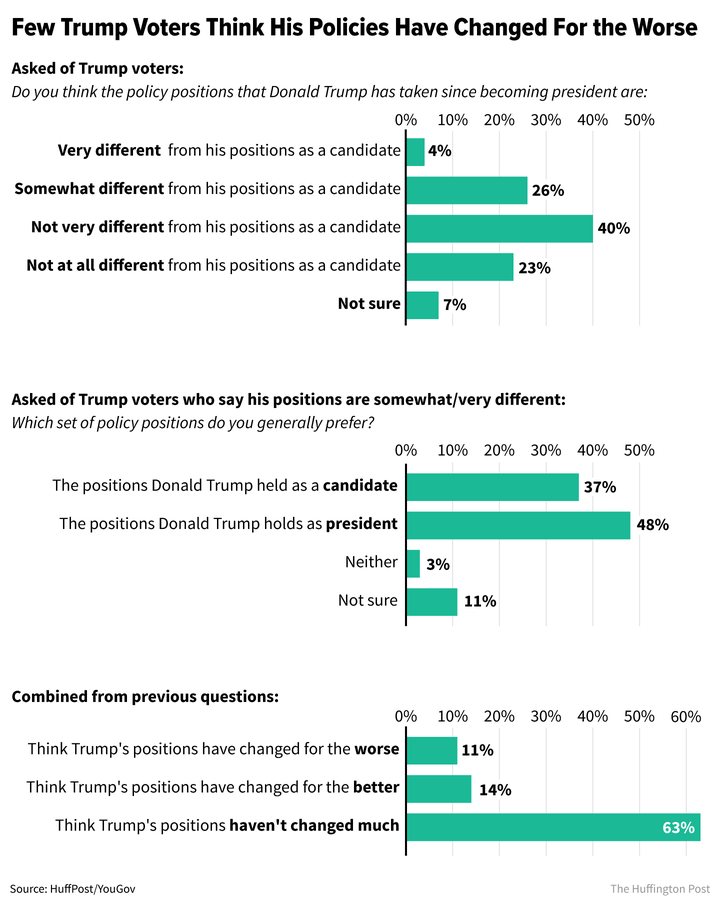 Trump, whose early presidency remains historically unpopular among the public at large, can ill afford to bleed any of his supporters. His approval rating among the general public stands at an average of just above 42 percent, according to HuffPost Pollster's aggregate, strikingly low for a time period that usually plays out as a presidential "honeymoon period."
Other metrics also suggest that the intensity of some of Trump's support has cooled.
In the first weeks of Trump's presidency, according to the Economist/YouGov tracking poll, around 90 percent of his voters said they approved of his job performance, with two-thirds approving strongly. While his overall approval with that group has remained relatively stable, the percentage who strongly approve has drifted downward, reaching its lowest ebb ― 51 percent ― in late March, following the failed attempt to pass an Obamacare repeal bill. In the last three weeks, between 56 and 61 percent of Trump's supporters have said they strongly approve of his handling of the presidency.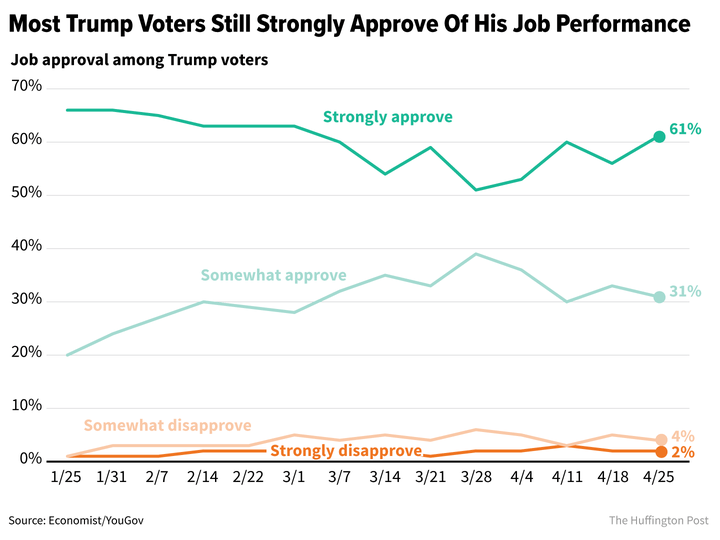 Trump's detractors outnumber his supporters and appear stauncher in their opposition than his supporters are in their support. The percentage of Clinton voters who strongly disapprove of Trump hasn't dipped below three-quarters since his first week in office in the Economist/YouGov tracker. While 69 percent of Clinton voters think Trump the president is notably different from Trump the candidate, just about 3 percent consider the change an improvement.
But the latest survey's results stand in contrast to the idea, propagated by some in the media almost since the day he was elected, that Trump's backers are constantly on the verge of deserting him wholesale.
"Donald Trump's true believers are losing the faith," Politico reported last week, citing "a belief that Trump the candidate bears little resemblance to Trump the president." That's just not happening, according to the polling.
Regardless of his supporters' views, Trump has notably reversed himself on several issues.
Trump voters don't like some of his new policies. They prefer, by a 33-percentage point margin, his campaign statement that China is a currency manipulator over his more recent repudiation of it. By 8 points, they agree with his previous stance that the Export-Import bank is "unnecessary," rather than "a very good thing;" by 11 points, they say that Janet Yellen, whom Trump blasted during the campaign but recently praised, is doing a bad job heading the Federal Reserve.
But while the president's populist rhetoric during the campaign may have resonated strongly with some voters, few hold especially strong views on the specifics of, say, the efficacy of the Export-Import Bank.
Most Americans aren't knowledgeable on every issue. Instead, they tend to follow partisan cues ― assuming, reasonably, that they're likely to agree with the politicians they generally support on other issues. Even before Trump became the GOP's official nominee, for instance, Republicans warmed to liberal policies when his name was attached.
When told that Trump himself has taken both views at varying times, his supporters are often left largely uncertain. Forty-five percent of Trump voters say they're not sure how they feel about China's status as a currency manipulator, and nearly 60 percent have no opinion on the other two questions.
On international relations, Trump voters are more likely to have an opinion ― and they largely favor his reversals. By 21 points, they favor his decision that NATO is now "no longer obsolete." And they favor military action in Syria, which Trump opposed in 2013, by a whopping 54-point margin.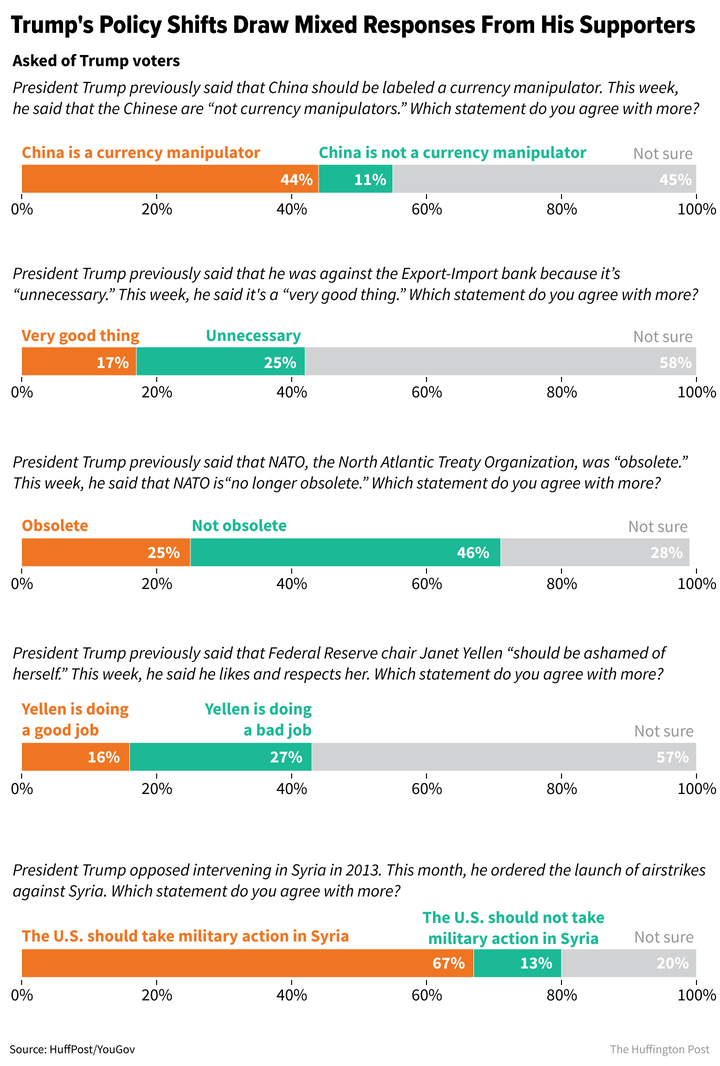 That few Trump voters see his reversals across all of these policies as comprising a of pronounced shift is perhaps unsurprising: for him to have truly abandoned his earlier ideology would have required him to hold firm political positions to begin with.
In another recent HuffPost/YouGov survey, 86 percent of Trump voters said they believed that, when the president makes decisions, he was working for the interests of the people like them ― a level of consideration that just 36 percent ascribed to Republicans in Congress, and fewer than a third to their own representatives. As long as Trump voters' faith in his intentions remains, it may matter less to them what his decisions actually are.
Use the widget below to further explore the results of the HuffPost/YouGov survey, using the menu at the top to select survey questions and the buttons at the bottom to filter the data by subgroups:
The HuffPost/YouGov poll consisted of 1,000 completed interviews conducted April 13-14 among U.S. adults, using a sample selected from YouGov's opt-in online panel to match the demographics and other characteristics of the adult U.S. population.
The Huffington Post has teamed up with YouGov to conduct daily opinion polls.You can learn more about this project and take part in YouGov's nationally representative opinion polling. Data from all HuffPost/YouGov polls can be found here. More details on the polls' methodology are available here.
Most surveys report a margin of error that represents some, but not all, potential survey errors. YouGov's reports include a model-based margin of error, which rests on a specific set of statistical assumptions about the selected sample, rather than the standard methodology for random probability sampling. If these assumptions are wrong, the model-based margin of error may also be inaccurate. Click here for a more detailed explanation of the model-based margin of error.
Sign up for the HuffPost Must Reads newsletter. Each Sunday, we will bring you the best original reporting, long form writing and breaking news from The Huffington Post and around the web, plus behind-the-scenes looks at how it's all made. Click here to sign up!
Popular in the Community