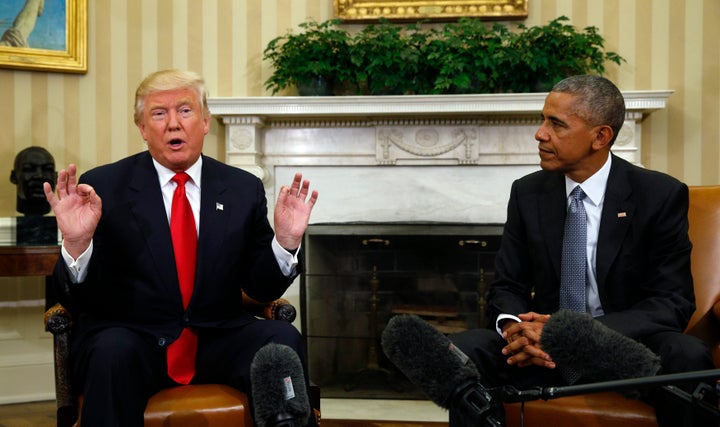 It's becoming more and more difficult for me not to subscribe to this view. Believe me, I want to heed the words of President Barack Obama, a man I greatly admire, who told us Wednesday that we must all "root" for President-elect Trump and unite behind him. And I'm trying my best to follow the words of Hillary Clinton's concession speech in which she so graciously stated about Trump, "We owe him an open mind and a chance to lead."
But as of now, I simply cannot forgive Trump for the sexism, racism and bigotry he spewed in this presidential campaign. This is a man who served up vile lies about Latinos. This is a man who stoked hatred against Muslims with phrases like "Islam hates us" and encouraged the beating of a Black Lives Matter protester at his campaign rally. And this is a man who mocked a disabled reporter for refusing to back up his lie that, "There were people that were cheering on the other side of New Jersey [on 9/11] where you have large Arab populations."
"I simply cannot forgive Trump for the sexism, racism and bigotry he spewed in this campaign."
What makes accepting him as our next president even more challenging is the memory of the racist birther campaign Trump waged against Obama that was designed to delegitimize his presidency. As the two met for the first time at the White House today, I couldn't help but think of those days and the comments they've made about one another in the last 18 months.
To think that Trump's election win would somehow absolve him of these horrible words and actions is not just laughable, it's insulting. That is why one of the top trending issues for most of Wednesday on Twitter was the hashtag #NotMyPresident.
And it's why on Wednesday night we saw anti-Trump protests on streets from New York to Oakland, California and other places across the country. These demonstrations were marked with chants like "Misogyny has to go" and signs supporting Black Lives Matter and others that read "Trump Makes America Hate,"according to Politico.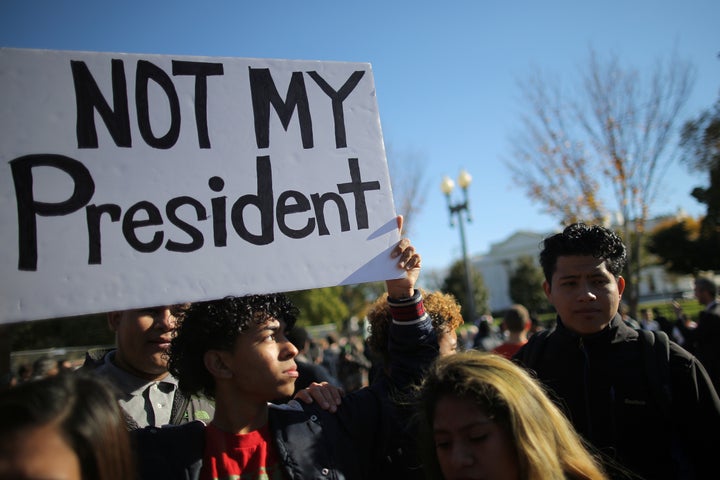 Trump is not a normal politician. And these protests are proof of that. Trump is different ― he has trafficked in hate. And worse, we are seeing some evidence that Trump may be emboldening the bigots and racists in this country with his victory – the exact thing I warned about in my article published a day before the election.
We have already seen isolated hate crimes reportedly committed by self-professed Trump supporters in the days since his election. In California, police said a Muslim student was robbed by men who allegedly made comments supporting the president-elect. Two students at a high school in Pennsylvania walked through the halls carrying Trump signs and yelling "white power." And shockingly, swastikas and racist words, along with references to Trump, were found on storefronts in the state just a day after his win. Even more despicable was that this Nazi graffiti happened on the 78th anniversary of Kristallnacht ― the "Night of Broken Glass" ― attacks on Jews in Germany in 1938.
Here's the thing: If Trump wants people who passionately opposed him ― as I did ― to give him a chance, he will have to do more than give a speech like he did after his victory where he said, "it's time for America to bind the wounds of division" and "come together as one united people."
"Trump is different – he has trafficked in hate. And worse, we are seeing some evidence that Trump may be emboldening the bigots and racists in this country with his victory."
If Trump truly wants to be "president for all Americans," as he claims he does, we must see actions. For starters, Trump should follow his very own words in that speech in which he said, "I'm reaching out to you for your guidance and your help so that we can work together and unify our great country."
Well, President-elect Trump: Prove it to us. Come meet with communities that you demonized in your election bid and apologize to us for the hate you spewed. As an American Muslim, I, and the rest of my community, want to hear you say that your lies about our community ― like that we are not informing the police when we see suspicious people in our midst ― are wrong, so that our fellow Americans misled by your falsehoods can hear the truth from your lips. Meet with Latino-American leaders and tell them that you understand that Mexico is not actually sending rapists as you claimed and that you are sorry for unfairly insulting their community. That you realize now that being sexist and bragging about sexual assault like you did in the Access Hollywood tape is despicable and an affront to this nation's women. Tell us that you believe that black lives matter ― something you have so far neglected to say. Give a genuine speech embracing the equal rights of the LGBT community, especially since your running mate Mike Pence's record on that is stunningly atrocious.
Tell the nation that you believe in the words on the Great Seal of the United States, "E Pluribus Unum" ― "Out of many, one" ― evidenced in our Founding Fathers' commitment to the concept that we are all Americans regardless of our heritage, race or religion.
And then do more than that. Appoint people to high-ranking positions in your administration from these respective communities. And no, I don't mean just those who supported you. I'm talking about picking people for your cabinet or other visible positions who are truly leaders of their respective communities, and, in all likelihood, opposed you in this election.
If President-elect Trump does that I can assure that I, and I bet many others, will, like Hillary said, have an open mind and give Trump a chance. But barring that, Trump will never be my president nor the president of millions and millions of Americans who will neither forget nor forgive him for the vile hate he served up this election.
Before You Go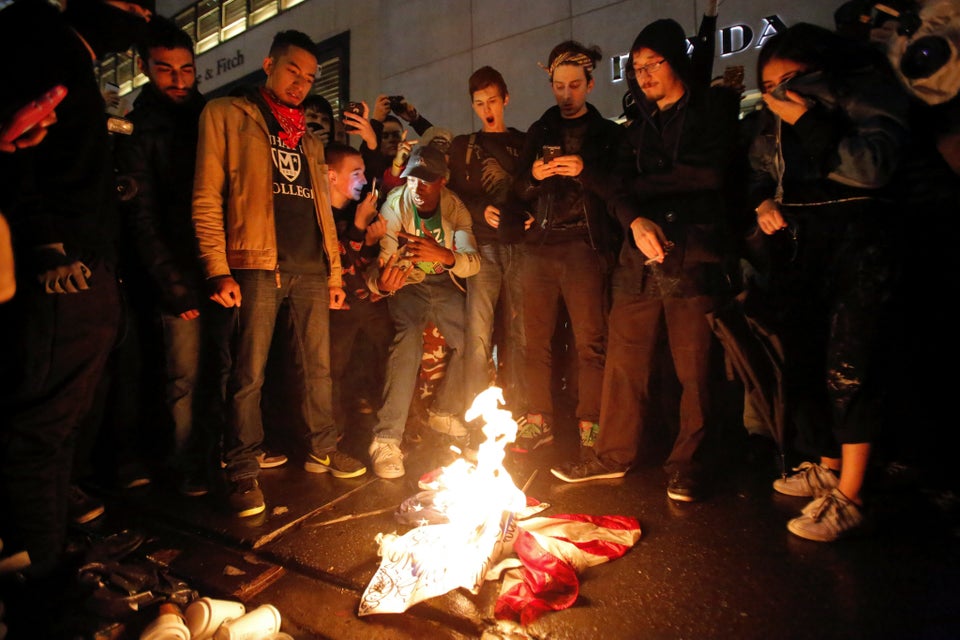 Donald Trump Win Sparks Protests Nationwide
Popular in the Community