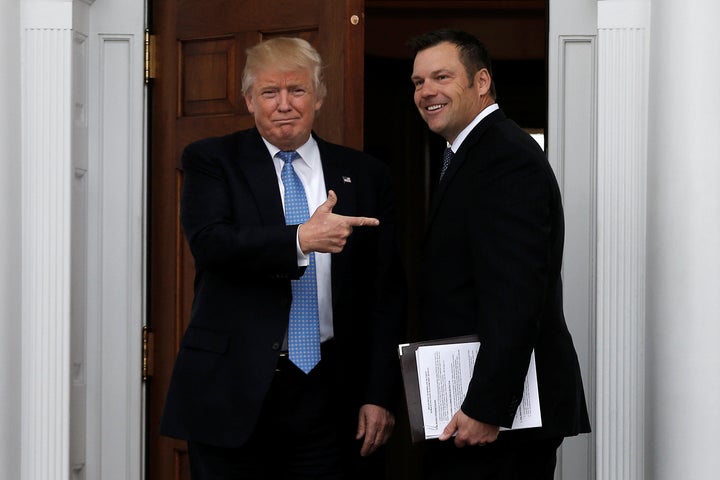 Throughout late 2017, national Republicans had a deep-seated fear President Donald Trump would put their party's majority in the U.S. Senate at risk. After the failure of the party's Obamacare repeal efforts, Trump was feuding with Senate Majority Leader Mitch McConnell. Recently ousted White House strategist Steve Bannon was preparing a political insurrection, threatening to mount and fund primary challenges to every incumbent Republican senator, save for Ted Cruz of Texas.
The fear grew exponentially when now-Sen. Doug Jones defeated Trump-backed Roy Moore in the special U.S. Senate election in Alabama last December. But it would quickly fade away: The passage of the GOP tax cut law eased tensions, and Bannon's blabbing to author Michael Wolff soon led to his involuntary exit from Trump's inner circle.
Trump hasn't meddled in GOP Senate primaries, avoiding endorsements of controversial candidates and largely following McConnell's lead. But it turns out Republicans were just worried about the wrong type of statewide race.
In recent weeks, Trump has turned GOP gubernatorial races into his own personal playground, endangering eight years of Republican dominance over the nation's governor's mansions. It culminated Tuesday night when Kansas Gov. Jeff Colyer conceded to Trump-endorsed Secretary of State Kris Kobach and businessman Jeff Johnson defeated former Gov. Tim Pawlenty in Minnesota's primary after hammering him over his criticisms of Trump in 2016.
Republicans control 33 of the nation's governorships, a record. And the Republican Governors Association is a political heavyweight, regularly outraising its Democratic counterpart by a two-to-one margin. With Trump's approval ratings in the low 40s and a high-energy Democratic base, Republicans were already expected to lose governorships in the fall, especially in blue-tinted states like Maine and New Mexico. Trump's meddling in GOP primaries, along with Republican voters' desire for candidates who ape Trump's style, could expand those losses to swing states ― Florida and Minnesota ― and even into the red territory of Georgia and Kansas.
Trump didn't endorse Johnson in Minnesota, but Johnson made Pawlenty's criticisms of the president ― he called him "unhinged and unfit" a few weeks before the 2016 election ― a central part of his campaign. It helped him best Pawlenty with 53 percent of the vote, even defeating the former governor in his home county.
"When the Supreme Court and the economy were on the line, Tim Pawlenty stuck his finger in the wind," Johnson said direct-to-camera in a television ad attacking Pawlenty. "I'll lead on principle, not polling."
Trump isn't the sole reason Pawlenty lost: Republican primary electorates now routinely choose outsider businessmen over experienced politicians, and Pawlenty's previous job ― lobbying for Wall Street for a salary that neared $3 million ― didn't exactly fit the populist moment in American politics.
With Johnson on the top of the ticket instead of Pawlenty, national Republicans are less enthusiastic about the race. It's unclear if the RGA will spend heavily to back Johnson the way they likely would have supported Pawlenty. That's good news for the Democratic nominee, U.S. Rep. Tim Walz. Minnesota was perhaps Republicans' best chance to pick up a gubernatorial seat in 2018 ― Democrat Mark Dayton is leaving after eight years in office, and Democratic presidential nominee Hillary Clinton had won the state by just 1.5 percentage points two years ago.
In Kansas, Kobach's defeat of Colyer ― the election was held last week, but Coyler finally conceded Tuesday night ― can be almost directly attributed to Trump. Kobach, who shares Trump's desire to investigate non-existent voter fraud and crack down on immigration, won by a mere 345 votes after Trump endorsed him the day before the primary. He's set to face Democratic state legislator Laura Kelly and independent businessman Greg Orman in November. Private GOP polling showed Kobach significantly less popular than Colyer among the general electorate.
In both states, the nomination of weak gubernatorial candidates could hurt Republican chances of holding the House. There are two competitive seats in Kansas, and two rural districts and two suburban districts up for grabs in Minnesota.
Trump has also endorsed candidates seen as weaker general election bets in two other states. He's backing Rep. Ron DeSantis in Florida, a noted skeptic of special counsel Robert Mueller's investigation who released an ad fawning over the president. In Georgia, his endorsement of Secretary of State Brian Kemp helped seal the deal against Lt. Gov. Casey Cagle. Republicans fear Democrats will be able to claim the center of the electorate in both races.
It's also possible Trump's endorsement didn't turn the tide in these contests. Most of the defeated candidates are the type of establishment politicians Republican voters have been tossing aside since the tea party movement began in 2010. In the secretly audiotaped words of Cagle, the Georgia primary came down to "who had the biggest gun, who had the biggest truck and who could be the craziest."
Pawlenty had a less colorful way of explaining it.
"The Republican Party has shifted," he told reporters on the way out of his election night party Tuesday. "It is the era of Trump, and I'm just not a Trump-like politician."
He said he was done with politics.
Popular in the Community