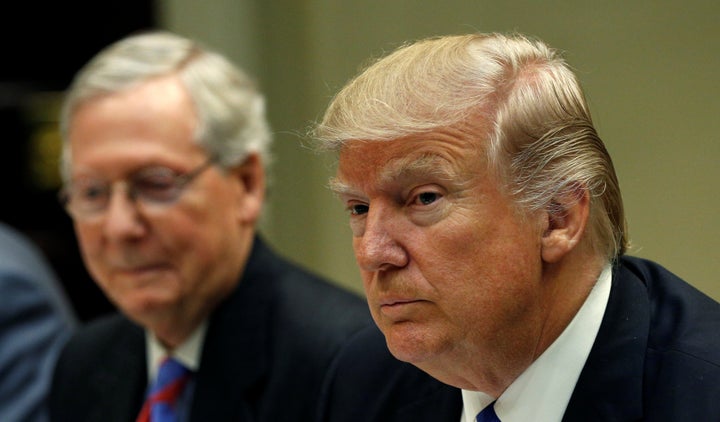 "Republicans should just REPEAL failing Obamacare now & work on a new Healthcare Plan that will start from a clean slate," the president tweeted, adding that "Dems will join in!"
The "clean repeal" option is unpopular in both parties, and it's unclear how much support the president's proposal will garner in Congress. It would take 60 votes in the Senate for an outright repeal of the Affordable Care Act, and Republicans only hold a 52-seat majority.
Trump's response came after Sens. Jerry Moran (R-Kan.) and Mike Lee (R-Utah) announced Monday evening that they planned to vote no on a "motion to proceed" for the Senate's legislation ― a step needed to begin debate on the bill.
"There are serious problems with Obamacare, and my goal remains what it has been for a long time: to repeal and replace it," Moran said in a statement announcing the decision. "We should not put our stamp of approval on bad policy."
The pair join Sens. Susan Collins (R-Maine) and Rand Paul (R-Ky.), both of whom said they wouldn't vote on the bill in its current form on Thursday. A handful of other Republicans have also expressed "serious concerns" about the bill.
Trump said on Tuesday that the dissenting Republicans― along with Democrats― "let down" their fellow lawmakers. 
The move likely deals a crippling blow to the GOP's effort to repeal Obamacare as the Senate can presumably lose no more than two Republican votes on the bill.
Senate Majority Leader Mitch McConnell (R-Ky.) has been trying to woo Republicans as various incarnations of the bill have failed to garner enough open support to pass. McConnell delayed a vote on the bill last week after Sen. John McCain (R-Ariz.) underwent surgery and said he would be unable to vote this week.
Trump has urged Republicans to pass new health care legislation after pledging to repeal Obamacare, and he hosted a dinner with GOP senators Monday in an effort to discuss the bill.
REAL LIFE. REAL NEWS. REAL VOICES.
Help us tell more of the stories that matter from voices that too often remain unheard.