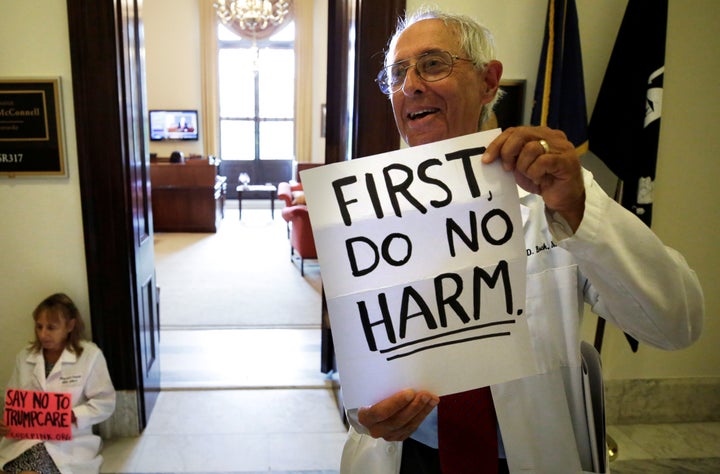 WASHINGTON ― Joel Cobbs has had it with the health care debate in Washington.
People aren't working together. His congressman won't reply to his letters ― Rep. Doug Collins (R-Ga.) hasn't responded to the more than two dozen notes with questions about health care that Cobbs has sent him ― or hold in-person town halls. It seems to Cobbs, a 28-year-old technical writer based outside of Atlanta, that Collins is simply afraid to take questions about his party's efforts to repeal the Affordable Care Act.
So Cobbs, who leans Democratic, is trying something new. Last week, for the first time in his life, he signed up to run for office. He's mulling a run against Collins.
"How can you represent people when you're not even willing to meet with them? You're going to cower in the corner where it's safe?" Cobbs asked. "That really gets on my nerves."
A Collins spokeswoman did not respond to a request for comment about why the congressman won't respond to Cobbs or hold in-person town halls.
Cobbs is not alone in being moved to action by the health care debate.
As Senate Republicans' fight over Obamacare repeal reached a fever pitch last week, Run for Something saw a nearly 500 percent increase in its daily candidate recruitment. The organization, which recruits and trains Democrats under the age of 35 to run for office, typically has five to 10 people sign up on the weekends and 15 to 20 sign up on a weekday. Between last Sunday and Tuesday, more than 220 people signed up. Cobbs was among them.
EMILY's List, which recruits Democratic women to run for office, didn't see an uptick in sign-ups over the past week, per se. But the number of people signing up has been "very steadily climbing" every month this year, said Julie McClain Downey, the group's national director of campaign communications. The health care debate appears to have inspired many of these women. 
"EMILY's List has seen a massive increase in interest from women running this cycle," Downey said. "More than 16,000 have contacted us, many of them specifically mentioning health care as a reason why they are running."
How can you represent people when you're not even willing to meet with them? You're going to cower in the corner where it's safe?

Joel Cobbs, on his congressman avoiding in-person town halls amid the health care fight
That's a big reason why the majority of Americans oppose repealing Obamacare, despite years of Republicans bashing the law. And although some people may not have liked the idea of standing up against a major new government health care program, it's entirely different when someone tries to take away the vital benefits they've come to rely on as a result of that program. It's enough to make people fight back in ways they haven't before.
"Republican elected officials are playing partisan politics with a literal life-or-death issue," said Amanda Litman, a co-founder of Run for Something. "People are signing up to run because their kids are at risk of losing coverage or their families have struggled because of lifetime caps. This isn't an abstract policy with a faceless statistical impact."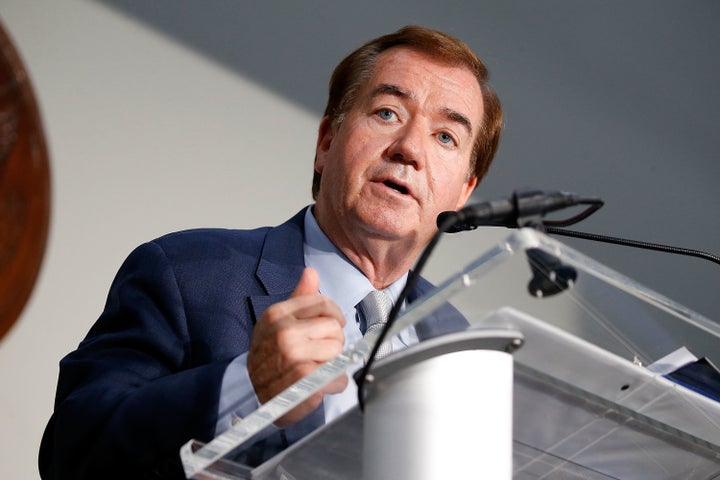 The issue has even driven some people to take on longtime members of Congress. Mai Khanh Tran, a pediatrician and two-time breast cancer survivor, announced last month that she's challenging Rep. Ed Royce (R-Calif.), a 12-term congressman and chairman of the House Foreign Affairs Committee.
Tran, a Democrat, says explicitly on her campaign page that she's running because of Royce's efforts to gut the Affordable Care Act ― he voted more than 40 times to repeal the law when President Barack Obama was president, and he supported the House bill in May that eliminates pre-existing condition protections.
"As a physician I am saddened by Ed Royce's callousness, as a mom I am hurt, and as a citizen I am angry," Tran said. "There is simply no way many of the families that I serve as a pediatrician will keep their insurance coverage."
Neither Royce's congressional office nor his campaign office responded to a request for comment.
For Cobbs, the decision to run is even more personal. He has epilepsy and has relied on pre-existing condition protections to get affordable care. He and his wife just had a daughter, too, and he worries how she would be hurt just by virtue of being female, given that pregnancy and health issues stemming from domestic violence were considered pre-existing conditions under the health care system in place before the Affordable Care Act took effect.
"I have an 11-day-old baby girl. Unfortunately, society has made that her pre-existing condition," Cobbs said. "What kind of life would she have if we returned to the old insurance set-up? Something should be done. Am I the right person for it? I have no idea."
"But," he added, "there's got to be something better."
REAL LIFE. REAL NEWS. REAL VOICES.
Help us tell more of the stories that matter from voices that too often remain unheard.
BEFORE YOU GO
PHOTO GALLERY
Health Care Reform Efforts In U.S. History