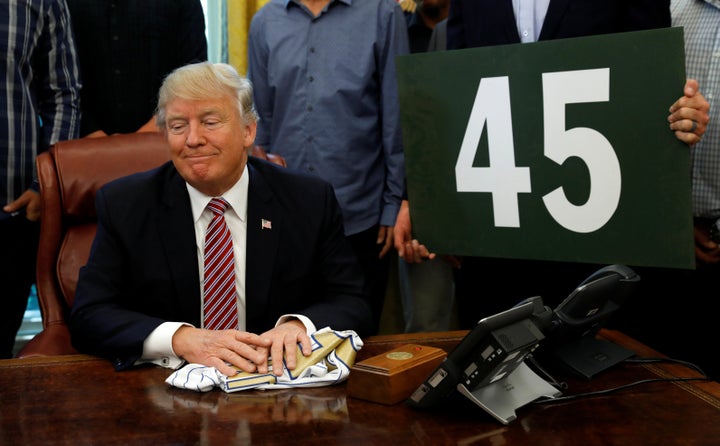 And in favor of an "internet" tax ― whatever that might be.
Senate Majority Leader Mitch McConnell had hoped to pass his chamber's version of the GOP health care bill this week before lawmakers break for the July 4th recess. That will not happen, and now some Republican senators say they are willing to start working with Democrats in search of a bipartisan fix to the existing Affordable Care Act. Such a move would likely find widespread support among the public but stoke anger among the GOP's conservative voting base.
Trump initially ignored such matters in his morning tweets.
"The failing @nytimes writes false story after false story about me. They don't even call to verify the facts of a story. A Fake News Joke!" he wrote at 6:49 a.m.
A little over an hour later, he tweeted: "The #AmazonWashingtonPost, sometimes referred to as the guardian of Amazon not paying internet taxes (which they should) is FAKE NEWS!"
Trump did address health care in a 6:58 a.m. tweet, but only in the context of claiming he has expertise in the subject and further attacking the news media: "Some of the Fake News Media likes to say that I am not totally engaged in healthcare. Wrong, I know the subject well & want victory for U.S."
That assertion has plenty of skeptics among health care experts as well as GOP House and Senate members, who have complained privately that Trump knows very little about the subject and doesn't care much about what passes so long as he can declare victory when he signs it.
Trump had the opportunity to display his knowledge of the issue during a pair of photo opportunities at the White House Wednesday. Asked about the Medicaid service cuts the Senate bill would bring, Trump answered: "It's going to be great. This will be great for everybody."
A few hours later, when he was asked for details about his claim that health care was "working along very well," Trump answered: "We're going to have a great, great surprise."
Trump's Wednesday's tweets were only the latest among dozens he has sent in recent days. Most have been attacks on the news media or the FBI investigation that includes looking into possible collusion between his campaign and Russian officials who worked to help him win last year's election.
A new poll shows that nearly 70 percent of Americans believe Trump's tweets are an unhelpful distraction, but the White House has steadfastly defended them. Press secretary Sean Spicer earlier this month confirmed that they are "official statements by the president of the United States." Administration lawyers, in a formal response to the House intelligence committee, quoted his tweets verbatim.
Deputy press secretary Sarah Sanders on Wednesday said she wasn't aware of the new poll results, but that Trump's tweets are a great boon to him.
"The president speaking directly to the American people is always a good thing," she said.
As to what Trump meant by "internet taxes" ― Amazon collects sales taxes from customers in most states on their orders ― Sanders said she wasn't sure.
"I haven't had a chance to talk to him about it," she said ― the eerily similar response other officials have given when asked if they know his position on climate change.
REAL LIFE. REAL NEWS. REAL VOICES.
Help us tell more of the stories that matter from voices that too often remain unheard.