WASHINGTON ― President Donald Trump on Monday announced that he plans to nominate former pharmaceutical executive Alex Azar to replace Tom Price as health and human services secretary.
The unexpected announcement came via Trump's favorite medium, Twitter, at the end of his trip to Asia.
The health and human services post has been vacant since late September, when Price resigned after he was caught repeatedly using taxpayer money to pay for chartered jets for government trips.
Azar until January was an executive at drugmaker Eli Lilly. Prior to that, he served as deputy HHS secretary in President George W. Bush's administration.
As a presidential candidate, Trump famously attacked Big Pharma and suggested the government should negotiate directly with the industry over the prices of drugs for Medicare recipients.
Azar said in the past that insurers and pharmaceutical companies should work together to reduce drug prices, without government intervention. Azar, if confirmed as HHS secretary, will oversee the Food and Drug Administration, which approves and regulates pharmaceuticals.
Azar's nomination continues Trump's trend of naming industry-friendly insiders to top government posts. Trump's nominee to become "drug czar," former Rep. Tom Marino (R-Pa.) was a frequent recipient of Big Pharma donations. Marino withdrew his nomination after a "60 Minutes" and Washington Post investigation found that he helped push legislation to weaken regulation of opioids.
If he becomes HHS secretary, Azar will take over administration of the Affordable Care Act, which he has criticized as "fundamentally broken" and, like most Republicans, wants to repeal.
With repeal efforts in Congress stalled, Obamacare remains in force. Millions still depend upon it for insurance, while the health care system as a whole depends on it for financing. By design, the law gives the HHS secretary enormous discretion over how to administer the program. This includes, for example, rewriting the rules over exactly what qualifies "essential benefits" that all insurers must cover, and approving requests by states to waive some of the law's regulations on how Medicaid works.
The Trump administration has signaled it wants to use this authority aggressively, in order to give states and insurers more leeway ― something that Republicans have cheered (because they say it will bring down insurance premiums), but that Democrats have protested (because they say it will curtail access for people with pre-existing conditions and those with lower incomes).
Just how far Azar would take this crusade is an open question.
Democrats in Congress are already wary.
"I will closely scrutinize Mr. Azar's record and ask for his commitment to faithfully implement the Affordable Care Act and take decisive, meaningful action to curtail the runaway train of prescription drug costs," Sen. Ron Wyden (D-Ore.), ranking member on the Finance Committee, said on Monday.
"Health care is too personal to be driven by politics, but that is what the leadership of HHS has offered so far," Wyden added.
Sen. Patty Murray (D-Wash.), ranking member of the Senate Health, Education, Labor, and Pensions Committee, said she wants to know whether Azar will be driven by science or ideology, and "whether he plans to continue the administration's ongoing and unprecedented attack on women's constitutionally protected health care rights."
"I am also interested in how, given Mr. Azar's professional background, he believes he can fairly execute any significant effort to lower drug prices for patients ― and I will do everything I can to ensure he meets the highest ethical standards, especially in the wake of former Secretary Price's financial conflicts and abuse of office," Murray said.
"From what I know, while we certainly differ in a number of important policy areas, I have reason to hope he would make a good HHS secretary," Slavitt said. "He is familiar with the high quality of the HHS staff, has real world experience enough to be pragmatic, and will hopefully avoid repeating the mistakes of his predecessor in over-politicizing Americans' access to health care."
Before You Go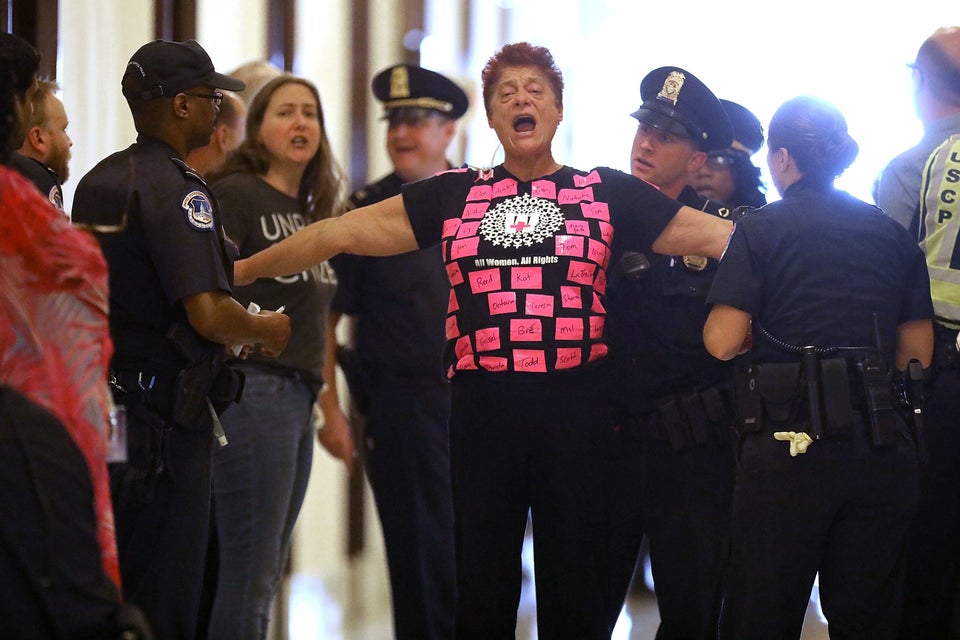 Health Care Protests At U.S. Capitol
Popular in the Community