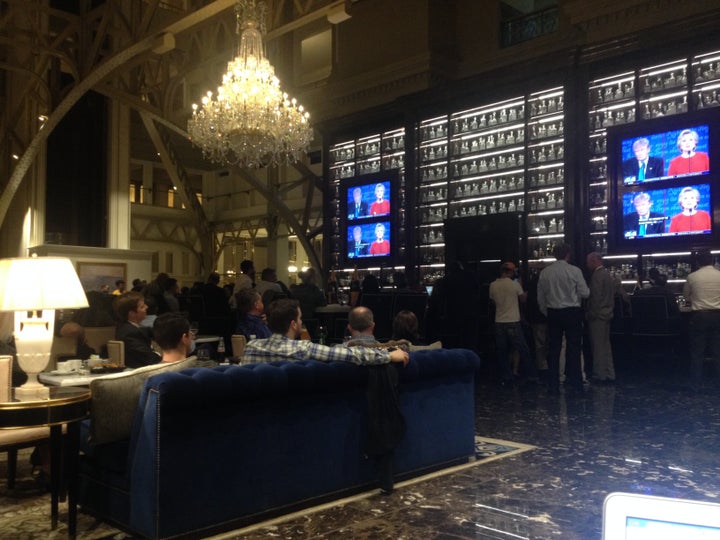 Here's what I did not see, at least at first: obvious supporters of Hillary Rodham Clinton, the Democratic nominee who is now the only person who can prevent Donald Trump from becoming the next president of the United States.
Trump's hotel is a lovely summation of the candidate himself, and of what his supporters love and his detractors hate most about him. It is garish, with gold-plated bathroom fixtures, gaudy furniture and crystal decanters lining a floor-to-ceiling shelf behind the bar. It is a gouge: The rooms start at $700-something a night, the $100 drink special necessitates slugging roughly five beers an hour for three hours just to break even, and, well, The Donald is already fighting the city over taxes. It is loud: The cheers of people who lost their minds every time Trump attacked Clinton rattled off the walls and reverberated to the top of the nine-story atrium.
Trump has claimed that the hotel opened "under budget [and] ahead of schedule." This happens not to be true, but to his supporters, it was yet more proof of why Trump should be president ― and a major reason why this hotel was the perfect place to watch him debate Clinton.
"You look at an establishment like this where we are, the Trump International Hotel in Washington D.C. ― what he's done with this establishment, and the opportunities that he has to turn the country around," said a local Trump supporter who didn't want to give his name. "I came here because I'm a proud supporter of Donald Trump and I'm committed to supporting his brand and getting him in the White House."
Trump's going to be lucky to win more than 5 percent of this city's votes on Election Day. But five blocks from the house that might soon be his, in a hotel that already is, you'd forgive a random tourist for thinking the nation's capital was a hotbed of Trump support. In here, at least, he was ahead 95 to 5.
"It just goes to show you how many Trump supporters there are in D.C.," the local Trump fan said. 
It made for a surreal atmosphere that felt pretty appropriate amid a mind-bogglingly surreal election season.
At one point, Trump aimed a zinger at Clinton on an economic matter: "You've been doing this for 30 years. Why are you just now thinking of this?" At that, a man standing at the bar in a boxy black suit pumped his fist in the air, let out a triumphant "Woo!" and kissed the woman next to him. When Trump said he would only release his tax returns if Clinton made public the 30,000 emails she kept on a private server, the bar was in stitches.
But after those first few minutes, Trump started to unravel. And the few Clinton supporters in attendance, who had barely made a sound during the first half hour, began to show signs of life. They were especially responsive to Trump's attack lines, most of which incorporated basic falsehoods that debate moderator Lester Holt ― who'd said he wouldn't fact-check the candidates ― couldn't abide.
Trump accused Clinton of "fighting ISIS your entire adult life," evidently unaware that at 68 years of age, the former secretary of state is at least four decades older than the militant jihadist group. He repeatedly argued (incorrectly) that "stop and frisk" ― the New York City policing program that was ruled unconstitutional for discriminating against black and Hispanic people ― had reduced crime rates, and that it hadn't, in fact, been tossed out by a judge. He took credit for getting President Barack Obama to release his birth certificate. He suggested his temperament was his strongest quality, while also continuing his bizarre and pointless feud with Rosie O'Donnell ("Nobody feels sorry for her," he said).
Each new line, and Clinton's response to it, brought another Hillary fan out of the woodwork.
A woman named Jessica ― she declined to provide her last name ― stood up from her seat on a couch near the bar after one such attack, and peeled off a sweatshirt to reveal a brand-new "Hillary Clinton 2016" T-shirt beneath. Another woman cheered loudly whenever Clinton pushed back against Trump. A man seated at a table nearby hooted and hollered for the candidate who wants to become the first woman to serve as U.S. president ― especially when Trump attacked what he called her lack of "stamina."
"What kind of stamina do you have?" the man yelled. "How many sit-ups can you do?"
Not the best trash talk, perhaps. But if the Trump fans had shown up here because the hotel was a symbol of why they thought their candidate should lead the free world, the Clinton fans were clearly here for another reason. They had come to Trump's hotel, it turned out, because it provided a perfect venue for trolling the man whose persona ― and entire candidacy, really ― might feel like its own giant troll job if it didn't also seem so... dangerous.
"We thought it would be kind of funny, because we couldn't make it to a Trump rally, to come here and see people in their natural environment," Jessica said. She and her partner live in the United Arab Emirates (she's an American citizen) and were visiting D.C. on vacation. "We thought it'd be entertaining, if nothing else."
"We just thought it would be classic to come and sit in his hotel."

Akili West, D.C. resident
Tara Young, a native of southeast D.C., sat with a group of friends at a table in the middle of the lounge. She took exception to Trump's claim that black people like her were "living in hell," but she hadn't necessarily come here to challenge every point the Republican nominee made. Asheru, a D.C.-area hip-hop artist sitting next to her, had organized the group ― 15 or 20 people, all of them black ― through a Facebook post that suggested gathering at Trump's hotel bar "for shits-n-giggles."
"There needs to be some checks and balances in the room," Young said. "We're here for the Trump supporters. Maybe their world is so small they don't get to communicate with people with different opinions."
Akili West, a southeast D.C. resident who sat with Young and Asheru, is leaning toward Green Party candidate Jill Stein for the moment. But he couldn't resist the chance to poke Trump in his own backyard.
"We thought it would be an excellent backdrop for watching the debate," West said. "Many people in the African-American community feel that he's a bigot, so we just thought it would be classic to come and sit in his hotel."
For the most part, they exchanged pleasantries with the closest Trump supporters, who found it funny that Clinton fans were present. But at one point, a nearby table had a conversation about stop and frisk that was meant "for us to hear," West said. So Young stood up and pantomimed a stop-and-frisk routine on every person sitting at her table.
"I just wanted to show how ridiculous that is," she said. "My head wants to explode sometimes." 
When the debate finally ended, no one seemed quite sure what to do next.
Jessica and her companion stayed for one last round of gin and tonics, their bright white "Hillary 2016" shirts standing out in a crowd of men in suits. Asheru's party gathered for a picture in the lounge, presumably for maximum shits and giggles. A group of Trump fans finished a final glass of wine at a table nearby. Above them all, Fox News recapped the debate on four separate TVs. The sound had long since been turned off. 
Everyone, it seemed, had gotten something out of this, which was more than you could say for that plate of Hillary Hummus.
Jessica laughed when I told her that for $29, the dish was pretty bland.
"How else are they gonna pay for this?" she said.
REAL LIFE. REAL NEWS. REAL VOICES.
Help us tell more of the stories that matter from voices that too often remain unheard.
BEFORE YOU GO
PHOTO GALLERY
Trump And Clinton Face Off In First Debate But Whose Face Won?