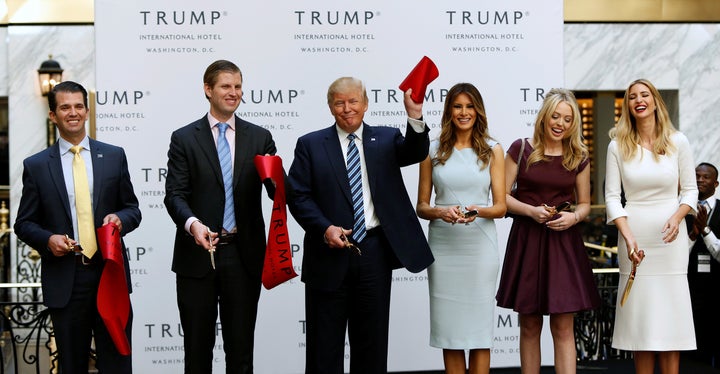 The extravagant Washington, D.C., hotel bearing the name of President Donald Trump took home nearly $2 million in profits this year, according to financial reports from its management company seen by multiple media outlets.
The Trump Organization, which rents the building from the federal government, had previously projected that the Trump International Hotel would lose $2.1 million in the first quarter of the year, according to The Washington Post, which first reported the documents.
But the hotel's $660.28 average nightly rate― far higher than the rate of comparable hotels in the area ― made it a lucrative property. And as The Wall Street Journal points out, the hotel also received a higher-than-normal portion of its revenue from food and beverages.
The General Services Administration, the property's landlord, posted detailed information about the hotel's finances online on Thursday.
"The documents were posted inadvertently and have been removed from the website," a spokesperson for the GSA told HuffPost in a statement.
The new records bolster concerns about the hotel and the Trump Organization. Because Trump did not fully divest from his businesses, he still benefits financially from the hotel, which ethics groups have suggested leaves him open to major conflicts of interest, including bribery.
"The potential conflicts of interest with regard to President Trump's company's lease of the Old Post Office Building are serious and real," CREW Executive Director Noah Bookbinder said. "President Trump now both owns the lessee, Old Post Office LLC, and controls the lessor, GSA, whose administrator is appointed by and serves at the pleasure of the president."
It's not the only Trump property that has benefited financially from its namesake's presidency. Many of Trump's other properties, including the Mar-a-Lago resort in Florida and the Turnberry golf club in Scotland, have also increased their membership fees since the election.
Daniel Marans contributed reporting.
Popular in the Community