WASHINGTON ― Cork Wine Bar is suing President Donald Trump and his Trump International Hotel in Washington, D.C., for unfair competition. The lawsuit claims that the president's ownership and promotion of the hotel gives it an unfair advantage in attracting business for its restaurants and its bar, which are likewise owned by the president.
The lawsuit was filed in D.C. court as a common law claim, asking the court to issue an injunction declaring that the hotel is competing unfairly with local businesses. If an injunction is ordered, the plaintiffs are looking for the court to demand that the Trump Organization resolve the issue. That could involve divesting from the property and the lease.
The owners of Cork, Diane Gross and Khalid Pitts, who are married, are not seeking monetary damages. The legal team involved in the case includes Mark Zaid, Scott Rome, Steven Schooner and Alan Morrison.
Trump's hotel in D.C. has been at the center of concerns over his refusal to divest from his multibillion-dollar business. On Jan. 11, Trump announced that he would simply hand control of his many businesses to his adult sons Donald Jr. and Eric. But the president still maintains ownership of every one of his businesses and benefits financially from every dollar spent at his hotels, golf courses and commercial and residential buildings.
"The lawsuit addresses unfair competition that derives from what is the most dramatic conflict of interest ever involving a President of the United States," said Schooner, a government procurement expert at George Washington University Law School.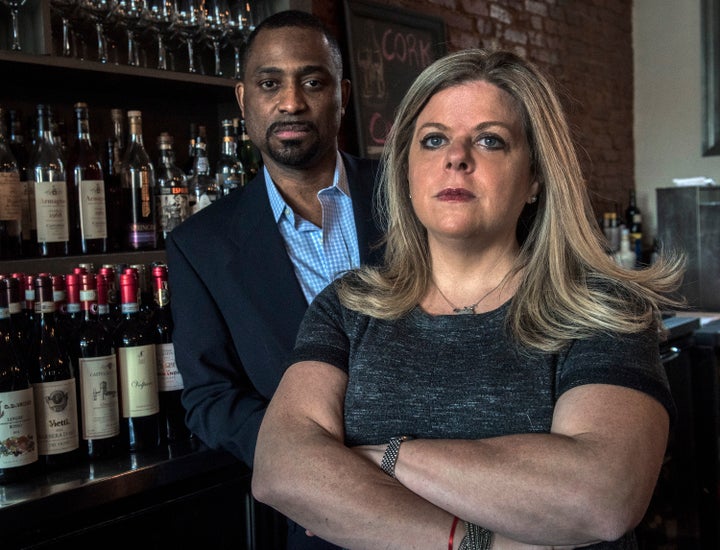 At the center of the case is the lease the Trump Organization holds from the General Services Administration to operate the hotel within the government-owned Old Post Office building. The terms of the lease forbid any elected official from benefiting from it. This provision was put in place to avoid the obvious conflicts of interest and potential for unfair business practices that arise from an elected official owning a restaurant and hotel in a city where influence-seekers would patronize that location over other businesses. The watchdog group Citizens for Responsibility and Ethics in Washington has filed a complaint with the GSA arguing that Trump is in violation of his lease.
The plaintiffs argue that the president's ownership of the hotel and its restaurants gives it an unfair advantage in a city where many big spenders are looking for ways to influence political actors. There is no better way to influence a political actor than to put money in their pocket and ensure their business is a success. This necessarily pulls money away from other businesses in the city that host influential patrons and private parties.
"It is clear that those who are looking to influence this administration are going to look to that business," said Rome, the business lawyer at Veritas Law Firm representing Cork.
Pitts, who has worked for environmental and progressive organizations, said, "We have seen that our business has declined... compared to other periods close to inaugurations ― both in dining as well as in private events that we do."
While Pitts could not put a monetary figure on the decline in activity, he said that as business owners who have operated for 10 years, he and Gross know the normal patterns for business in the city. They saw a marked change around the president's inauguration, he said, and it's continued since then.
Pitts explained that he and Gross decided to file suit because they believe the Trump hotel situation is unfair to them and to other D.C. restaurants.
"On face value this seemed unfair to us," he said. "We saw the sitting President of the United States using his office for financial gain to the detriment of local business."
"We didn't enter into this lightly," Gross said. "We've never sued anyone before."
Alan Garten, counsel to the Trump Organization, called the lawsuit "a wild publicity stunt completely lacking in legal merit."
Gross, who says she is a registered Democrat, said there were no political motives behind the lawsuit.
"We strictly see this as a civil business lawsuit," she said. "We're challenging the actions he's taken as owner. We're not challenging his policies as president."
Though he acknowledged that there will likely be a host of political theater around this lawsuit at the national level, Pitts said that it is, at heart, a local issue.
"This is about local D.C." Pitts said. "This is about a local business and local businesses who are trying to make it here in this city and we feel that the President of the United States owning restaurants, promoting those restaurants, it's unfair and to the detriment of other businesses in this city."
Popular in the Community