After two days of voting, a majority of employees at the Trump International Hotel in Las Vegas have chosen to unionize.
The workers would be represented by the Culinary Workers Union Local 226 and the Bartenders Union Local 165 of UNITE HERE. More than 500 employees were eligible to vote in the election, which took place Dec. 4-5. The unions reported the election result in a press release Monday, but the National Labor Relations Board still needs to ratify it.
Alma Zamarin, a food server at the property, said in a statement that she is "proud" to work at the hotel but that she and her coworkers "need fair wages, good benefits, and job security."
"Trump Las Vegas workers have spoken loud and clear: They want respect, dignity and the Las Vegas union standard," said Geoconda Arguello-Kline, secretary-treasurer of the Culinary Workers Union. "Trump Las Vegas should recognize the workers' vote immediately and sit down with us to negotiate a contract as soon as possible."
The Culinary Workers Union held a protest outside of Trump's hotel in October, one day before the first Democratic presidential primary debate was held just across the street. Democratic presidential hopeful Hillary Clinton made a surprise appearance, telling the workers that she stood with them.
"You have to say ... 'no' to efforts to prevent you from organizing, to prevent you from having the kind of working conditions you deserve, the kind of wages that are going to give you a living wage," Clinton said at the rally. "And that means saying 'no' to Donald Trump."
The Trump campaign did not return a request for comment. Workers at Trump's hotel in Toronto voted to unionize nine months ago and recently ratified their first contract.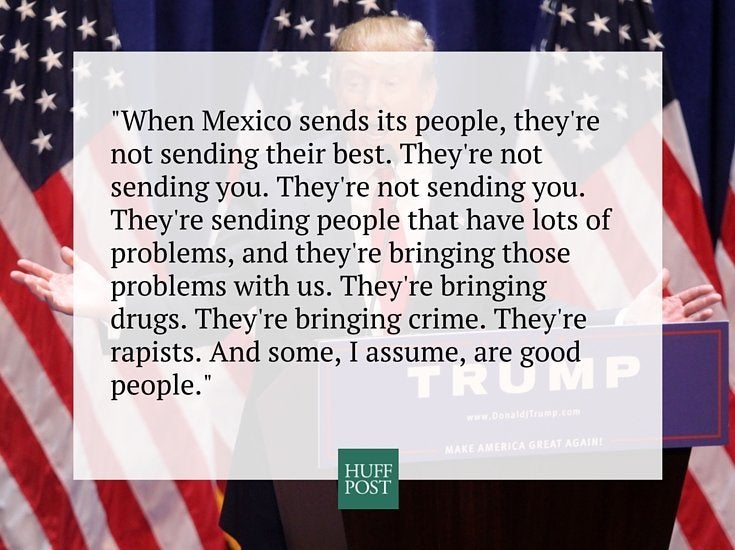 9 Outrageous Things Donald Trump Has Said About Latinos
Related
Popular in the Community