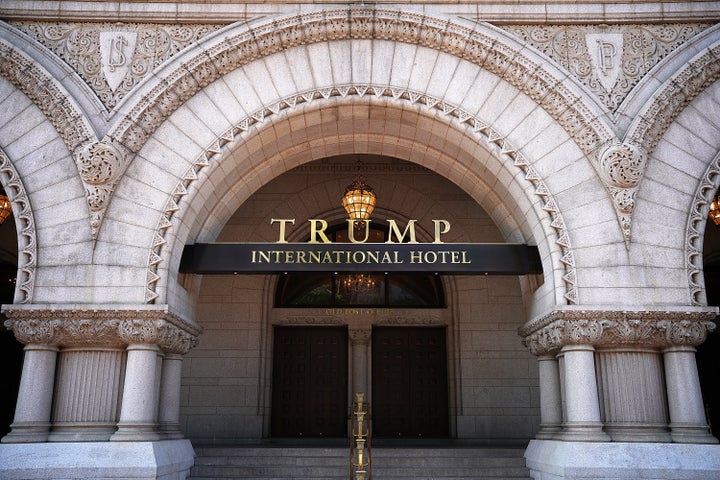 It seems like Trump-branded properties are getting some crappy reviews.
CNN reports that New Knowledge, a company that "tracks the spread of misinformation online," found that nearly 800 new reviews were posted between Thursday and Monday.
"Perhaps the Trump brand could take some lessons from Norway, where they have the BEST hotels. Like, genius, hotels. Not shitholes like this," one reviewer wrote.
"Sincerely wanted to give it a chance. However, I didn't like it. It felt like fake news," wrote another.
Some reviews also included a screenshot of artist Robin Bell's latest video. The clip displays the word "shithole," along with poop emojis, projected onto the hotel.
The Trump International Hotel in Washington D.C. wasn't the only Trump-brand property to be blasted in online reviews. Plenty of similar reviews have appeared for hotels in Chicago, Sunny Isles Beach, Las Vegas, Waikiki and New York City, as well as at Trump's beloved Mar-a-lago, which had only a 1.5-star rating as of Wednesday evening.
The Yelp pages for these establishments now each include a message stating that they are "being monitored by Yelp's Support team for content related to media reports."
The pages also include "active cleanup" alerts, which inform users that reviews motivated by media coverage may be removed.
"While we don't take a stand one way or the other when it comes to these news events, we do work to remove both positive and negative posts that appear to be motivated more by the news coverage itself than the reviewer's personal consumer experience with the business," the alerts read.
The negative reviews come in the wake of a report from The Washington Post last week that described Trump asking lawmakers during an Oval Office meeting why immigrants were coming from "shithole countries" instead of what he views as more desirable places, like Norway.