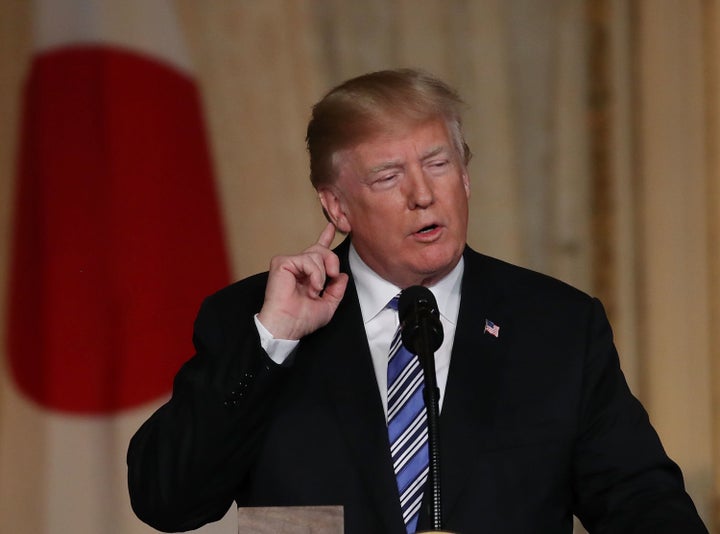 In comments advocating a wall along the U.S.-Mexico border on Thursday, President Donald Trump said, "Human trafficking is worse than it's ever been in the history of the world."
"Drugs are flowing into our country," he told reporters while visiting the Joint Interagency Task Force South in Key West, Florida. "We need border protection. We need the wall. We have to have the wall. The Democrats don't want to approve the wall because they think it's good politically, but it's not."
He continued: "If you look at what's happening in California with sanctuary cities — people are really going the opposite way. They don't want sanctuary cities. There's a little bit of a revolution going on in California. Human trafficking is worse than it's ever been in the history of the world."
Though Trump did not clarify what metric he was using or whether he had accounted for world population growth, human trafficking is a critical issue today. According to the International Labor Organization, there are an estimated 24.9 million people around the world who are trapped in forced labor. Of those, 16 million are exploited for labor in the private sector, 4.8 million are sexually exploited, and 4.1 million forced into state-imposed labor.
Most victims of forced labor or sexual exploitation are in the Asia and Pacific regions. More relevant to Trump's border wall, though, is human trafficking in the Americas, which accounts for roughly 1 percent of forced labor and 4 percent of sexual exploitation in the world, according to the ILO.
His comment also did not appear to address one of the most glaring historical examples of human trafficking: the centuries-long trans-Atlantic slave trade, during which over 10 million people were forcibly shipped from parts of Africa to North America, the Caribbean, and Central and South America.
The president has previously emphasized his commitment to fighting human trafficking, including in comments he made to law enforcement officials in Long Island, New York, last year.
"Human traffickers. This is a term that's been going on from the beginning of time, and they say it's worse now than it ever was," he said, according to CNN. "You go back 1,000 years, where you think of human trafficking, you go back 500 years, 200 years, 100 years, human trafficking, they say ― think of it, what they do ― human trafficking is worse now, maybe, than it's ever been in the history of this world."
Under the Trump administration, there were over 8,500 U.S. cases of human trafficking reported in 2017 ― an increase of almost 1,000 reported incidents from the previous year, according to the National Human Trafficking Hotline.
CORRECTION: A previous version of this story misstated a statistic from the ILO about forced labor. The organization estimates 24.9 million people are trapped in forced labor, but more are trapped in "modern-day slavery."