Without a vaccine on the horizon, President Donald Trump thought he had an answer to get rid of the coronavirus: hydroxychloroquine.
"What do you have to lose? It's been out there for a long time, and I hope they use it," Trump said on April 4, touting the malaria drug.
Trump wasn't the only one to wonder whether hydroxychloroquine could treat the coronavirus, but he was its most high-profile booster. Through his platforms, he made the public aware of the drug and made it seem like it was something that was a real option for treating coronavirus.
When Trump started his crusade, hydroxychloroquine hadn't been fully tested, and medical experts were uncomfortable with his remarks making it seem like the drug was safe for treating COVID-19.
Since then, the evidence against hydroxychloroquine has piled up. And Trump's rhetorical question of "What do you have to lose?" has reverberated as irresponsible and cruel.
For two weeks in April at a veterans' nursing home in Pennsylvania, about 30 patients received a drug regimen that included hydroxychloroquine and the antibiotic azithromycin ― a combination that Trump has promoted. Some of those individuals were never tested for COVID-19 and/or had conditions that raised the risk of serious side effects from the drug.
According to The Washington Post, the Southeastern Veterans' Center has reported 42 deaths from COVID-19. A local coroner said that at least 14 of the deceased were never actually tested for the illness. And of those, 11 had nevertheless received hydroxychloroquine.
"My sense," said William C. Hunter, retired in December as the center's medical director, "is that things were starting to spiral out of control, and they were looking for a magic bullet. It was horrifying."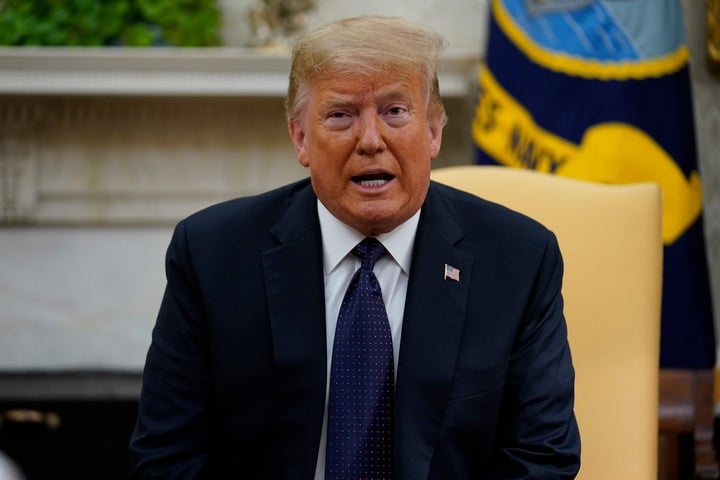 In late May, Trump also said he had taken hydroxychloroquine for two weeks as a preventative against the coronavirus, even though studies have found that hydroxychloroquine has either no benefit or poses an even greater risk of death.
Carsyn Leigh Davis, 17, died last month after contracting COVID-19. She had battled cancer and a rare autoimmune disorder, and a medical examiner report found that she had gone to a church party with about 100 other children, where she did not wear a mask, before getting sick.
Nearly a week passed before her parents took her to the hospital. Before doing so, they gave her hydroxychloroquine. Her mother appeared to complain on Facebook that at the hospital, the doctors refused to give Davis more of the drug. She also posted comments in opposition to policies requiring people to wear masks.
And in a highly publicized incident in March, a couple in Arizona noticed that their fish tank cleaner contained chloroquine after hearing about the potential "cure" on TV. They took it, believing it would prevent them from contracting the illness. It immediately made them sick. The wife recovered, but her husband died.
There's no evidence that all of these people received hydroxychloroquine directly because Trump mentioned it. But he gave it widespread mainstream attention and some credibility as a remedy.
In late March, the Food and Drug Administration issued an emergency authorization for hydroxychloroquine usage with COVID-19 patients, although it admitted, "We do not know if it works for COVID-19." The decision came under criticism, with some experts wondering if the agency buckled to political pressure from the White House.
"When EUA [emergency use authorization] status is sought or granted seemingly under pressure, it may also open a floodgate of efforts to promote unfounded use of other unproven treatments, risking a perception that special interests can influence FDA decisions," wrote former FDA chief scientists Luciana Borio and Jesse Goodman.
In April, Rick Bright, who led the Biomedical Advanced Research and Development Authority ― the federal agency in charge of coming up with a vaccine ― said he was demoted from his job after pressing for more investigation of hydroxychloroquine, saying the administration had put "politics and cronyism ahead of science."
The FDA pulled its EUA for hydroxychloroquine in mid-June, saying the drug was "unlikely to be effective."
Nevertheless, Trump has not entirely given up on touting the drug. On Monday, he tweeted about a new hydroxychloroquine study, calling on the FDA to "act now."
White House trade adviser Peter Navarro spoke with reporters Tuesday about the Henry Ford study, saying that the earlier FDA decision to revoke the authorization for hydroxychloroquine was based on "bad science."
But as Stat News noted, the study is flawed and the results are not in line with other studies on the topic:
Decisions are based almost entirely on what is known as a randomized controlled trial, in which patients are randomly assigned to receive a treatment or not. Other types of studies have, again and again, failed to deliver accurate information about medicines' benefits and risks, and are used sparingly in making medical decisions. Three randomized studies have now shown no benefit for hydroxychloroquine in hospitalized patients.

The study that sparked the latest controversy was anything but randomized. Not only was it not randomized, outside experts noted, but patients who received hydroxychloroquine were also more likely to get steroids, which appear to help very sick patients with Covid-19. That is likely to have influenced the central finding of the Henry Ford study: that death rates were 50% lower among patients in hospitals treated with hydroxychloroquine.
A HuffPost Guide To Coronavirus
Support HuffPost
The Stakes Have Never Been Higher
Popular in the Community