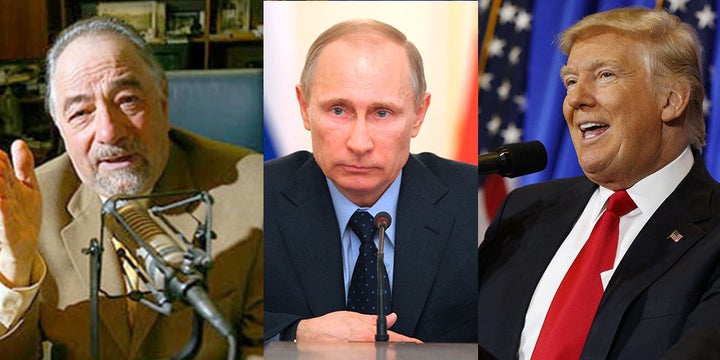 Donald Trump told a nationally syndicated radio host that he has met with Vladimir Putin and "got along with him great, by the way."
President-elect Trump's stunning admission happened on October 6th, 2015 on the nationally syndicated Savage Nation radio program during the Republican primary campaign.
Savage: "Have you met Vladimir Putin?"
Trump: "Yes, one time, yes a long time ago. Got along with him great, by the way."
You can listen to the podcast below, which is published on YouTube by the widely followed account SavageNationLiberty.
Michael Savage is a nationally syndicated, right-wing radio broadcaster and author, who has interviewed Donald Trump numerous times over the years and during the campaign.
The Democratic Coalition recently unearthed the audio file with a 12 minute segment, in middle of which (at the 5:27 mark) Donald Trump admits to having met with the Russian President.
"Over the entire course of his campaign, and even in the days since his election, President-elect Trump has denied that he has had any relationship with Vladimir Putin," said Scott Dworkin, Senior Advisor to the Democratic Coalition. "We now have Trump himself recorded twice admitting to knowing Putin. We deserve to know the truth about the person who will be inaugurated as our President on Friday."
Throughout the campaign and after the election, Trump has denied all connections to Russia.
Popular in the Community