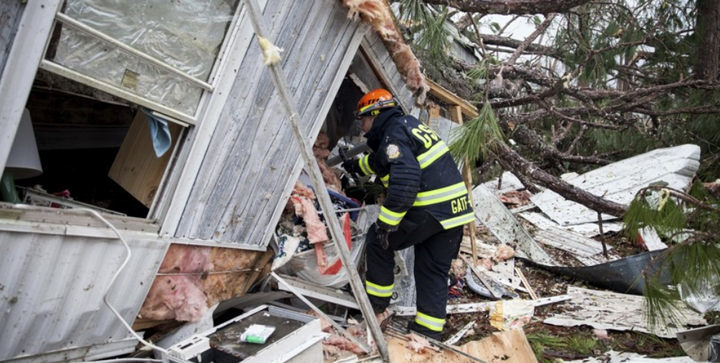 President Donald Trump made a splash in Louisiana during his 2016 campaign, when he visited flood-ravaged sectors of Louisiana, bringing a semi-truck of supplies for residents there. Trump and now Vice President Mike Pence participated in a 49-second film clip of the two of them helping to unload supplies from the truck, including toys and Play-Doh for displaced children.
Trump also made a $100,000 donation to a local church. He was widely praised by his supporters and the parishes he visited for his personal visit and for "raising spirits" in the disaster zone. There were 14 deaths, and the flood was called the worst U.S. natural disaster since Hurricane Sandy in 2012. Over 146,000 homes were damaged or destroyed.
This week, the states of Georgia and Mississippi have been hammered by devastating tornadoes. The death count since Saturday is currently at 20, including a two-year-old toddler who was swept away in storm waters. Over 50 unconfirmed tornadoes have hit Georgia, Mississippi and Florida since January 21. A single tornado in Mississippi tore a path 31 miles long and half a mile wide, with peak winds of 145 mph.
After four deaths in Mississippi, Governor Phil Bryant sent an emergency dispatch to the White House pleading for help. More than 1,100 homes have been damaged so far in Forrest County, and 239 of those homes were completely destroyed. Although the damage is not as extensive as the Louisiana floods, the loss of human life is already higher.
Chris Cohilas, a county commission chairman in Dougherty County, Georgia says he has been "begging FEMA for boots on the ground. I'm asking President Trump to cut through the red tape and get people on the damned ground here," he said.
"The damage that we've suffered in our community is immeasurable," said Cohilas. "Our people are suffering. They have no food, no home, no warmth, no hope."
Gov. Bryant says new U.S. Department of Homeland Security Secretary John Kelly has promised to take action on the state's request for federal disaster aid. "He assured me that the Department of Homeland Security and FEMA will be leaning into this storm and leaning into recovery," Bryant said.
The Republican governor said Kelly promised that FEMA would send surveyors starting Wednesday to assess the damage. However, the state only needs to show damage to 250 homes to meet the requirement for federal assistance. "We've met that threshold," said Mississippi Emergency Management Agency Director Lee Smithson.
Meanwhile, in California heavy rains have caused severe flooding and mudslides. Governor Jerry Brown has declared a state of emergency in 50 counties in the path of ongoing Winter Storm Leo, which has caused tens of millions of dollars in damage. Four people have died, three are missing, and rescue operations are still underway for others.
In 2016, both former President Obama and presidential candidate Hillary Clinton were heavily criticized for not visiting the Louisiana disaster zones, despite Louisiana Governor John Bel Edwards' request that they delay their visits. The governor was concerned that security efforts on behalf of visiting dignitaries would detract from available rescue resources.
... a disaster this big begs for the personal presence of the president at ground zero. In coming here, the president can decisively demonstrate that Louisiana's recovery is a priority for his administration – and the United States of America.
... he should pack his bags now, and pay a call on communities who need to know that in a national catastrophe, they are not alone.
The Trump administration has not responded to a request for information or comment.
Related
Popular in the Community