President Donald Trump was notably silent about his eldest son on Twitter Tuesday following a string of shocking reports that revealed how Donald Trump Jr. had met with a Russian lawyer in hopes of gaining damning information about 2016 presidential election rival Hillary Clinton.
Mark Corallo, the spokesman for the president's personal lawyer, told The New York Times on Sunday that the president "was not aware of and did not attend the meeting" with Veselnitskaya, a move some saw as an early effort to distance the White House from Don Jr., who does not serve in any official capacity in his father's administration. He and his brother Eric run the Trump organization.
The president has not personally responded to the growing controversy surrounding his son's meeting last year with Veselnitskaya and has no public events on his schedule for the second day in a row. Last weekend, the Times reported that the younger Trump met with Veselnitskaya alongside the president's son-in-law Jared Kushner and then-campaign chairman Paul Manafort to obtain information that would help the campaign against Clinton.
Don Jr. hit back at the latest Times report on Tuesday, calling the meeting "nonsense."
Trump has rushed to defend almost any member of his inner circle, at least initially, who was subject to less than stellar media coverage, including former national security adviser Michael Flynn, his daughter Ivanka, his ultra-rich Cabinet officials and his attorney general, Jeff Sessions. Trump's decision to let Don Jr. defend himself was a notable departure in his efforts to protect his squadron of trusted confidants.
In a statement provided to HuffPost, Don Jr.'s lawyer, Alan Futerfas, also said the president "knew nothing about" the meeting, calling it "much ado about nothing."
"Don Jr.'s takeaway from this communication was that someone had information potentially helpful to the campaign and it was coming from someone he knew," Futerfas said in the statement, which was first provided to The Times. "Don Jr. had no knowledge as to what specific information, if any, would be discussed. Further, at no time was there ever any understanding or commitment that he, or anyone else, would find the information, whatever it turned out to be, to be reliable, credible or of interest, or would even survive due diligence. The meeting lasted about 20-30 minutes, and nothing came of it. His father knew nothing about it. The bottom line is that Don, Jr. did nothing wrong."
Don Jr. has admitted that he met with Veselnitskaya (in two separate, but differing statements), but said she was "vague, ambiguous and made no sense." He claimed the conversation quickly turned to an obscure American law called the Magnitsky Act ― "It became clear to me that this was the true agenda all along," he said ― before he ended the meeting. The 2012 act allowed the U.S. to withhold visas and freeze Russian assets. In retaliation, the Kremlin halted U.S. adoptions of Russian babies.
Legal experts said Monday's revelations about Don Jr. knowing that the intel he received from Veselnitskaya actually came from the Russian government were notable. Taking the meeting itself may have been illegal as the U.S. has very specific campaign finance provisions which prohibit contributions from foreign nationals to aid an election.
Before You Go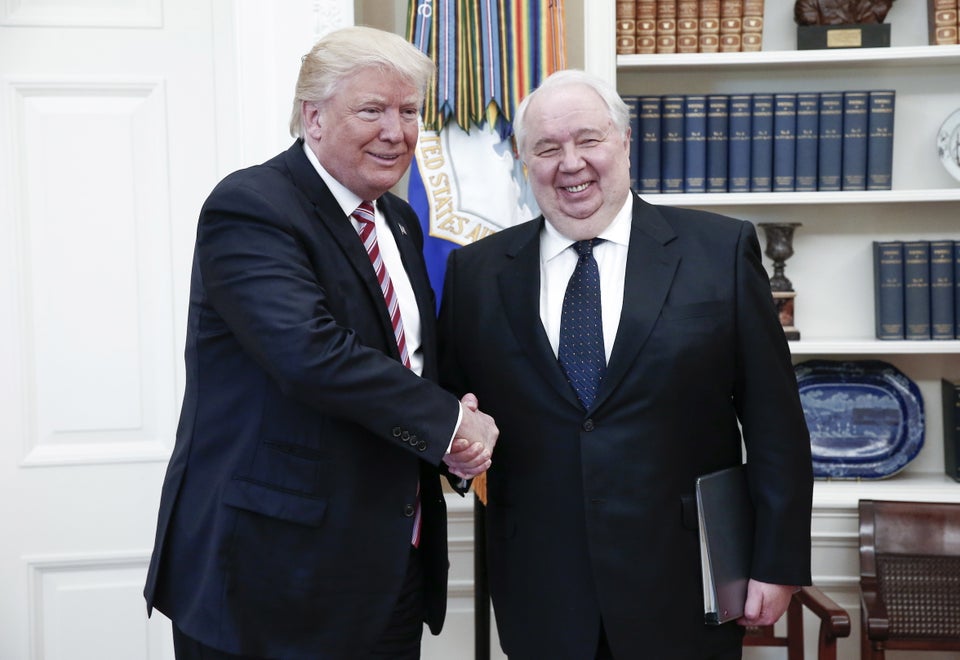 Donald Trump Meets With Russian Officials
Popular in the Community