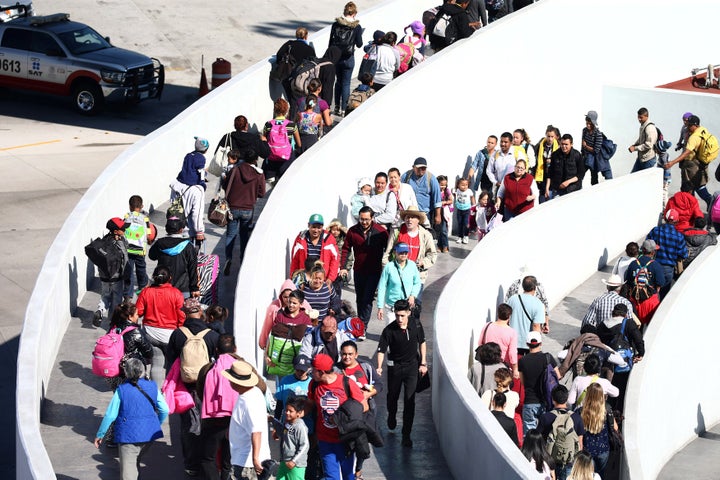 The Trump administration sought to make an example of 11 migrants, who officials say were part of a large refugee caravan, by making a public affair of hauling them into criminal courts rather than putting them through the civil deportation system.
But President Donald Trump's caravan prosecutions are already hitting roadblocks. Lawyers are challenging most of the normally open-and-shut misdemeanor immigration prosecutions and using the president's tweets and public statements about Central Americans to do it.
The severity of the cases hardly matches the outsized pronouncements from U.S. Attorney General Jeff Sessions. Prosecutors have offered to release most of the 11 migrants based on time served if they agree to plead guilty. Then they would then take their claims to immigration court, having their currently clean criminal records stained with a conviction.
In an unusual step, though, at least six of the 11 alleged caravan members are seeking to have their cases dismissed entirely, contending the Trump administration selectively prosecuted them based on their national origin as it sought to deter Central American asylum seekers. Some secured reduced bonds, which may allow them to fight their cases without being jailed.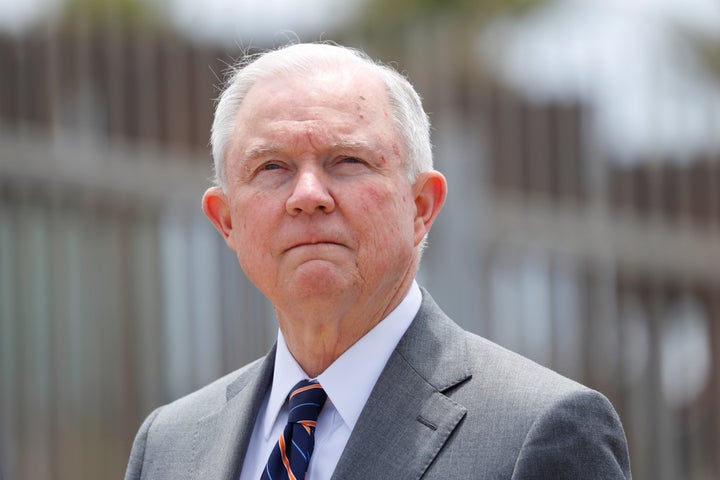 Run-of-the-mill immigration prosecutions are rarely celebrated with press releases and statements from the attorney general, as these were. Sessions' actions have done something he likely didn't intend: He's given them the right to a court-appointed attorney and new legal defenses for cases that have historically been extremely difficult to win.
The 11 migrants, three women and eight men, were arrested in late April and accused by Border Patrol agents of taking part in a caravan of hundreds of Central American asylum seekers. The caravan organizers dispute that, saying the 228 people who had crossed through the port of entry at San Ysidro in San Diego to make asylum claims were the only ones officially affiliated with their group. The Department of Justice filed criminal charges against the 11 on April 30.
The prosecutions were unusual because three involved mothers traveling with their children, and at least five plan to seek asylum — two categories the government had typically put directly into civil immigration proceedings rather than filing criminal charges. But they promise to become more common after Sessions implemented a "zero tolerance" policy this month, calling for the referral of all migrants arrested at the border for prosecution, with the express intent of separating families who cross illegally.
Although immigrants are deported on the orders of immigration judges in civil courts, crossing into the United States illegally is a crime. The first offense is a misdemeanor punishable by up to six months in prison; subsequent offenses can be punished with up to 20 years in prison, depending on the person's criminal history.
Because of the threat of long sentences and the ease with which prosecutors can win at trial — all they need to secure a conviction is an affidavit signed by a Border Patrol agent or documentation showing a previous deportation — defendants almost always plead guilty. And public defenders rarely urge immigration defendants to go to trial, knowing that their clients would likely remain jailed while their cases play out because they often can't afford to post bond.
But the original $10,000 bonds sought by the government have already been reduced in several of the "caravan" cases. A judge ordered Thursday that Olga George of Honduras could be released on an unsecured $5,000 bond without requiring a deposit — just her signature. In another case, Morena Mendoza's bond dropped from $10,000 to $5,000, and the judge allowed her to be freed with a $500 deposit, according to court filings.
In both of those cases, lawyers argued that their clients are not flight risks because they are seeking asylum in the United States. Judges had lowered bond for three others by Thursday. In some cases, the judges allowed the migrants to be freed with a co-signature from someone with enough money to pay a lowered bond of $5,000, instead of requiring a deposit.
In all of the contested cases, court-appointed lawyers argue that the judges should dismiss the charges based on what they say is selective prosecution by the government. Five of the migrants being prosecuted were traveling in a group of 18 people, including three Indian nationals, and the Border Patrol arrested all of them. But only four Hondurans and a Guatemalan in that group were charged ― and none of the Indians ― becoming part of the group of 11 publicized prosecutions. (The government has not revealed the identities of the others in the group, although attorneys asked them to do so as part of discovery.) All of the 11 alleged caravan members being prosecuted are from El Salvador, Guatemala, Honduras and Mexico.
"This kind of invidious discrimination based on alleged country of origin is forbidden by the equal protection guarantees of the Fifth Amendment's due process clause," Eric Fish, a federal public defender in San Diego representing several of the migrants, wrote in one of the court filings.
To prove that there is selective prosecution, Fish and another court-appointed attorney, Richard Boesen, pointed in court filings to the words of Trump condemning the caravan and the U.S. asylum process.
They listed several of Trump's tweets raging against the asylum-seeker caravan, composed mostly of Central Americans, and ones singling out Honduras and Mexico, which the filings characterized as "two of the countries whose migrants he desired to keep out of the United States."
Popular in the Community