WASHINGTON — The number of immigrants deported from the interior of the U.S. who had no criminal convictions nearly tripled during President Donald Trump's first fiscal year as president, as he carried out his promise to ramp up enforcement on the undocumented population.
The Trump administration insisted on Tuesday that agents are still focused on criminals, even though the president eliminated policies from the previous administration that instructed agents to prioritize some immigrants over others. A majority of immigrants arrested by Immigration and Customs Enforcement in the 2017 fiscal year had been convicted of crimes.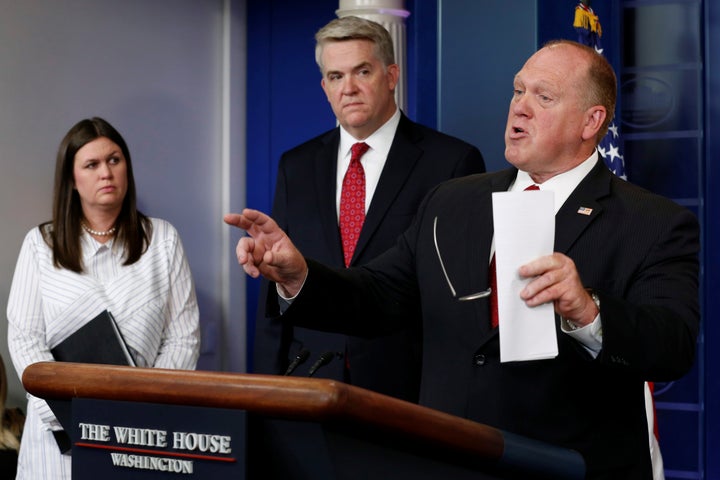 Thomas Homan, the acting director of ICE, said all immigrants living in the U.S. without authorization "should be concerned."
"The president has made it clear in his executive orders: There's no population off the table. If you're in this country illegally, we're looking for you and we're going to look to apprehend you," said Homan, Trump's pick to run the agency, at a press conference on Tuesday.
Deportations overall were down during the 2017 fiscal year, most of which was under Trump's presidency, from the previous year, in part because fewer people were caught illegally crossing the U.S.-Mexico border. But the number of undocumented immigrants without criminal convictions deported from the interior of the country rose dramatically.
People with no criminal convictions accounted for 17 percent of those deported after getting arrested by ICE within the country ― a sharp increase since former President Barack Obama's last full year in office, when those without criminal convictions made up 8 percent of interior deportations. In total, nearly 14,000 noncriminals were deported from the interior of the country in the 2017 fiscal year, compared with about 5,000 the year before.
Breaking with practices in recent years, ICE did not classify the people deported by the severity of their criminal histories, noting only whether the deportee had a criminal conviction. That change is consistent with the Trump administration's decision to scrap Obama-era priorities instructing agents to focus on deporting people with serious criminal convictions or prior immigration violations rather than people with clean histories, minor offenses, or longstanding ties to the country.
Trump eliminated those Obama-era priorities in an executive order five days after taking office, and said he would let immigration enforcement agents make their own judgments, something many agents applauded but undocumented immigrants and their advocates feared could lead to more indiscriminate arrests.
The Trump administration has detained undocumented immigrants who had been checking in with the government for years and had previously been allowed to remain in the country. It has also arrested people during its "targeted" operations who were not the targets.
"Chances are, when we go to their homes or places of business, we're going to find other illegal aliens that weren't even on our radar to begin with ― now they're on our radar."
The less detailed classification of immigrants who are deported and arrested by ICE makes it difficult to compare the types of people ICE is targeting under Trump versus under Obama, but Tuesday's ICE statistics on immigration arrests indicate that the agency is casting a wider net than it has in recent years.
The total number of ICE arrests, 143,470, marked a 25 percent increase over last year. But ICE arrests jumped 40 percent for the roughly eight months since the executive order, compared to the same period last year. The number of people booked into immigrant detention from within the country likewise jumped sharply, increasing more than 40 percent since Trump took office.
Homan said that even without Obama-era priorities, ICE agents were not doing indiscriminate sweeps. Ninety-two percent of people arrested by ICE from Jan. 20 ― the day Trump took office ― to the end of the fiscal year had a criminal conviction or pending change, were ICE fugitives or had been previously ordered removed by a judge and then deported.
In the full 2017 fiscal year, however, the percentage of people actually convicted of a crime was about 74 percent, meaning more than a quarter had no criminal conviction. Of them, 59 percent had an unresolved criminal charge, according to ICE.
The most common criminal conviction or charge recorded by ICE was driving under the influence, followed by "dangerous drugs" and immigration offenses.
The number of ICE arrests carried out in public, rather than through a transfer from a jail or prison, rose by more than 30 percent to nearly 41,000. That includes an increase in the rate of noncriminals apprehended in those "at-large" arrests. People without criminal convictions made up about 18 percent of "at-large" arrests in fiscal year 2016; in fiscal year 2017, that shot up to 34 percent.
Homan blamed so-called "sanctuary cities" ― jurisdictions that limit cooperation with ICE, often by declining to detain people on its behalf if they'd otherwise be released ― for the fact that some of the immigrants arrested had no criminal convictions or charges. The Trump administration has been pushing to eliminate and punish those jurisdictions for their lack of cooperation.
Homan said that "sanctuary cities" just force ICE to go into communities and look for people rather than picking them up at local jails.
"Chances are, when we go to their homes or places of business, we're going to find other illegal aliens that weren't even on our radar to begin with ― now they're on our radar," Homan said, adding, "Sanctuary cities protecting their communities? No. They put communities more at risk for more arrests."
Homan said ICE would like funding for more officers and more detention beds, along with other resources, to make more arrests next year. "We made some great strides this year but [ICE and Customs and Border Protection] need more to get this thing done," he said.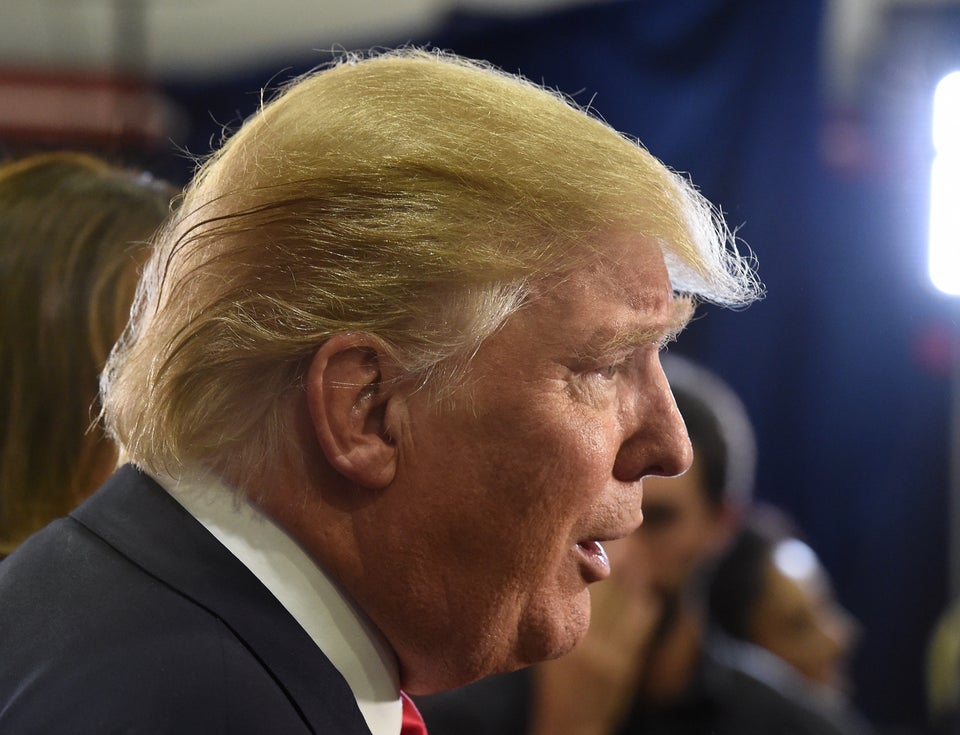 How Donald Trump Talks About Undocumented Immigrants
Popular in the Community