WASHINGTON ― The Trump administration argued before a federal appeals court on Friday that blocking an abortion for a pregnant teenager held in immigrant detention doesn't violate her rights because she has the option of leaving the U.S. and returning to her home country, where abortion is outlawed.
"Ms. Doe has the option of voluntary departure," Catherine Dorsey, a Justice Department attorney representing the Trump administration, told a three-judge panel, referring to the teen's Jane Doe pseudonym in legal filings. Dorsey tried to avoid acknowledging that the undocumented minor was a "person" protected under the U.S. Constitution, but finally conceded that she did have constitutional rights.
The 17-year-old wants to abort her pregnancy, and received permission from a state judge in Texas to do so, but the federal government won't allow her leave an immigrant shelter to go to a clinic. Instead, U.S. officials sent her to a religiously affiliated "crisis pregnancy center" that urged against terminating her pregnancy, according to the American Civil Liberties Union, which represents her.
She doesn't have much time. Jane Doe is 15 weeks pregnant and has been in custody for weeks because the government has not yet found a sponsor to take her in. The government said she has the additional option of getting a sponsor ― something she can't do on her own and often involves a lengthy process ― and then terminating her pregnancy. In Texas, where the girl is being detained, abortions are allowed only up to 20 weeks.
The hearing on Friday was about Jane Doe, but the court's decision may have implications for other pregnant immigrants held in Office of Refugee Resettlement custody who are being barred from abortions under new Trump administration policies.
The ramifications could go even further: Unexplored was the thorny question of whether the Trump administration will claim that undocumented immigrants, whether in custody or not, lack the constitutional right to abortion, although the government insisted Friday it was not arguing that issue.
U.S. District Judge Tanya Chutkan ruled on Wednesday that the government must allow Jane Doe to go to a pre-abortion counseling appointment and obtain the procedure "promptly and without delay" either Friday or Saturday. But the D.C. Circuit Court of Appeals blocked part of the order after the Trump administration appealed.
The federal appeals panel that could decide Jane Doe's fate includes U.S. Circuit Judges Brett Kavanaugh, a George W. Bush appointee; Patricia Millett, a Barack Obama appointee; and Karen Henderson, a George H.W. Bush appointee.
Kavanaugh, who was on President Donald Trump's Supreme Court short list and is widely considered a future GOP pick for the high court, seemed during Friday's oral arguments to be looking for a middle ground that might allow the appeals panel to avoid issuing a controversial ruling involving the hot topics of both abortion and unauthorized immigration.
"We're being pushed, in the span of 24 hours, to make a sweeping constitutional ruling in one direction or the other, and when that happens the Supreme Court and this court often look, uh, are there other avenues to resolving a dispute short of that initially," Kavanaugh said. "It seems to me in this case, were she released to a sponsor, that would solve the government's objection, that would allow J.D. to be released from custody, which would be a good thing, and it would allow her to obtain the abortion if she so chooses."
Dorsey said there was nothing in the record to indicate that the abortion was medically necessary. She did not know how many pregnant minors were in U.S. custody. If the teen had been raped, Dorsey said, a different policy would apply and Jane Doe would be able to obtain an abortion.
"All they need to do is get out of the way."
There would be no such exception for a minor seeking asylum and in fear for her life in her home country, Dorsey said. The government would still argue that the girl had options of either voluntary departure or finding a sponsor.
Jane Doe has not asked for asylum, although deportation proceedings against her have not yet begun, so it's possible she ultimately would be allowed to remain in the U.S. legally.
The government is not imposing a penalty on the minor, Dorsey argued, because she had the choice to voluntarily depart the U.S. She said the government had put no "substantial obstacle" in the way of an abortion.
Brigitte Amiri, a senior staff attorney at the ACLU's Reproductive Freedom Project, argued that it doesn't matter that the minor was in the U.S. illegally, and that her immigration status does not diminish her right to an abortion. In a court filing, the ACLU argued that the government is "holding J.D. hostage to prevent her from obtaining an abortion" and that she is being "forced to remain pregnant against her will."
Balancing the harm that would come to Jane Doe ― potentially being forced to carry a child to term against her will ― compared with the government simply being ordered to make a phone call and allowing Jane Doe to go to her appointment, Amiri said, is "quite easy" in this case.
"Here, what we're talking about is them standing in the way," Amiri said, adding that every day that Jane Doe remains pregnant takes a toll on her emotional and physical health. "All they need to do is get out of the way."
Other teenagers in government custody have been similarly deterred or dissuaded from getting abortions. The Office of Refugee Resettlement, which is part of the Department of Health and Human Services, is run by Scott Lloyd, a former attorney with the Knights of Columbus who has worked with anti-abortion and anti-contraception groups. Since taking over, Lloyd personally traveled to a shelter to urge a minor not to get an abortion, according to the ACLU.
In a change in policy, the Office of Refugee Resettlement now only allows minors to get abortions if the director signs off, and only under narrow circumstances. Lloyd reportedly said after taking over that he would release undocumented minors from shelters only for "pregnancy services and life-affirming options counseling."
Before You Go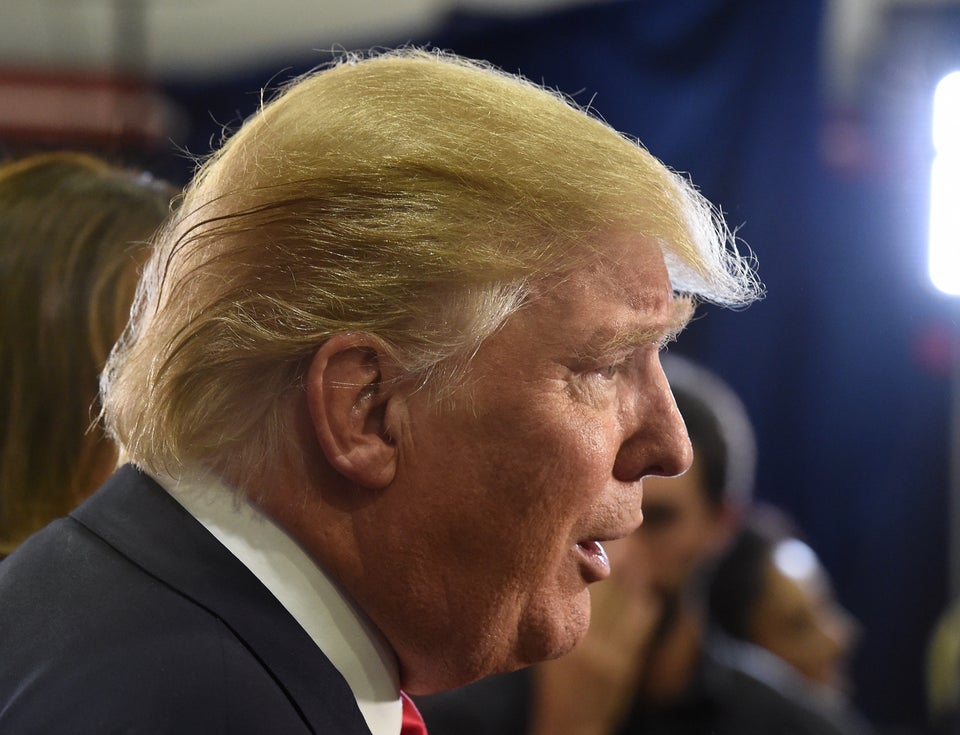 How Donald Trump Talks About Undocumented Immigrants
Popular in the Community