WASHINGTON ― President Donald Trump on Monday defended the swiftness of his executive order banning people from seven Muslim-majority countries from entering the U.S. ― which wreaked havoc at airports across the nation over the weekend ― as a move that was necessary to keep Americans safe.
If the "ban," as Trump called it, took effect a week after he signed it, potential terrorists would receive advance notice and thus infiltrate the country via its refugee resettlement or tourist visa programs.
That argument isn't based in reality, however. People abroad can't just "rush" into the U.S. The screening process for refugees takes 18 to 24 months, on average. The process for obtaining other types of visas also takes weeks at the very least.
"The idea that someone can come into the country in a week or a month doesn't make any sense," said Denyse Sabagh, an attorney who leads the immigration practice at Duane Morris in Washington.
The waiting period for a student, tourist or work visa varies by country. No one from the seven Muslim-majority countries on Trump's travel ban list ― Iran, Iraq, Libya, Somalia, Sudan, Syria and Yemen ― can enter the country without a background check. Even before Trump signed the order, people from those countries who applied to enter the U.S. were subject to "administrative processing," a mysterious process Sabagh likened to a "black hole."
"A lot of those cases will sit and sit and sit, and they won't be cleared for weeks, months or years," she added.
The Trump administration, for all its criticism of refugee vetting, has given little indication of how it thinks the already lengthy process should be done differently. The current system is a multistep process that involves the Department of Homeland Security, the State Department, the FBI, the Department of Defense and other security agencies.
Most refugees first go through screening with the United Nations High Commissioner on Refugees, which refers a small portion of them to the United States. The U.S. government then collects its own information on them, including through in-person interviews and fingerprints. The government compares its findings with the U.N. files and information on what was happening on the ground in their country to see whether the person is being truthful and consistent. For example, if someone gives varying dates for when they left their home, or claims a terrorist attack happened at a time when it did not.
Government officials then check refugees' information through multiple databases. Syrian refugees go through additional screening measures, according to the Department of Homeland Security.
Many Republicans cite FBI Director James Comey's comments as a reason for rejecting Syrian refugees, claiming he said vetting them was impossible. In fact, he said that screening was continually improving, even though "there is no risk-free process."
Only a tiny fraction of refugees worldwide are approved for resettlement at all, and they cannot specifically demand to go to the United States versus being sent elsewhere. Most of those welcomed to the U.S. in the 2016 fiscal year were women or children.
There is little national security benefit to Trump's order on immigration, according to an analysis by the Cato Institute, a libertarian think tank in Washington. Between 1975 and 2015, foreign nationals from Iran, Iraq, Libya, Somalia, Sudan, Syria and Yemen killed exactly zero Americans in terrorist attacks on U.S. soil, it found.
Moreover, the likelihood of an American being killed in a terrorist attack caused by a refugee is 1 in 3.64 billion per year, according to the study.
Trump's order could actually hurt national security. Sens. John McCain (R-Ariz.) and Lindsey Graham (R-S.C.) warned over the weekend that the "executive order may do more to help terrorist recruitment than improve our security."
Trump administration officials also suggested over the weekend that the immigration order was needed immediately to avert unspecified threats. During a call with reporters Sunday night, Trump press secretary Sean Spicer repeatedly dodged questions about the nature of the threat.
"Did you have information that something like that would happen?" asked a reporter for The New York Times.
"Would you wait until you do?" Spicer responded. "The answer is we act now to protect the future."
How will Trump's first 100 days impact you? Sign up for our weekly newsletter and get breaking updates on Trump's presidency by messaging us here.
Support HuffPost
The Stakes Have Never Been Higher
Before You Go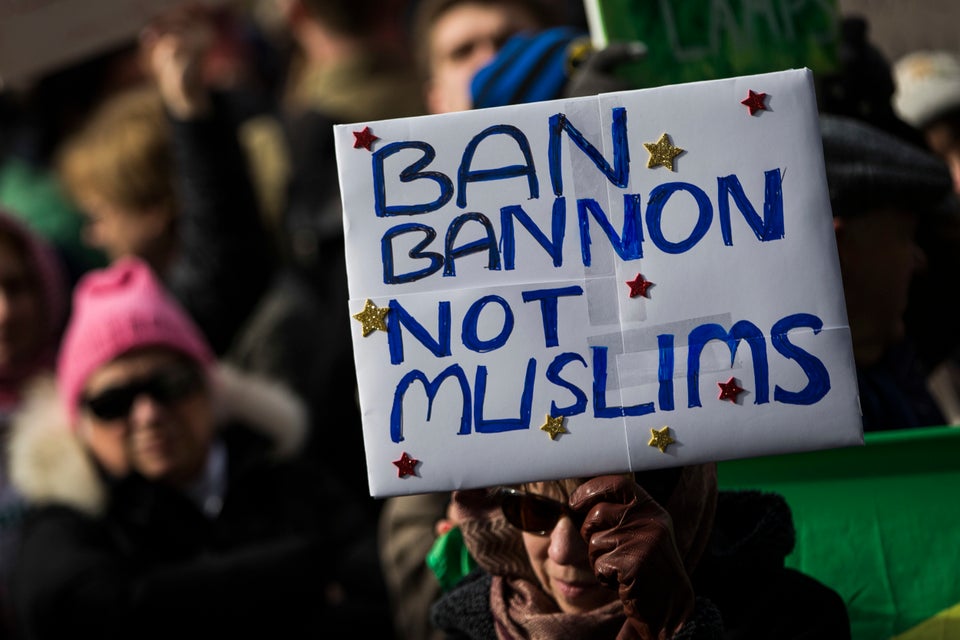 Nationwide Protests Against Trump's Executive Order
Popular in the Community