DES MOINES, Iowa – Donald Trump's experiment with "softening" his immigration policy came to a dramatic end Saturday in a fairgrounds livestock pavilion, with the Republican presidential nominee promising deportations within an hour of his inauguration.
"We are going to rid of the criminals, and it's going to happen within one hour after I take office," he said. "We will move justly, but we will move fast. Believe me."
Trump has made the forcible deportation of the 11 million people in the country without documentation a cornerstone of his presidential campaign from its start last year. It made him a favorite among a segment of the Republican base, and helped him win the nomination over a dozen Republican senators and governors.
Then, last week, Trump explained in an appearance on Fox News that "thousands and thousands" of people he had met with on the issue had urged him not to deport undocumented immigrants who have been in the country for years and have no criminal record, but rather stable jobs and families. That new tack brought an immediate backlash from some of his hardcore supporters – including author Ann Coulter – for breaking his promise, as well as "I told you so" claims from mainstream GOP critics who had long predicted his eventual flip.
Trump backtracked on his new position later in the week – including in a CNN interview, where he claimed the modification was not a "softening" but actually "a hardening." The Saturday remarks appear to complete the process, with Trump suggesting that undocumented immigrants commit a significant percentage of the country's crimes and making zero mention of finding some way for those who have not committed any crimes to stay.
He also asserted – without any supporting evidence – that Democratic nominee Hillary Clinton would, if she were to win, end "all routine immigration enforcement."
"In other words, totally open borders. Which will lead to a massive crime wave," Trump said.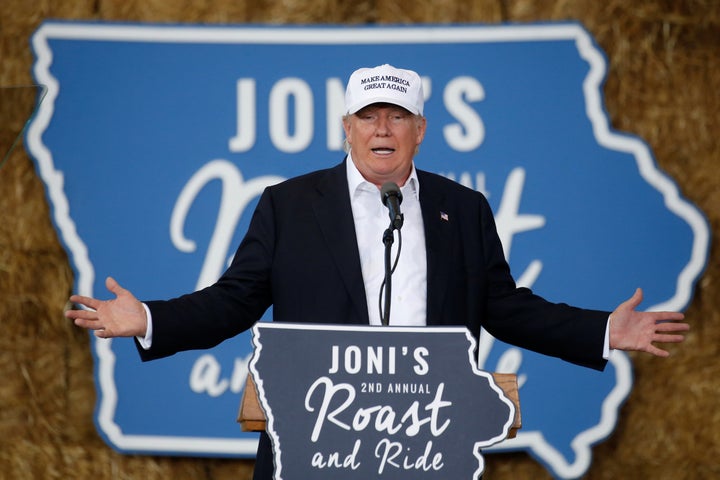 "I think he was trying to make up for his missteps," said Brian Zegers, a 48-year-old personnel consultant who attended the biker-themed event in a leather vest and bandana. Smiling, Zegers attributed Trump's original reversal to the advice of consultants and said the reversal of the reversal was just what the boisterous crowd of Trump supporters wanted to hear.
Other, more committed Trump fans said his shifts in position were of no concern to them. "The message will get tightened up before the election," said Jim De Kruif, 57 an investment adviser who has always assumed that Trump will modify his policies heading into the general election. "That's what politicians do."
Trump also continued his recent practice of pledging to work for African-Americans and Latinos in front of virtually all-white audiences. He spent about five minutes of his 50-minute speech promising lower taxes for family farms and offering a commitment to the corn-based ethanol mandate in gasoline for his Iowa audience, and then spent twice as long telling members of the two ethnic minorities that the Democratic Party had not helped them and that they should support Trump. "What do you have to lose?" he asked, repeating a new favorite line.
Saturday's event was organized by Iowa's freshman Sen. Joni Ernst, the second of what she is hopes will become an annual ritual: a motorcycle rally raising money for a veterans' charity, followed by a GOP pep rally.
Trump, though, did not participate in the motorcycle ride from the local Harley Davidson dealership to the Iowa State Fairgrounds. Instead, as is his preference, he flew in specifically for the event aboard his personal airliner, delivering the final speech of the afternoon to the crowd of about 2,000.
Ernst and other Iowa elected officials preceded Trump on stage. While urging voters to support Trump, the leaders spent little time praising their presidential nominee, and mainly pointed out the importance of keeping Supreme Court nominations out of Clinton's hands.
Even that approach, though, could not entirely insulate the hometown Republicans from the danger of such a volatile candidate at the top of their ticket. At a news conference to explain the benefits of the ride for a veteran's charity, Ernst was confronted with a question about one of the latest controversies for Trump's campaign: reports of CEO Steve Bannon's domestic violence charge from his first marriage.
Ernst pointed out that it was not her job to vet Trump's staff. "I am not making the hiring decisions," she said, but then quickly added: "Sexual assault and domestic violence is never OK – is never OK."
Calling all HuffPost superfans!
Sign up for membership to become a founding member and help shape HuffPost's next chapter
BEFORE YOU GO
PHOTO GALLERY
Babies who hate Trump