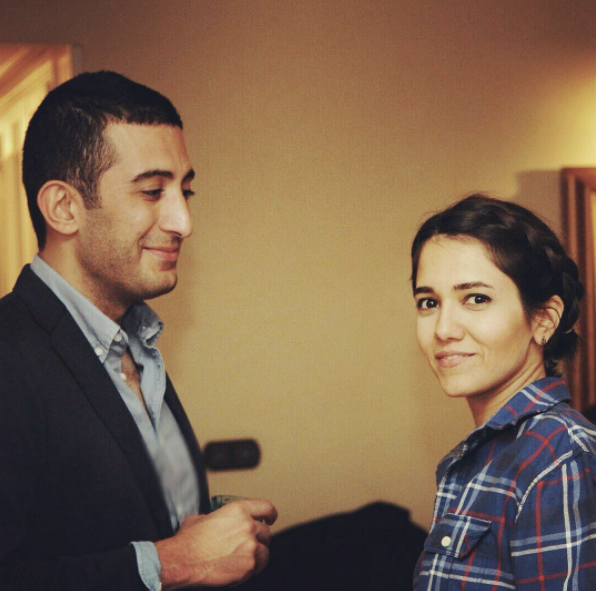 Roozbeh Aliabadi, 32, spoke out via Twitter on Wednesday to put a face on President Donald Trump's forthcoming executive order on immigration, which would temporarily ban the issuing of visas to people from certain countries.
Here's what it looks like for this U.S. citizen:
Aliabadi, who has lived in the U.S. since he was a teenager, is a managing partner at a consulting firm. He met his wife, Zhinous, two years ago, at a party at his aunt's house in Iran.
"I was a little tipsy, but I saw her from across the room and went up to her and said 'I don't even know your name or who you are, but I know you are going to be the mother of my children,'" Aliabadi told The Huffington Post.
Zhinous, an architect, just laughed, Aliabadi says.
But the two began a relationship, and last June they were legally wed before a notary in Iran. That's when Zhinous applied for her permanent residency card for the U.S.
Their plan, Aliabadi says, was to have a small formal wedding ceremony in the U.S. to celebrate with friends and family, and then drive up the California coast in an old classic car for their honeymoon.
"She got notice on Jan. 17 ― while Obama was still president ― that [U.S. Citizenship & Immigration Services] approved her for permanent residency," Aliabadi said. "We were thrilled ― we even made jokes about getting in under the wire of Obama's presidency."
In order to come to the U.S., Zhinous would need an immigrant visa, and the issuance of those visas could be put on hold thanks to Trump's expected executive order.
"In a nutshell," Aliabadi said, "it will mean no entry."
He says he and his wife haven't sought legal advice, and they have no idea to what extent the order might be enforced. "Trump is signing the executive order as a national security matter," Aliabadi said. "He is acting within his authority... [There's] not much we can do to challenge it, although Congress can overturn it."
"This is really impacting us," he added. "I was upset. I don't usually tweet out personal stuff. But I figured that if Trump can tweet, so can I."
His message to the new president: "Thanks to you, I can't have my wife here. One day we will tell our kids about what President Trump did to us as newlyweds. I hope that in the end, we can say kind stuff."
His tweet, which as of Thursday had more than 100,000 impressions and had been retweeted more than 1,000 times, clearly touched a nerve.