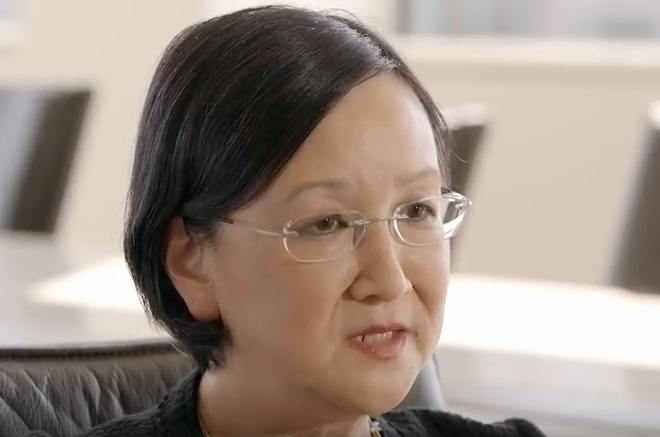 The daughter of Chinese immigrants will rule on the future of President Donald Trump's latest executive order on immigration.
U.S. District Judge Dolly Gee, who sits in the Central District of California, will be assessing the administration's new effort to expand the detention of whole families as a way to not separate undocumented children from their locked-up parents. Last week, the Department of Justice filed an emergency motion challenging the 1997 Flores settlement, which generally limits the detention of children to 20 days and sets standards for facilities that house migrant kids.
If the motion is granted, it could lead to undocumented families being detained indefinitely. But the judge's past decisions suggest that Gee won't go that way. 
Gee has spoken before of her own family's immigrant experience. In a video for the National Asian Pacific American Bar Association, she noted that her ancestors came to the U.S. more than once because the doors were closed the first time.
Her great-great-grandfather, she said, was among the thousands of Chinese immigrants who worked on the transcontinental railroad in the late 1800s. His stay in the U.S. was short-lived, however. Because of the Chinese Exclusion Act, a product of that period's fierce anti-Chinese sentiment, Gee's great-great-grandfather was forced to return to China. 
Her father immigrated to the U.S. at the age of 15 and joined the Navy during World War II. He eventually became an aerospace engineer.
Her mother was also an immigrant, and Gee said that when she was younger, she helped guide her mom through American society. 
"I was basically my mother's aide during my formative years," the judge said in the video. "My mother did not speak English and so when I was growing up, I was the person who helped her translate and navigate the various issues that confronted her on her day-to-day life. ... I used to kid her that she was my first pro bono client."
Seeing the challenges her mother faced as a non-English speaker and a garment worker, Gee said she felt compelled to go to law school. 
"I saw many of the abuses that took place in the workplace and I decided at a fairly early age that I wanted to do some type of work that would help address some of the inequities I saw as a child," she said. 
Gee was nominated as a federal district judge in 2009 by then-President Barack Obama and unanimously confirmed by the Senate. She became the first Chinese-American woman to serve on a U.S. district court. 
"As a daughter of immigrants from rural China, she personifies the American dream," then-Sen. Barbara Boxer said of Gee at the time of her nomination. "She used her position as a prominent attorney in Los Angeles to promote racial tolerance and fight for justice for those who face discrimination."
Though appointed by Obama, Gee did not shy away from opposing his immigration practices. In a 2015 case, she ruled that his administration had breached the Flores settlement in the detaining of Central American children and their mothers who were seeking asylum.
The Obama administration had opened two family detention centers that year to house these families. Gee said the facilities didn't comply with the Flores requirements for detaining children, calling the prison-like conditions "deplorable." The Flores agreement directs officials to "place each detained minor in the least restrictive setting appropriate."
Gee ordered that those detainees be released "without unnecessary delay."
"This decision confirms that the mass detention of refugee children and their mothers violates U.S. law," Elora Mukherjee, an associate clinical professor at Columbia Law School, told The New York Times in 2015. "Prolonging their detention even a single day in light of this decision would be illegal."
Last year, Gee ordered U.S. Customs and Border Protection to appoint a juvenile coordinator to monitor compliance with the Flores settlement after discovering that family detention facilities in the Rio Grande Valley did not meet the settlement's standards.
If Gee denies the Justice Department's motion this time, or if Congress doesn't grant the administration authority to keep children detained past 20 days, the government will face a choice ― to release whole families or to once again separate children from their detained parents.