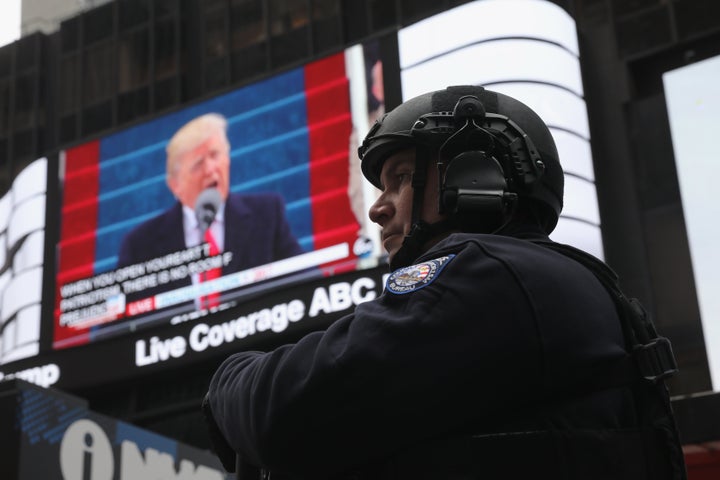 WASHINGTON ― Forgive me, but I love presidential inaugurations.
Covering politics and adoring America ― especially our Constitution ― I relish the pageantry of the law-based transition of power, even if I know that we are still not a perfect union.
I have covered many inaugurations, and they've shared certain reassuring characteristics. The speech allows each new president to start things off on a peaceable note, however urgent the tasks at hand. It's a chance to pay homage to the constitutional process, to acknowledge those who may not have supported the incoming president during the campaign, to offer soothing words about the durability of freedom.
And for the better part of a century, the inaugural speech has allowed new presidents to reaffirm our faith in an active global alliance of free nations for the spread of humanistic values.
Well, President Donald J. Trump's speech offered almost none of that.
No one like him has ever been elected, so in one sense, this departure from the norm wasn't surprising.
At the same time, it was a shocking thing to hear and see and feel from a couple hundred feet below the podium.
First, the urgency and the anger. Ronald Reagan came to town in 1981 with a good bit of the same attitude. But it wasn't nearly as pure or simplistic as what Trump expressed in his jeremiad Friday.
When Reagan was inaugurated, he made sure to stress that he wasn't against government per se, or even against Washington, D.C. Rather, he said, he was against wastefulness.
Trump, on the other hand, made it personal, even if he didn't mention any names. And he made ominous allusions that called to mind old European tropes.
"For too long," he said, "a small group in our nation's capital has reaped the rewards of government while the people have borne the cost."
Who is this "small group?" Does he mean Congress? The wider federal bureaucracy? The K Street lobby corps? The press?
Maybe he was talking about the whole churning machine of Washington itself. But something that vast wouldn't seem to fit the devil-in-hiding liturgy of Trump's more conspiratorial, xenophobic supporters, led by White House counselor Steve Bannon.
Trump's vehement tone was all the more striking given the relatively small turnout for the event on the Mall ― which was nowhere near as crowded as it had been for some past inaugurations ― and the genial, unthreatening mood of many of his supporters in seats beneath the Capitol's West Front.
Tony Ledbetter, for example, was a Trump elector in Florida, but he's also a county chair with roots in the Reagan campaign of 1980. A practiced politician, he begged off comparing Trump to his original hero, saying his main hope for the new president is simply that he "create jobs."
Presidents tend not to talk about themselves very much in their inaugural speeches. But Trump, as usual, departed from tradition, and did so in the dramatic, passionate tones of a revolutionary leader.
"I will fight for you with every breath in my body," he declared, "and I will never let you down."
At times, the anti-Washington populism of Trump's speech ― he indicted much of the very system that had just installed him ― made his predecessors, even Reagan, seem like go-along, get-along types.
"The forgotten men and women of our country will be forgotten no longer," he said.
There was the pitchman's urgency to it all, with little stately, secular sermonizing. "The time for empty talk is over," he said. "Now arrives the hour of action."
The language throughout was nakedly combative, even bloody. Of drugs and violence, he vowed, "This American carnage stops right here and it stops right now."
The wealth of the middle class has been "ripped from their homes," he said. Americans will be able to watch their country "eradicate from the face of the earth" every shred of "radical Islamic terrorism." All of us, he said, citing an old military slogan, "bleed the same red blood of patriots."
In fact, rather than simply nodding to the idea of patriotism and love of country, Trump made it the central feature of his vision.
"At the bedrock of our politics," he said, "will be a total allegiance to the United States of America, and through our loyalty to our country, we will rediscover our loyalty to each other."
And to underscore the centrality of patriotism, he said that he was "issuing a new decree" in the name of the "people assembled here today."
"From this day forward, it's going to be only America first," he said. "America first."
The cries of protests wafting up to the West Front added to the sense that a hostile takeover was underway.
As inherently American as presidential inaugurations are, no modern president has ever made patriotism per se the central feature of his message.
There are two reasons for that. One is that the United States has, since World War II, been part of a global alliance of nations standing for values that are American but that transcend any one nation.
The other reason is that the president, in the oath of office, doesn't declare allegiance to the United States, its people or its borders. Rather, the oath is a vow to "preserve, protect and defend the Constitution."
The Constitution, not the president, is the boss in America, and it cannot be fired.
But unless I missed something in his abattoir of an address, Trump did not mention on Friday who the real boss is.
Popular in the Community