But Americans don't believe them.
Just 7 percent of Americans think that Trump's big day was better attended than Barack Obama's first inauguration in 2009, according to a new HuffPost/YouGov survey. Fifty-six percent of Americans — including 41 percent of Trump voters — say correctly that more people came out for Obama's inauguration. Nine percent think the two events were equally well-attended, and 28 percent say they aren't sure.
Audience size isn't a particularly meaningful barometer of public opinion. But the perception that he's able to draw large crowds is clearly important to Trump.
Sean Spicer, the new White House press secretary, has spent a lot of time over the last few days defending his own false claim that "this was the largest audience to ever witness an inauguration, period, both in person and around the globe." Kellyanne Conway, a senior adviser to Trump, described the comment as a statement of "alternative facts."
The White House had reason to believe that by turning an objective analysis into a partisan debate, they'd keep sympathetic members of the public on their side. Some people "are willing to believe anything that sounds plausible and fits their preconceptions about the heroes and villains in politics," The New York Times' Neil Irwin wrote last week, recapping new research on Americans' susceptibility to fake news.
At the same time, confidence in journalists' objectivity and accuracy is low, especially among the GOP. Just one-third of Americans, and only 14 percent of Republicans, report having even a fair amount of trust in the mass media.
There's a clear partisan tint to the responses in the HuffPost/YouGov poll, with Hillary Clinton voters far more likely than Trump voters to affirmatively state that Obama's 2009 inauguration was better attended. But even most Trump voters aren't willing to take Spicer's claims at face value. Eleven percent say that Trump had more people at his inauguration, 18 percent think the two events were equally well-attended, and 30 percent aren't sure. But the plurality ― that 41 percent ― say that Obama's first inauguration drew the bigger crowds.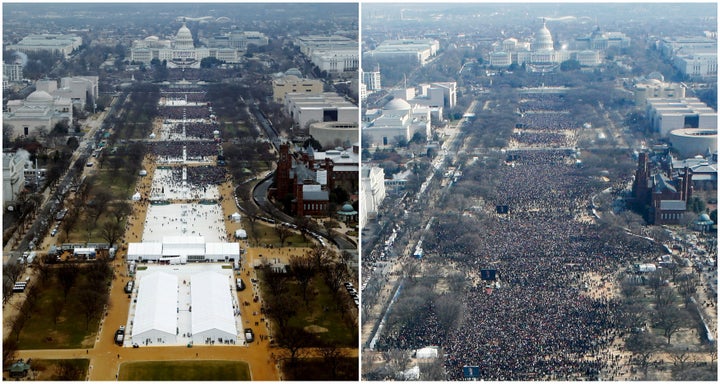 The HuffPost/YouGov poll consisted of 1,000 completed interviews conducted Jan. 21-23 among U.S. adults, using a sample selected from YouGov's opt-in online panel to match the demographics and other characteristics of the adult U.S. population.
The Huffington Post has teamed up with YouGov to conduct daily opinion polls. You can learn more about this project and take part in YouGov's nationally representative opinion polling. Data from all HuffPost/YouGov polls can be found here. More details on the polls' methodology are available here.
Most surveys report a margin of error that represents some, but not all, potential survey errors. YouGov's reports include a model-based margin of error, which rests on a specific set of statistical assumptions about the selected sample, rather than the standard methodology for random probability sampling. If these assumptions are wrong, the model-based margin of error may also be inaccurate. Click here for a more detailed explanation of the model-based margin of error.
Popular in the Community