WASHINGTON ― Donald Trump's Presidential Inaugural Committee acknowledged late Monday that a final report it filed with the Federal Election Commission this month was riddled with errors, many of which were first identified through a crowdsourced data project at HuffPost.
"We plan to amend our report to reflect any changes that we have become aware of, including many of those donor records or technical glitches that we have recently become aware of, as is common practice with FEC reporting," an inaugural committee spokesman, Alex Stroman, said Monday evening.
The inaugural committee raised more than $100 million for Trump's Jan. 20 festivities, which included two inaugural balls that drew a combined total of about 30,000 guests. The fundraising set new records. But according to Brendan Fischer, counsel to the nonprofit Campaign Legal Center, "it doesn't seem that any real effort was made to collect the information that is very clearly required by law."
The scores of mistakes contained in the more than 500-page FEC filing can largely be traced to a fundraising and ticketing system the Republican Party introduced this year, which provided special online access codes to Trump supporters.
The access codes, mailed out in early January, entitled recipients to buy tickets, at $50 each, to the larger of Trump's two inaugural balls. Within days, a secondary market for the access codes had sprung up, with some people asking their friends for codes, and others buying them on Ebay.
No two access codes were the same, and each code was good for a specific number of tickets, like rides at a carnival. Some codes were good for only two passes, while others were good for 100. But each code was tied to a specific address, meaning that if it was passed to someone else, that person's name would be on the disclosure alongside the original code recipient's address.
A Trump supporter who spoke to HuffPost Monday described how she used four different access codes ― each belonging to a different friend ― to purchase $400 worth of ball tickets.
"People who donated to Trump got these written fancy invitations, inviting them to the inauguration, with a cover letter that said, 'Here's an access code,' and you had to enter a PIN," she said.
"We needed an access code so we could get a ticket to the inauguration and the ball. We used that access code, but it wasn't a donation. It was a ticket price," said the woman, who requested anonymity because her job prohibits her from making political contributions.
"The inauguration website did not request my street address when I purchased the tickets, even though I paid for the tickets using my credit card," she continued. "I also listed the individual name of each ticket holder and their email address for delivery of their ball tickets."
According to available records, none of those names was submitted to the FEC as a Trump inauguration donor. Instead, the final report submitted by the 58th Presidential Inaugural Committee this month said the original donor made eight donations of $50 each, using four different addresses.
That such errors made their way into the official inauguration committee filing suggests that the committee failed to perform even basic checks to ensure that its record-keeping was accurate, a requirement under FEC guidelines.
"Even in light of the diminished reporting required by inaugural committees as opposed to campaigns, it doesn't seem that they've done the basic reporting required by the FEC," said Fischer. "These are not new rules, and this looks like negligence."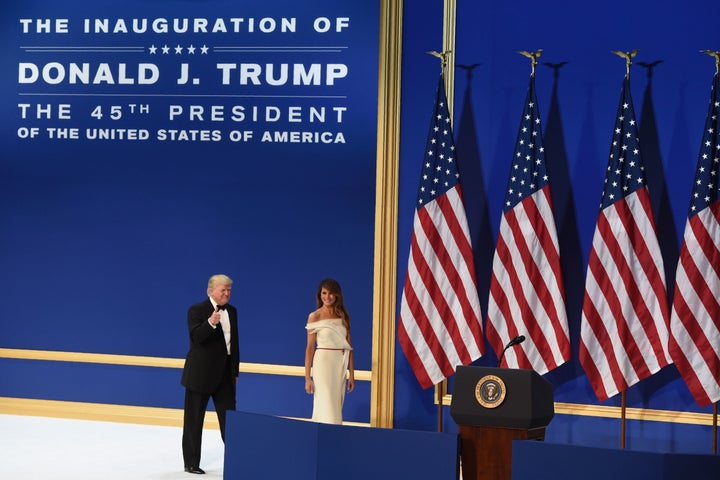 These simple-looking errors in mailing addresses were first identified by volunteer fact-checkers as part of the Citizen Sleuth Project, which originated at HuffPost. By building a public and shared spreadsheet of Trump's inauguration donors, accessible here, Citizen Sleuth was able to crowdsource the fact-checking part of investigating Trump's inaugural donor records, With the help of more than 1,000 volunteers, a trove of detailed information was created about the more than 1,500 donations to Trump's inaugural committee.
Fischer said the errors exposed by the Citizen Sleuth volunteers raise doubts about whether the Trump inauguration did basic due diligence, as required by law. By linking individual donations to the mailing address of the access code ― which was easy to pass around ― and not the address of the actual donor ― the Trump inaugural committee effectively created an alternate universe of donors records, he noted.
Fischer also said ticket buyers should have been better informed that the inauguration committee was reporting ticket purchases as political contributions.
"They should have been told that if they made an aggregate contribution of more than $200, their name would be reported to the FEC," he said.
Stroman said the inauguration committee didn't try to trick ticket buyers into thinking that they weren't making political contributions that would be reported to the FEC. The donation webpage included all the required information, he noted, and if people failed to read it, the fault lay with them, not with the Trump inauguration.
But for the donor who bought tickets for her friends, even a revised FEC report would leave her feeling deceived, she said.
She considered her tickets a purchase ― not a political donation. This was an important distinction for her, because of the donations restrictions of her job. She pointed to a press release from the Trump inauguration that described tickets to the ball as "the most affordable in recent history," and available to anyone "who inquired about purchasing tickets." Stroman said the confusion was unfortunate.
"We only know what the donor gives us and our [data] vendor gives us, so it's always a positive thing to be informed of errors in any report, so that records can be updated, and ultimately, can provide an accurate account of what happened, for posterity," he said.
While the inaugural committee is now investigating a number of donor records, other records with questionable disclosure information have been resolved after the committee's review of its own financial documents.
That includes a donation of $25,000 that appeared to have been made in the name of Katherine Johnson, a former NASA mathematician who was a character in the biopic "Hidden Figures." The listing included an address at NASA headquarters, from which Johnson has been retired for decades. After the donation was first reported by The Intercept, Johnson's family quickly denied that Johnson had ever made such a donation.
Trump inaugural committee officers sought Monday to clear up the reason for the incorrect reporting.
"We have the highest respect for Ms. Johnson and her distinguished service to our country," Stroman said. "Unfortunately, an error was made that wrongly attributed a donation to the committee to someone with a NASA address instead of the donor's true address, which was in California. We apologize to Ms. Johnson and her family for any confusion or stress this may have caused."
Another mysterious donation that has since been resolved came from "Isabel T. John," a donor who gave $400,000 to the Trump inauguration but whose identity was difficult to trace. The FEC requires that committees collect a name and address for each donor giving more than $200. Isabel John's address was an empty lot in New Jersey.
After this was brought to the attention of the committee, Stroman said, "our compliance staff went through every record by hand, and found that this donation was mistakenly attributed to an Isabel T. John, instead the donor's name, which is Isabel Tonelli."
Isabel and John Tonelli are the real donors, he added. The donation was made by wire transfer from Citibank which used the address of 111 Sylvan Ave. in Englewood, New Jersey, to facilitate the transfer.
Sign up for the HuffPost Must Reads newsletter. Each Sunday, we will bring you the best original reporting, long form writing and breaking news from The Huffington Post and around the web, plus behind-the-scenes looks at how it's all made. Click here to sign up!
Popular in the Community