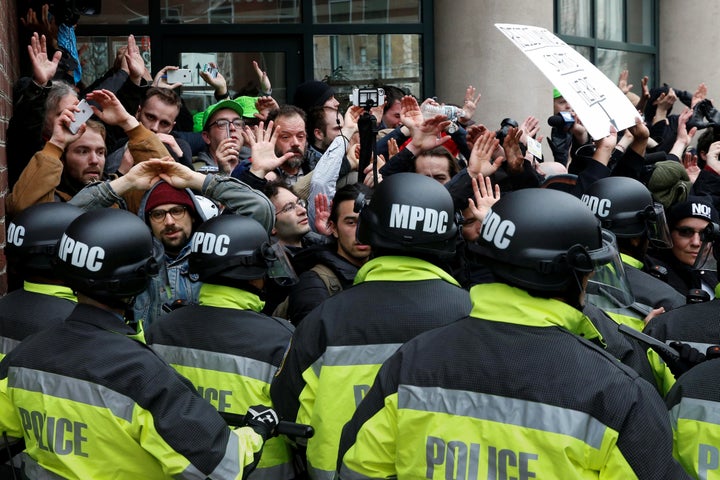 WASHINGTON ― A jury found a defendant arrested on President Donald Trump's inauguration day not guilty of rioting charges on Monday, another setback in the Justice Department's attempt to convict protesters of felonies stemming from property destruction in the nation's capital as Trump took office.
Casey Webber was one of more than 200 people arrested en masse after black-clad demonstrators smashed windows in downtown Washington. Prosecutors originally charged more than 200 people with felonies in connection with the destruction. But after a jury acquitted the first group of defendants on all charges, prosecutors in January dropped charges against 129 other defendants, saying they'd instead focus on a "core group" of 59 defendants they said were most responsible for the destruction.
Webber was charged with engaging in a riot and conspiracy to riot, as well as five counts of destruction of property that prosecutors said he should be held responsible for as part of a rioting conspiracy.
Unlike the other three defendants whose cases are pending before the jury, the U.S. Attorney's Office for the District of Columbia never alleged that Webber damaged any property on Jan. 20, 2017. But, like the first six defendants to go on trial last year, the government told jurors that Webber should be held responsible for any damage done by the group of protesters.
The judge had previously acquitted Webber on a felony charge of inciting a riot, finding that no reasonable jury could have convicted him on that count based on the evidence presented by the government.
April Downs, a lawyer representing Webber, told HuffPost after the verdict that she believes the government should never have brought a case against her client.
"He is a Quaker, and he acted like one throughout," Downs said. "He was completely non-violent and always acted that way and spoke that way."
In closing arguments last week, Assistant U.S. Attorney Rizwan Qureshi, a fan of the Philadelphia Eagles, told jurors that this was "not a typical riot" because it was "not something that was spontaneous," like when sports fans destroy property after a win or loss. "In the city I grew up in they put Crisco on the poles whether we win or lose," he said.
But in this case, Qureshi said, the actions weren't spontaneous, and the defendants "agreed on Jan. 20th to destroy your city" and were now trying to "hide behind the First Amendment."
In their closings, defense attorneys raised questions about the government's attempts to identify their clients using videos that captured the property destruction.
Seth Schrager, ― who represents Seth Cadman, one of those whose case is still before the jury ― questioned whether a video really showed his client throwing an object toward a window and whether it actually hit anything.
The government's conspiracy theory, Schrager said, depends on the "fiction" that the protests were well-planned. "There was no way this mess was well organized," he said.
He also argued that the chief detective in the case, Gregg Pemberton a member of Washington's Metropolitan Police Department who sent anti-activist tweets, had a "right-wing bias."
Schrager also said that democracy could be obnoxious and loud, and noted the chaos that marked the Boston Tea Party in the lead-up to the Revolutionary War. A lot of people, he said, have concerns about the United States trending toward fascism.
The government alleged that the other two defendants, Michael Basillas and Anthony Felice, engaged in vandalism, and say that Felice resisted arrest by trying to escape when police encircled the group.
Just as the case went to jury, one of panel's members wrote a note to the judge saying that someone had written "Google jury nullification" in a bathroom stall. She said she looked up the term, which refers to the practice of a jury voting a defendant not guilty not based on the evidence, but rather because they don't believe in a law or don't support the possible punishment for breaking the law. She said she discussed the term with other jurors.
After delivering their not guilty verdict in Webber's case, the jury continued deliberating on the other three cases on Monday afternoon.
Ryan Reilly is HuffPost's senior justice reporter, covering the Justice Department, federal law enforcement, criminal justice and legal affairs. Have a tip? Reach him at ryan.reilly@huffpost.com or on Signal at 202-527-9261.
Popular in the Community