WASHINGTON ― Early Saturday morning, Ekram Seid hopped on a city bus with her sister, Yasmin, and made the trek across town for the Women's March on Washington. They had never been to a political march before. But they felt a responsibility to go to this one.
"I'm the oldest of three girls," Ekram told The Huffington Post, standing along the National Mall in a sea of people waving signs advocating social justice issues and opposing President Donald Trump. "So I just came here because I have to lead by example for them that it's important that we speak on the issues that matter to us. And sometimes we have to take action."
Yasmin said she wanted to go because "I wanted to hear what people had to say and I'm a feminist, so it means a lot to me."
For all the diversity of the crowds, Ekram and Yasmin stood out. Both are tiny, standing well under five feet tall. Both wore hijabs. And both are teenagers. Ekram, 18, is even shorter than her younger sister and has braces. Yasmin, 13, stood quietly by her big sister. But when they spoke, they were far beyond their years. They were clear about what is at stake for Muslim women and other minorities if they don't engage in politics and stand up for their rights.
"Donald Trump doesn't scare me," said Ekram, who starts college on Monday. "It's that it's 2017, and there are people with this very provisional mindset, that kind of scares me and worries me. But I'm not scared for me. I'm scared for my sisters. I feel like I can handle anything."
Yasmin, who is in eighth grade, said she's not scared of Trump either and described what being a feminist means to her: "Women's empowerment and the belief that women can do anything men can do. And can do it better."
Ekram chimed in, "I think everyone should be a feminist because women give life. If you're not a feminist, you're not supporting your mother. You're not supporting yourself."
It was just the two of them together for the day, navigating the masses with their neon green posters that read "Girls Just Want To Have Fun-Damental Human Rights!" and "Women Can Do It All." They've lived in D.C. since 2007, when their family moved from Ethiopia. Yasmin said she wished she was born in the United States so she could run for president.
"Maybe Congress will change the law back, that you don't have to be born here," she said. "If Congress changes the law, then I'm going to run for president."
When HuffPost suggested she could run for Congress, Yasmin replied, "Yeah, but I want to be president."
"You know, a lot of presidents have a background in politics," Ekram interjected.
"Yeah..." said Yasmin, uninterested and trailing off. "I want to go to medical school and law school. Women can do it all."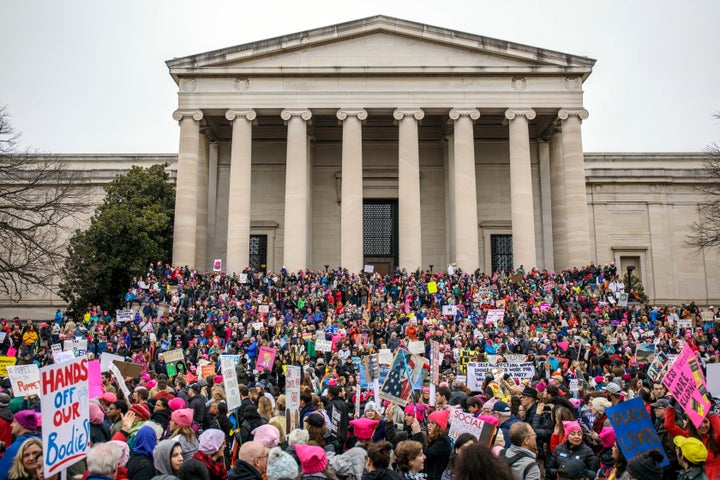 Throughout Trump's rise over the past year, and the ugly anti-Muslim rhetoric that's come along with him, Ekram and Yasmin said they've gotten used to strangers coming up to them and offering words of support.
"I guess there's not a lot of Muslim people in the McDonalds' community," said Yasmin. "When I go to McDonalds, people are like, 'Oh, keep doing what you're doing! Don't listen to Donald Trump!' Or something."
There have been instances, though, of people treating them differently because of the way they look. When their family was at the airport recently getting ready to board a plane, Yasmin overheard one of their bag checkers say to another that they needed to thoroughly go through their family's bags because "we don't want any problems on the plane."
"I felt hurt," she said. "I had my hijab on, and my mother doesn't speak full English and didn't understand what he was talking about."
But Yasmin ― who is, again, 13 ― decided this was one of those moments where speaking out mattered.
"I went up to the lady [behind the desk] and I was like, 'You guys need to stop discriminating against us as Muslims because that's not fair. You wouldn't do that to anybody else,'" she said. "I just left it at that."
Ekram shook her head and laughed with pride.
"Yeah," she said. "That's my sister."
Before You Go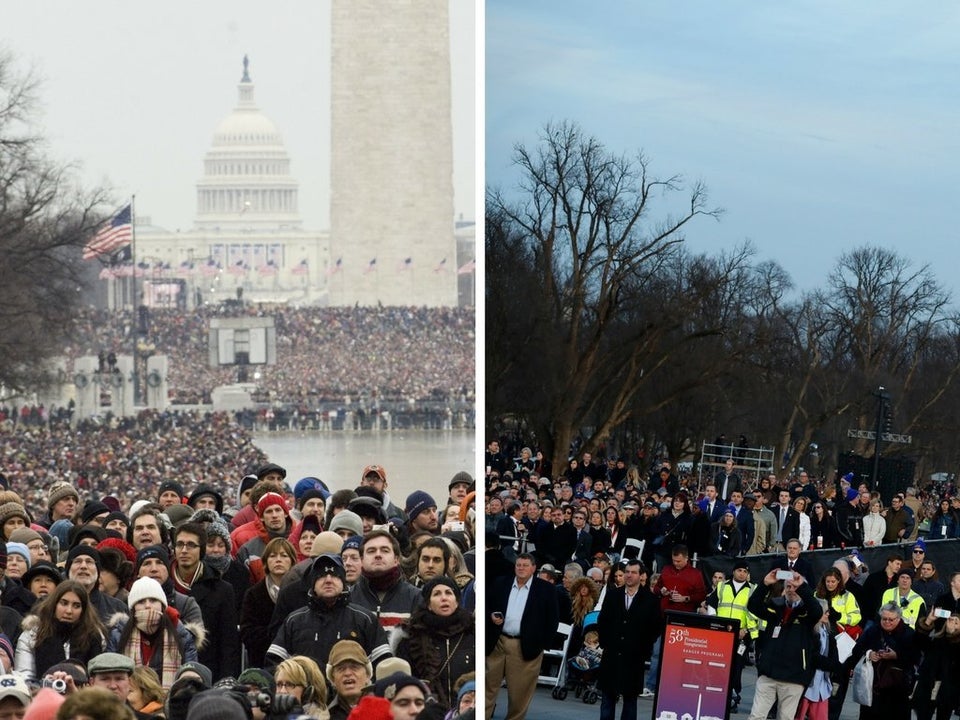 Obama /Trump Inauguration Crowds
Popular in the Community