WASHINGTON ― Michael Walker and Shelly Betancourt didn't have a fight after Donald Trump won the election in November. They just stopped talking.
The brother and sister usually spend Thanksgiving at their older sister's house in Woodbury, N.Y. But Walker, who voted for Trump, skipped last year, opting for a quiet dinner at a restaurant with his wife. He'd had enough spirited political conversations with his sisters over the previous months to know Thanksgiving might have been trouble. His sisters were both very enthusiastic Hillary Clinton voters.
"If I went to Thanksgiving, it would have come up," Walker said. "They were all in such pain and I didn't want to jump in on their pain."
Betancourt and her husband showed up late to the family Christmas gathering, which their oldest sister also hosted. Betancourt and Walker were only together for a short time that night.
"I basically got there as they were about to leave," she said. "That was intentional on my part."
Then Walker called his sister, last week, as Inauguration Day approached. It was the first time he'd done so since the election.
"It might have been the first time I would have answered the phone," Betancourt said.
Both siblings said they have always been close, so it was remarkable that Trump could split them. They're less than two years apart in age and were close when they were kids. Betancourt recalled playing with Matchbox cars with her brother, and he'd oblige when she wanted to play with dolls. As adults, all three Walker siblings had three kids of their own; all three raised their own families on Long Island, not far from where they grew up.
Walker, 56, says he was "born a liberal" just like his sisters, but he became a huge Trump fan last year.  He lives in Port Washington, N.Y. and works as a builder, but he once had a company that sold and maintained children's play equipment. He said he voted for Barack Obama in 2008, but his experience as a small business owner has made him more conservative since then. He became a full-blown Trump booster after hearing about Clinton's infamous "deplorables" comment last September.
"That was the turning point, the deplorable comment," Walker said. He took it personally. "To call me an irredeemable deplorable!"
He bought Trump bumper stickers. He planted yard signs. He urged his neighbors to vote.
Betancourt, a 58-year-old attorney in Syosset, N.Y., said Trump's victory devastated her. Her husband is Latino, which she said made Trump's victory especially painful as he had constantly disparaged Latino immigrants during the campaign.
"He legitimized the hate and bigotry that the ugly underbelly of society has been secreting away for years," Betancourt said.
After Trump's victory, Walker booked a room at a hotel just outside of Washington so he could be here on Inauguration Day. He booked it for an extra night thinking of his sister, so she could be here for the Women's March: He knew from family emails she was planning to attend. That's why he called.
"It seemed silly of me not to share with her," he said.
Betancourt accepted the offer, but things didn't work out in the end. While they had planned for Betancourt to take the room on Friday afternoon ― a friendly handover from brother to sister following the peaceful transfer of power from Obama to Trump ― Betancourt got stuck in traffic on the way down from New York. She wound up staying with a friend in Olney, Maryland, instead.  
Still, Betancourt said she appreciated the offer. She called Walker on Friday afternoon from a traffic jam in New Jersey and asked how the inauguration had gone. Walker told her he'd watched from the National Mall and then seen the president's limo roll by on Pennsylvania Avenue. Television cameras ogled his sign, which said "FINALLY HOPE AND CHANGE."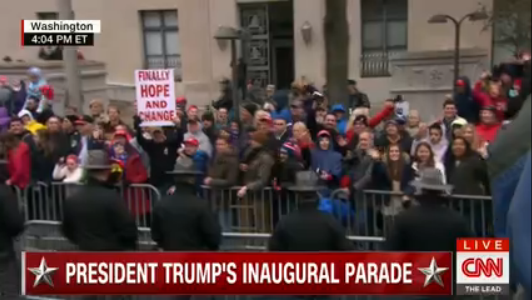 "I'm happy he was happy," Betancourt said. "Just actually speaking to my brother, me being happy for him, that was a pretty big deal for me."
Walker told her it was OK if she didn't use the room, that he just wanted her to know it was there for her.
"That's the brother that I love," she said. She and her daughter were able to make it into D.C. for the march on Saturday, which she said felt empowering. She still feels gutted by the election. 
Walker was glad the hotel room gave them a chance to talk, though he didn't feel as though he'd made a grand gesture.
"It's so crazy how everything is split by party," Walker said. "It's awful how everything's working out for our country."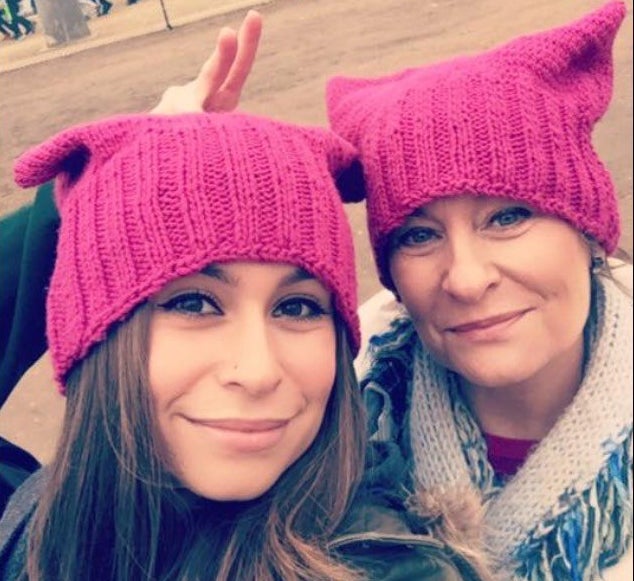 REAL LIFE. REAL NEWS. REAL VOICES.
Help us tell more of the stories that matter from voices that too often remain unheard.