Former President Donald Trump has been indicted on 37 felony federal charges related to his handling of classified documents after he left the White House, according to the unsealed indictment released on Friday.
The charges against Trump include conspiracy to obstruct justice, willful retention of national defense information and making false statements, according to the document, filed in federal district court in Miami.
"Our laws that protect national defense information are critical to the safety and security of the United States, and they must be enforced," special counsel Jack Smith, overseeing the investigation into Trump's actions, said at a press conference following the indictment's unsealing.
"Violations of those laws put our country at risk," he continued. "Adherence to the rule of law is a bedrock principle of the Department of Justice, and our nation's commitment to the rule of law sets an example for the world."
Trump is expected to surrender to authorities on Tuesday and has said he will plead not guilty on all counts. Smith said he would seek a "speedy trial."
It is an unprecedented moment for the country: He is the first former president in U.S. history to face federal charges and is moving forward with a reelection campaign during the 2024 race for the White House.
The indictment spells out Trump's alleged scheme to move dozens of boxes containing sensitive government material after he was asked to turn them over.
"The classified documents Trump stored in his boxes included information regarding defense and weapons capabilities of both the United States and foreign countries; United States nuclear programs; potential vulnerabilities of the United States and its allies to military attack; and plans for possible retaliation in response to a foreign attack," the indictment reads.
The indictment adds that the disclosure of those documents "could put at risk the national security of the United States, foreign relations, the safety of the United States military, and human sources and the continued viability of sensitive intelligence collection methods."
Trump's aide was also charged Friday in the alleged scheme. Walt Nauta, a former military valet who worked at Mar-a-Lago following Trump's presidency, was seen on Mar-a-Lago surveillance video moving boxes from a storage room before and after a subpoena was issued.
On Dec. 7, 2021, Nauta found several of Trump's boxes that had fallen on the floor of his Mar-a-Lago storage room, according to the indictment. The contents had spilled out, including a document that was marked "SECRET," the indictment said.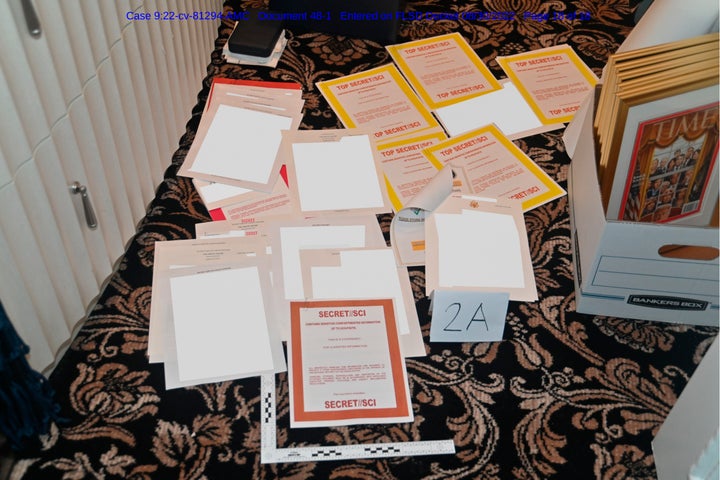 On May 23, 2022, after a subpoena had been issued to Trump to turn over the documents, Trump met with his lawyers. One of the lawyers, who is not identified in the indictment, told investigators that Trump said to him:
"I don't want anybody looking, I don't want anybody looking for my boxes, I really don't, I don't want you looking through my boxes."
Trump then floated the idea of lying to investigators about having the documents, according to the lawyer.
"Wouldn't it be better if we just told them we don't have anything here?" Trump allegedly said.
The indictment is separate from another case in which state prosecutors in New York charged Trump with 30 felony counts related to a hush money payment made to a porn star before the 2016 election.
Trump said Thursday that the Justice Department had informed him of the indictment, responding to the news with fury.
"I never thought it possible that such a thing could happen to a former President of the United States, who received far more votes than any sitting President in the History of our Country, and is currently leading, by far, all Candidates, both Democrat and Republican, in Polls of the 2024 Presidential Election," he wrote on his Truth Social site. "I AM AN INNOCENT MAN!"
He has maintained he did nothing wrong and had the broad authority to take any files he wanted from the White House under the Presidential Records Act. The former president said he had a standing order to automatically declassify anything removed from the Oval Office and that "everybody knew" he had taken boxes of documents with him to his Mar-a-Lago resort in Florida.
There are still several other investigations into Trump's behavior that could pose even more legal peril, including federal and state investigations into his efforts to remain in power after his 2020 electoral loss to Joe Biden.
In a 2021 recording of Trump, the former president discussed a classified Pentagon document about attacking Iran, according to a transcript of the conversation obtained by CNN.
"All sorts of stuff ― pages long, look," Trump reportedly said about the sensitive documents. "Wait a minute, let's see here. I just found, isn't that amazing? This totally wins my case, you know. Except it is like, highly confidential. Secret. This is secret information. Look, look at this."
Lydia O'Connor contributed reporting.
Popular in the Community