Trump predicted he'd be arrested earlier this month, posting on his social media site Truth Social that his supporters should "PROTEST, TAKE OUR NATION BACK." He later warned there could be "potential death and destruction" if he should be charged with a crime.
Read live updates on the aftermath of the grand jury's vote below:
Trump To Turn Himself In On Tuesday, NYT Reports
The New York Times
reported that Trump is set to turn himself over to authorities on Tuesday, citing one of his attorneys, Susan R. Necheles.
Florida Gov. Ron DeSantis Calls Trump Indictment 'Un-American' And Attacks Manhattan DA
Florida Gov. Ron DeSantis (R) described the indictment of Trump as "un-American" and called it the "weaponization of the legal system to advance a political agenda turns the rule of law on its head."

The potential 2024 presidential candidate also jumped at the opportunity to criticize Manhattan District Attorney Alvin Bragg, claiming that he consistently bent the law to "downgrade felonies and to excuse criminal misconduct," but by indicting Trump is "stretching the law to target a political opponent."

"Florida will not assist in an extradition request given the questionable circumstances at issue with this Soros-backed Manhattan prosecutor and his political agenda," he wrote.
Fox Host Can't Stop Making Fat Jokes About Manhattan DA
Editorializing that the indictment was the result of a politically corrupt prosecutor, Fox News host Jesse Watters keeps making jokes about the weight of Manhattan District Attorney Alvin Bragg.

After spotting footage of Bragg — who he claimed had been nicknamed "Fat Alvin" —entering a vehicle, Watters commented, "We see Bragg, he's the big one, just got into the SUV there, no statement, nothing. He'll probably go home and eat."

Later, Watters expressed astonishment that Bragg "indicted a former president and then he left for dinner and didn't say a word."

A few minutes after that, Watters snarked, "Bragg's not holding something behind his back unless it's a sandwich."
Key Things To Know So Far…
In case you're just joining us, here are the basics:
A Manhattan grand jury has indicted Trump in connection with a $130,000 hush money payment to porn star Stormy Daniels, who says she received the money in the final months of the 2016 election to keep quiet about an alleged affair with the former president.
Trump has released two statements reacting to the news. He claims Democrats have "lied, cheated and stolen in their obsession" with prosecuting him.
Alvin Bragg, the Manhattan district attorney overseeing the investigation into Trump, said his office is in touch with Trump's attorney to coordinate his surrender.
Trump's Arrest Could Happen By Next Week
The former president is expected to surrender to Manhattan authorities next week, his attorney Joe Tacopina confirmed to
NBC News
.
Citing two anonymous sources, NBC News reported that Trump would be arraigned next week as well.
According to ABC News
, his arraignment could happen as soon as Tuesday.
Tacopina previously confirmed to
Insider
that Trump would "
follow normal procedure
" if indicted.
Eric Trump Takes Dig At Manhattan Grand Jury And District Attorney Alvin Bragg
In response to his father's indictment, Eric Trump took aim at the Manhattan grand jury and District Attorney Alvin Bragg, labeling the move to indict the former president as a "third world prosecutorial misconduct."

He added: "It is the opportunistic targeting of a political opponent in a campaign year."
Authorities Working To Coordinate Trump's Surrender
A spokesperson for Manhattan District Attorney Alvin Bragg said in a statement: "This evening we contacted Mr. Trump's attorney to coordinate his surrender to the Manhattan D.A.'s Office for arraignment on a Supreme Court indictment, which remains under seal. Guidance will be provided when the arraignment date is selected."

Earlier this month, news outlets reported that various law enforcement agencies were hammering out logistical details for Trump's surrender, a process that would involve his Secret Service detail. According to The New York Times, Trump will be fingerprinted, photographed and possibly handcuffed upon his arrest.
Stormy Daniels Tweets 2-Word Response About Trump's Indictment
Stormy Daniels tweeted a two-word response to the recent news of Trump's indictment.

"Thank you," she wrote.
Trump Has Been 'INDICATED'
Trump added to
an earlier, more measured statement
in a post to Truth Social written in characteristic all-caps.
"These Thugs and Radical Left Monsters have just INDICATED the 45th President of the United States of America, and the leading Republican Candidate, by far, for the 2024 Nomination for President," he wrote, misspelling "indicted."
Mike Pence Anticipated To Reject Trump Indictment
Just hours after Trump's indictment, CNN will air
its primetime interview
with former Vice President Mike Pence. The public is likely anticipating Pence's reaction, given he is setting himself up to be Trump's 2024 rival.
While the former vice president has been increasingly critical of his ex-political partner, Pence previously said that indicting Trump
would be troubling
"in what appears to be a politically charged environment in New York where the attorney general and other elected officials literally campaigned on a pledge to prosecute the former president."
The Democratic National Committee Reacts
The Democratic National Committee issued a statement in response to Trump's indictment, noting that regardless of the outcome, it remains clear that the Republican Party is under Trump's grip.

"No matter what happens in Trump's upcoming legal proceedings, it's obvious the Republican Party remains firmly in the hold of Donald Trump and MAGA Republicans," DNC national press secretary Ammar Moussa said in the statement, per NBC News.

"We will continue to hold Trump and all Republican candidates accountable for the extreme MAGA agenda that includes banning abortion, cutting Social Security and Medicare, and undermining free and fair elections."
Trump's Already Fundraising Off This
Trump's 2024 campaign is already trying to use his indictment to its advantage, sending an email asking for donations hours after the news broke.

Citing part of the statement he released earlier, the email looks like a letter from Trump and asks for funds "to defend our movement from the never-ending witch hunts and WIN the WHITE HOUSE in 2024 – for 1,500% impact."
Exonerated Central Park 5 Member Calls Trump's Indictment 'Karma'
Trump's indictment has caught the eye of one of the members of the exonerated Central Park Five. Trump previously called for the group, who were wrongfully accused of rape and murder as teenagers, to
be sentenced to death
.
"Karma," Yusef Salaam, a New York City council candidate and one of the five exonerated men,
said in a statement
Thursday about Trump's indictment.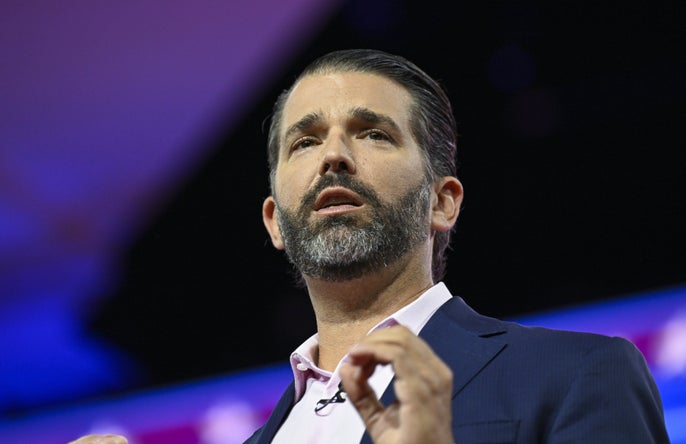 Donald Trump Jr. Calls Dad's Indictment 'Communist-Level S**t'
Donald Trump Jr. called his father's indictment "communist-level s**t" during an angry rant on his live program "Triggered."
"Let's be clear, folks, this is communist-level shit," he said. "This is stuff that would make Mao, Stalin, Pol Pot, it would make them blush, it's so flagrant, it's so crazed."
Trump Jr. said the indictment "hinges on a disgraced, jailed and disbarred clown lawyer Michael Cohen, along with a really shaky, murky legal theory surrounding finance law."
Cohen was "disgraced, jailed and disbarred"
over his role in helping former President Donald Trump cover up payments
to porn star Stormy Daniels.
Trump Reacts
Trump has
already released a statement
on the news of his indictment, calling it "Political Persecution and Election Interference at the highest level in history."
"I believe this Witch-Hunt will backfire massively on Joe Biden," Trump said.
"The American people realize exactly what the Radical Left Democrats are doing here. Everyone can see it. So our Movement, and our Party - united and strong - will first defeat Alvin Bragg, and then we will defeat Joe Biden, and we are going to throw every last one of these Crooked Democrats out of office so we can MAKE AMERICA GREAT AGAIN!" he added, referencing the Manhattan district attorney.
Popular in the Community