So where is that money going? Not to California, where plans to revitalize the Bay Area's Caltrain transit system have just been delayed by his administration.
Trump's newly appointed transportation secretary, Elaine Chao ― who oversees the Federal Transit Administration ― has slammed the brakes on the project, which would change the diesel-powered trains to electric and cost about $2 billion, according to SF Gate.
Last Friday, Chao halted the $647 million federal grant that helps cover the project until an audit can be completed. Caltrain has already selected contractors to get started on construction by March 1. If they aren't able to get started by that date, the bidding process will begin all over again ― and likely at a much higher cost.
There's little chance Caltrain can meet its deadline now that an audit is required, and the cost penalties could be "so severe that we might not be able to do the project," Seamus Murphy, the rail system's chief communications officer, told the Los Angeles Times.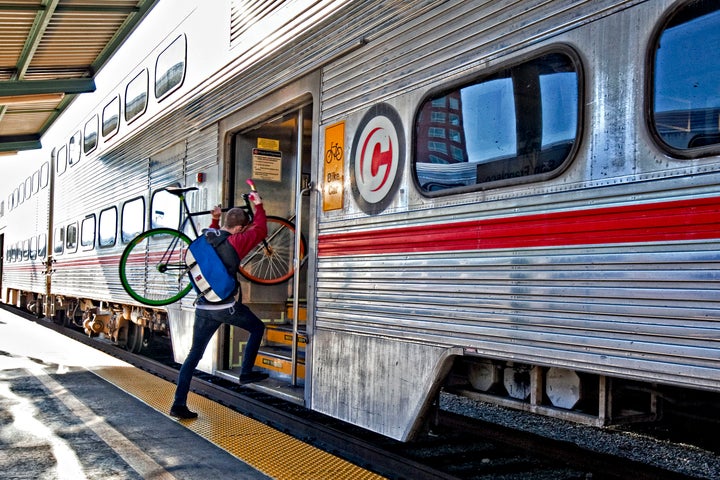 Caltrain, which connects riders from San Francisco to the Silicon Valley hub of San Jose, currently carries approximately 60,000 riders a day. Making the trains electric would increase ridership, save money on operating costs and help the environment, advocates for the change argue.
"For two years, Caltrain worked closely with Federal officials to complete a thorough evaluation of the project including intensive engineering assessments and financial vetting," Murphy said in a statement.
"I never imagined that the electrification of a train would be subjected to such brutal, partisan politics," said Rep. Anna Eshoo (D-Calif.) in a statement. "This is not a Democratic project nor is it a Republican project. It is about the modernization of an outdated commuter system that is the spine of the transportation system of the Peninsula and the Silicon Valley region."
The electrification of Caltrain would be just one element of an ambitious project to connect San Francisco to Los Angeles by high-speed train, reducing travel time between the two metropolises to three hours. California voters approved the entire project in 2008, but the original $40 billion cost is now closer to $64 billion (this sum includes the cost of the electrification of the current Caltrain system).
In a 4 a.m. tweet earlier this month, Trump also floated the idea of cutting off federal funding for the University of California, Berkeley, after violent student protests erupted ahead of a scheduled appearance by right-wing agitator Milo Yiannopoulos.
Part of Yiannopoulos' "different point of view" was his apparent defense of pedophilia, as the world learned earlier this week. Maybe that will change Trump's mind about blanket refusals of federal funds. Probably not.
Popular in the Community