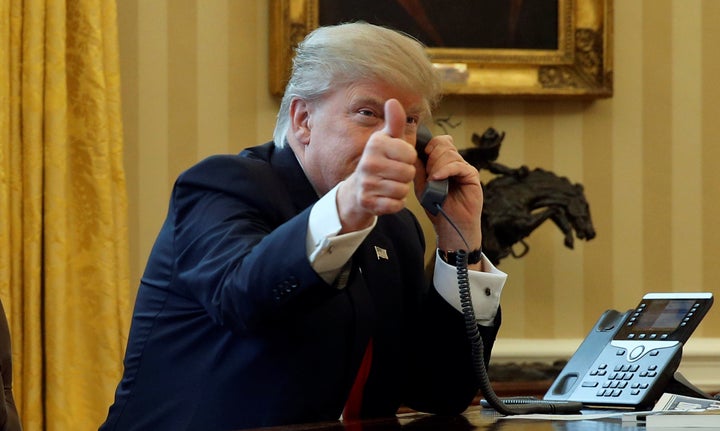 WASHINGTON ― It was a week before President Donald Trump's inauguration, and hockey fans in D.C. were watching the Washington Capitals take on the Chicago Blackhawks. The Justice Department's top watchdog, Inspector General Michael Horowitz, was in the crowd at the Verizon Center when he received a disturbing call.
Just a day earlier, Horowitz's office had announced that he would be examining the actions of Justice Department and FBI officials in connection with the investigation of Trump's Democratic opponent, Hillary Clinton. FBI Director James Comey's handling of that investigation had come under intense scrutiny, with many Democrats blaming Comey for Clinton's election defeat.
Now, on the evening of Jan. 13, Horowitz answered a call from Inspector General John Roth, his counterpart at the Department of Homeland Security. Roth told Horowitz that he'd just been informed by the head of the Trump transition team's Homeland Security landing team that his job was temporary.
That Trump official "had assumed that I was already in the process of looking for another job," Roth testified before the House Oversight Committee on Wednesday.
"I spoke with him from the game, then got word on two other IGs who had received calls that evening," Horowitz said.
"We were trying to figure out what was going on here," Horowitz testified Wednesday. "I think it's fair to say everyone was concerned." 
Roth was, in fact, not the only inspector general to receive a phone call. Several others took similar calls or were left voicemail messages that put their job security in jeopardy. A transcript of one such message, obtained by the House Oversight Committee, read like this:
I'm calling on behalf of the presidential transition team to inform you that you are being held over on a temporary basis to continue working in the capacity as inspector general following the inauguration.
Those calls were a result of a Jan. 13 email titled "TONIGHT: Inspector Generals Notification." The email, which was first reported by The Washington Post, directed Trump's "team leads" to call their IGs and let them know they were being "held over on a temporary basis." It also mentioned that the current inspectors general would be vetted based on information the team leads had provided.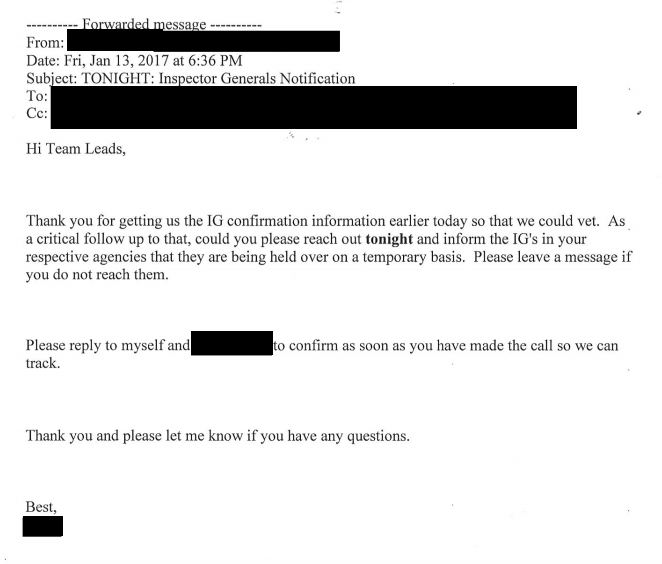 As The Huffington Post noted in December, it's only tradition that has secured the IG jobs through past presidential transitions. Trump could replace all of them if he chose, although he'd have to give Congress 30 days' notice and provide some sort of explanation. But given the backlash that occurred when President Ronald Reagan fired most IGs as he took office, it wasn't a scenario that seemed particularly likely.
At Wednesday's hearing, Democrats and Republicans offered much different interpretations of the Trump transition team's actions. GOP members chalked up the messages left with inspectors general as the unremarkable missteps of a chaotic transition period.
"I think it's safe to say that was a mistake. They wish it hadn't happened. It's not their approach. It's not their intention," said Rep. Jason Chaffetz (R-Utah), chairman of the Oversight Committee, adding that the person who sent the original email was a low-level staffer. "With each new administration, I'm sure, there's a learning curve, and hopefully they've learned that lesson." 
Chaffetz said that White House Counsel Donald McGahn told him that the inspectors general have since been directed to disregard the messages.
While Rep. Darrell Issa (R-Calif.) admitted he was "concerned" that the transition team hadn't done a better job communicating with government officials about whether they would stay, he said the inspector general effort appeared to have been driven by a "very junior person." When he Googled the name Katie Giblin, the individual who'd sent the email, the congressman said he didn't find anything other than LinkedIn and Facebook pages. "I can't find that this is a high-ranking person," Issa said. "It appears that this is someone who, quite frankly, was put on the transition team like hundreds of other people."   
Democrats think that something potentially more sinister was happening. Rep. Elijah Cummings (D-Md.), ranking member of the House Oversight Committee, and Rep. Gerald Connolly (D-Va.) sent a letter to McGahn seeking clarification on the situation.
"This email demonstrates that these calls were not isolated incidents," Cummings said at the hearing on Wednesday. "This was a coordinated campaign to target inspectors general that someone in the Trump team planned, approved, organized and executed across multiple agencies."
Whoever approved the calls, Cummings said, "had absolutely horrendous judgment and should not be allowed anywhere near the reins of power."
The email itself may indicate the involvement of a more senior member of the transition team. Although the version displayed at the committee hearing was redacted, a person who had seen the full email told HuffPost that Justin Clark, now the White House director of intergovernmental affairs, was named as one of two individuals to be informed once the inspectors general were notified of their "temporary" status.
Horowitz isn't the only IG currently conducting an investigation with considerable political consequences. The Intercept reported Wednesday that Roth's office is looking into the botched rollout of Trump's executive order banning travelers from seven Muslim-majority countries.
Sign up for the HuffPost Must Reads newsletter. Each Sunday, we will bring you the best original reporting, long form writing and breaking news from The Huffington Post and around the web, plus behind-the-scenes looks at how it's all made. Click here to sign up!
Calling all HuffPost superfans!
Sign up for membership to become a founding member and help shape HuffPost's next chapter