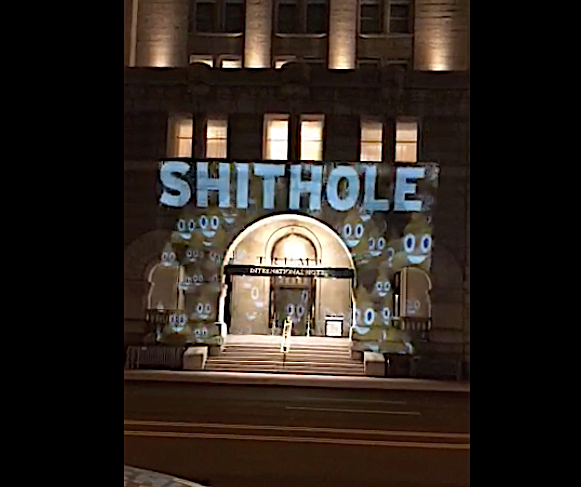 If you took a look at the Trump International Hotel in Washington, D.C., on Saturday night, you might think it was a real shithole.
"This place is a shithole" was projected onto the front steps of the hotel, in an apparent nod to reports that Trump called Haiti and African nations "shithole countries."
The projection also displayed the word "shithole" and a stream of poop smiley-face emojis (💩).
As seen in a Periscope livestream, a longer message mocked Trump and his supporters and called for others to stand against white supremacy.
"This is not normal," a segment of the display read, along with messages to "stay vigilant" and "#resist."
"The president distracts us from politics that are harming us," the projection read later in the video.
The display was the work of artist Robin Bell, the founder of video projection company Bell Visuals.
Bell has made news headlines in the past for projecting various messages on buildings with political ties. In May, Bell projected on the same D.C. hotel "emoluments welcome" and "pay Trump bribes here." (Both of those messages also appear in the most recent projection.) That same month, Bell projected "#SessionsMustGo" and "I thought the KKK was OK until I learned that they smoked pot" on the Department of Justice building, in reference to Attorney General Jeff Sessions.
Trump incited outrage this week over his reported remark, "Why are we having all these people from shithole countries come here?" ― which he asked after lawmakers suggested granting visas to individuals from Haiti, El Salvador and multiple African nations during a meeting about immigration reform.
"It also reinforces the concerns that we hear every day, that the President's slogan Make America Great Again is really code for Make America White Again," Richmond added.
The United Nations human rights office rejected the president's remark, which they labeled as "racist."
"There is no other word one can use but 'racist,'" U.N. human rights spokesman Rupert Colville said, according to Reuters. "You cannot dismiss entire countries and continents as 'shitholes' whose entire populations, who are not white, are therefore not welcome."
Popular in the Community